Mt. Agung eruption could be imminent: Agency
News Desk

The Jakarta Post
Karangasem, Bali |

Mon, September 25, 2017

| 04:15 pm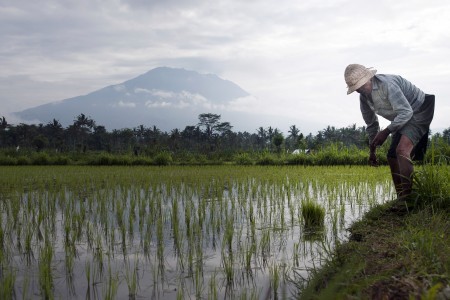 A farmer works on his field some 12 kilometers from Mount Agung in Rendang village, Karangasem, Bali, on Sunday. More than 40,000 people living on the mountain's slope area have been evacuated following increased seismic activity at the highest mountain on the popular resort island. (Antara/Nyoman Budhiana)
The Volcanology and Geological Hazard Mitigation Center (PVMBG) indicated on Monday that an eruption at Mount Agung in Bali could be imminent given its increasing seismic activity.
PVMBG head Kasbani said that an eruption would be indicated by tremors and smoke coming out of the crater, as well as an increase in volcanic seismic activity.
According to him, these are the characteristics of Mt. Agung before eruption.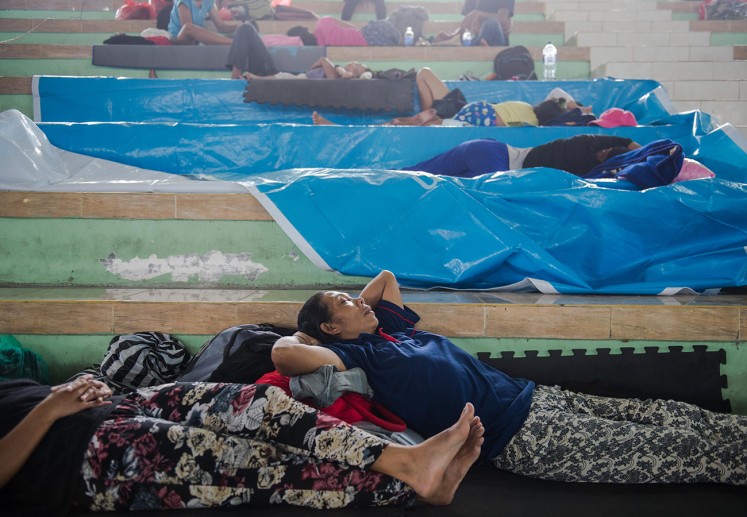 Refugees rest at the Swecapura sports hall in Klungkung, Bali, on Saturday, Sept. 23, 2017. Residents living within a 12-kilometer radius of Mount Agung were told to evacuate in anticipation of an eruption. Local authorities announced the highest possible alert level of the active volcano following an increase in its volcanic activities. (The Jakarta Post/Anggara Mahendra)
"There is a high potential of eruption and it shows no sign of declining as yet," Kasbani said at the monitoring post of Mt. Agung in Rendang village, Karangasem, Bali, as quoted by kompas.com.
Read also: Residents near Mt. Agung begin to relocate their livestock
Kasbani said an eruption would only occur after continuous small-scale tremors.
Magma continues to approach the surface, he said.
"If the tremors continue, then an eruption could be just a matter of hours. Then, we will anticipate how to best avoid any casualties," Kasbani said. (foy/bbs)
Join the discussions