Old photo brings new online frenzy about Setya Novanto
News Desk

The Jakarta Post
Jakarta |

Tue, October 3, 2017

| 09:29 pm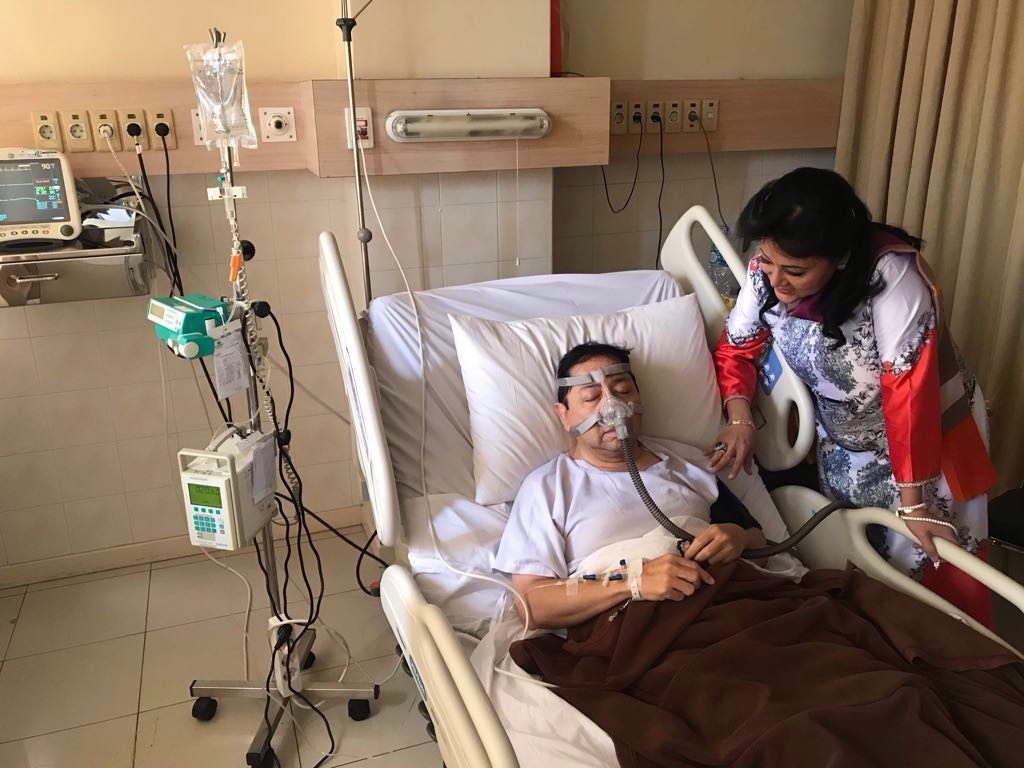 This picture of Party Golkar Chairman Setya Novanto in intensive care at a private East Jakarta hospital circulated online, drawing ridicule from critics who accused him of posing for the shot. Memes of the photo mocking the House Speaker were circulated on social media over the weekend, following Friday's South Jakarta District Court ruling in favor of Setya. (Twitter/Twitter)
One of the most popular figures online today must be House of Representatives Speaker Setya Novanto, but not for a good reason.
The seasoned politician and chairman of the Golkar Party has become the target of netizen mockery, especially after a court cleared him of his status as a suspect in the high-profile e-ID graft case, which experts have deemed controversial.
Setya was receiving treatment at a hospital when a South Jakarta District Court judge read out his ruling, last Friday.
A picture of him lying on a hospital bed was circulated online last week, and Setya was quick to become a trending topic once again. Social media users posted the picture and creative meme makers were quick to make mocking edits to the image.
Just recently, an old picture, believed to depict a young Setya, began circulating online.
The photo shows a long-haired classic Setya sitting on a chair with an unbuttoned long sleeves shirt showing an exposed chest.
A 2015 report by Tempo.co quoted Setya's close friend Olis Datau, who said that Setya was bestowed with the "Most Handsome Man of Surabaya" award in 1975.
Twitter user @Dennysiregar7 posted the picture with the caption "#Quiz Good morning… Anybody know who I am?"
#Kuis Selamat pagi... ☕️☕️☕️ Ada yang tahu saya siapa? pic.twitter.com/5lZhydpOQE

— Denny siregar (@Dennysiregar7) October 1, 2017
@daniel_abh replied "This is the only person who can sit beside the rector during his graduation. If the police ticket him, the officer will be brought to trial. If his head hits a wall, the wall will get the bump."
Ini kan orang yg kalo diwisuda duduk sebelah rektor, kalo kena tilang polisinya yg disidang, kalo kejedot tembok trus tembok nya benjol?😂😂😂

— daniel_abh (@daniel_abh) October 1, 2017
Mocking statements like Daniel's were also quick to flood timelines after the pretrial ruling with #ThePowerOfSetnov becoming one of the trending topics.
But @echoodresden had the most intriguing answer:
Ga ada yg bener yaa..? Itu surya paloh sebelum tumbuh brewok 😇😇

— echooo (@echoodresden) October 1, 2017
"It was Surya Paloh before he grew a beard," he tweeted, referring to the NasDem Party chairman.
On Monday, a few days after the pretrial ruling, Setya was released from the hospital where he had received "medical treatment" for two weeks, during, which he also dodged a Corruption Eradication Commission (KPK) summons for questioning. (dra/bbs)
Join the discussions