Tens of thousands turn out for Myanmar interfaith rally
Yangon, Myanmar |

Tue, October 10, 2017

| 07:19 pm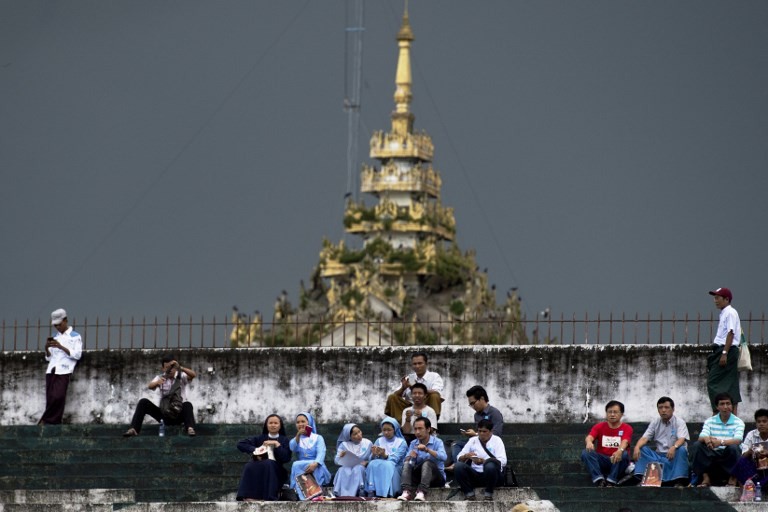 Catholic nuns join others in the upper stands of a stadium after they arrived to attend an interfaith prayer ceremony at a stadium in Yangon on Oct. 10, 2017. Tens of thousands of people filled a football stadium in Yangon for an interfaith prayer ceremony on Tuesday, a show of unity in a country seared by ethnically-charged violence against the Muslim Rohingya on its western border. (Agence France -Presse/Ye Aung Thu)
Tens of thousands of people filled a football stadium in Yangon for an interfaith prayer ceremony on Tuesday, a show of unity in a country seared by ethnically-charged violence against the Muslim Rohingya on its western border.
Buddhist monks, nuns, Christians Hindus and Muslims were among those that poured into the arena to pray for peace in Myanmar's western Rakhine state -- the epicentre of brutal communal bloodshed that erupted in late August.
The border region was plunged into crisis after Rohingya militants attacked police posts, sparking a military backlash that has driven more than half a million of the Muslim minority from their homes.
The mass exodus of refugees has shocked and alarmed the globe, with the UN accusing the army of waging an ethnic cleansing campaign against a group that has faced years of persecution.
But the conflict is viewed differently inside mainly Buddhist Myanmar, where the Rohingya are widely loathed and branded as foreign invaders, despite their long roots in the country.
Tuesday's rally brought together a mix of faiths who back the government, which has defended its crackdown as a proportionate operation to flush out Rohingya insurgents.
The government has also accused Rohingya militants of committing atrocities against Hindus and other civilians.
Many in the crowd of around 30,000 held portraits of Myanmar's civilian leader Aung San Suu Kyi, who has faced global censure for failing to speak up for the Rohingya minority streaming out of her country.
"This is the ceremony which shows the world that people of all religions in our country are friendly and love each other," said Win Maung, a regional MP from Suu Kyi's National League for Democracy (NLD), which helped organise the rally.
Topics :
Join the discussions