Family dispute suspected in Texas church shooting
Sutherland Springs, United States |

Tue, November 7, 2017

| 08:00 am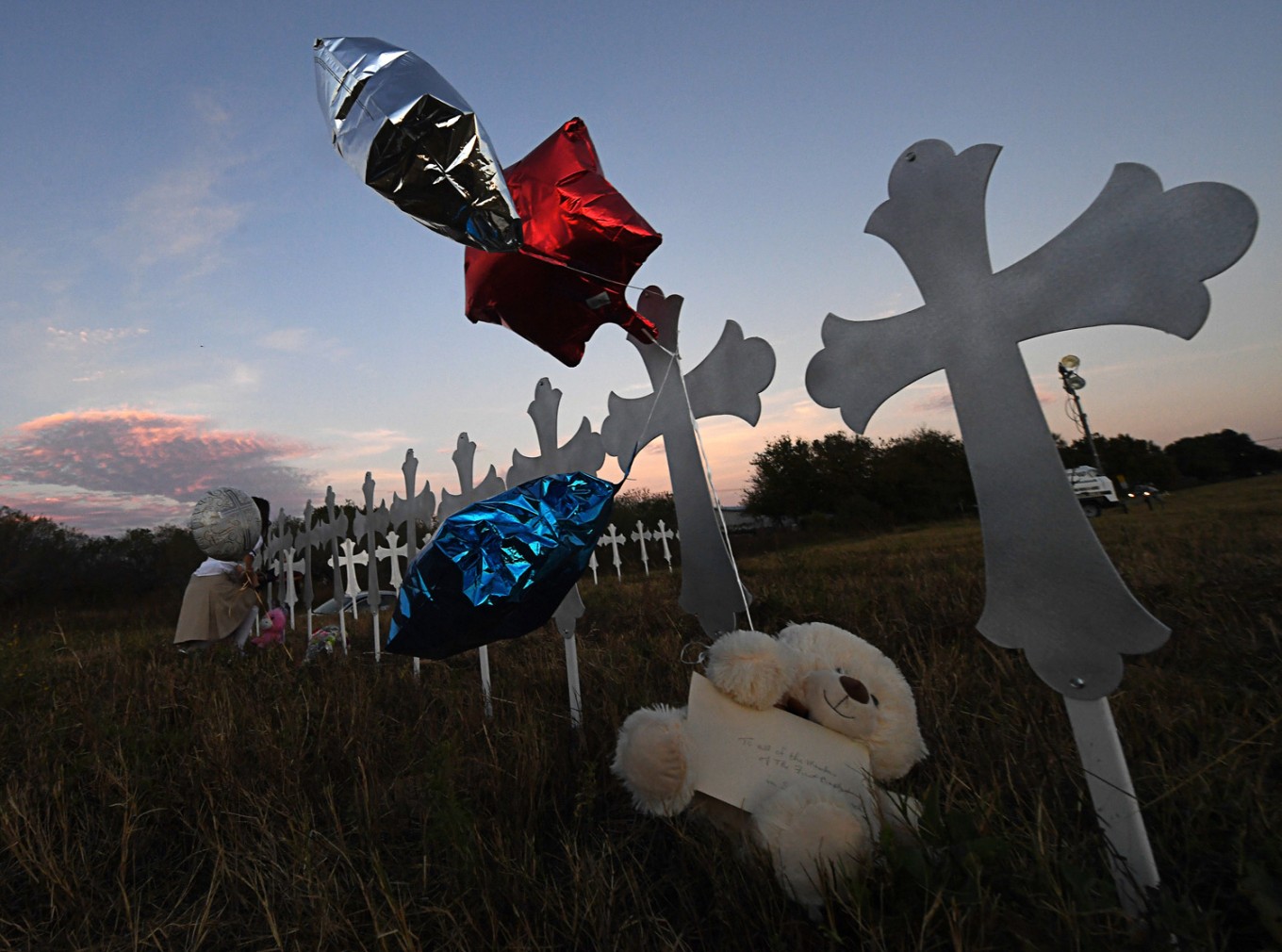 Remembrance: Heather Cooper, 8, places her favorite doll on a row of crosses for each victim, after a mass shooting that killed 26 people in Sutherland Springs, Texas on Nov.6. A gunman wearing all black armed with an assault rifle opened fire on a small-town Texas church during Sunday morning services, killing 26 people and wounding 20 more in the last mass shooting to shock the United States. (AFP/Mark Ralston)
A family dispute may have sparked the rampage by a US Air Force veteran who killed 26 people with an assault rifle in a small-town church, the deadliest mass shooting in Texas history, officials said Monday.
Ten people remained in critical condition a day after Devin Patrick Kelley, a 26-year-old private security guard, burst into the rural Baptist church during Sunday morning services and sprayed bullets at the congregation.
Investigators were focusing on reports that Kelley had sent threatening text messages to his mother-in-law, who attended the church but was not there on Sunday.
Victims of the massacre included an 18-month-old baby, eight members of a single family, and reportedly the gunman's own grandmother-in-law. Twenty people were wounded.
Governor Greg Abbott said Kelley, who was armed with an AR-15 rifle and two handguns, had been denied a gun permit in Texas and should not have legally had access to weapons.
President Donald Trump, who is travelling in Asia, said meanwhile that the United States was living in "dark times" but brushed off calls for stricter gun control, saying the latest tragedy, which left eight members of one family dead, "isn't a guns situation."
The authorities said Kelley apparently died of a self-inflicted gunshot wound in his car after fleeing the First Baptist Church in Sutherland Springs, a rural community of rolling hills and ranches of nearly 400 people near San Antonio.
Kelley, who was kicked out of the Air Force for domestic violence, was dressed in black and was wearing a bulletproof vest and a black mask with a skull face when he walked up and down the aisle of the church shooting people in the pews, officials said.
Two men -- Stephen Willeford, 55, and Johnnie Langendorff, 27 -- were being lauded as heroes for confronting Kelley after he mowed down nearly 50 churchgoers with gunfire.
Willeford grabbed his own AR-15 rifle and shot and wounded Kelley as he emerged from the church and headed for his car.
Willeford then flagged down a passing pickup truck driven by Langendorff and they pursued Kelley at high speed until he crashed his vehicle into a field.
- 'Domestic situation' -
Freeman Martin of the Texas Department of Public Safety said 10 people were in critical condition, four were in serious condition and six were in stable condition.
Sunday's carnage came just five weeks after the worst gun massacre in modern US history, the murder of 58 people by a heavily armed retired accountant who opened fire on a country music concert in Las Vegas.
"This was not racially motivated, it wasn't over religious beliefs," Martin said.
"There was a domestic situation going on with the family and in-laws," he said. "We know that he expressed anger towards his mother-in-law."
Governor Abbott said Kelley was "a man who had some mental health issues apparently long before this."
According to the Air Force, Kelley served at a base in New Mexico starting in 2010 before being court-martialed in 2012 on charges of assaulting his wife and a child.
He was sentenced to 12 months in confinement and received a "bad conduct" discharge in 2014, Air Force spokeswoman Ann Stefanek said.
Officials said Kelley was armed with a Ruger AR-15 rifle and had two handguns in his vehicle, a Glock 9mm and a Ruger .22 but Abbott said Kelley should not have been allowed to have a gun at all.
"He tried to get a gun permit in the State of Texas and was denied that permit," Abbott said. "Under the current system of federal law he should have been prevented to make this purchase."
- 'Let the buzzards pick at him' -
Kelley was from the town of New Braunfels, 30 miles (50 kilometers) from Sutherland Springs, and his in-laws attended the church, officials said.
Willeford, who shot and wounded Kelley as he emerged from the church, told The Dallas Morning News he was "terrified while this was going on."
"I didn't want this and I want the focus to be on my friends," he said. "I have friends in that church."
Langendorff said he and Willeford pursued Kelley for about 10 to 12 minutes at speeds of up to 95 miles per hour (150 kilometers per hour).
"I had to make sure he was caught," he told CNN.
Kelley crashed his car while being chased and was found dead inside with a self-inflicted gunshot wound.
Martin said Kelley called his father from the car before he crashed and said he was wounded and "didn't think he would make it."
Speaking to reporters in Tokyo as part of his Asia tour, President Trump dubbed the gunman "deranged" and said the most recent mass shooting to hit the United States "isn't a guns situation."
"I think that mental health is your problem here," Trump said when asked if gun control could reduce the rampant firearms violence plaguing the country.
Late Sunday, mourners held a candlelight vigil for victims in the tiny town, with another service planned on Monday.
"We lost a lot of good friends," said Robert Kunz, 50, owner of Sutherland Springs Tire & Battery.
"I feel like the guy got what he deserved," he said. "You're going to hate me for this, but I think they need to let the buzzards pick at him." (**)
Topics :
Join the discussions