Singapore train hits stationary one, injuring 25 people
Singapore |

Wed, November 15, 2017

| 11:42 am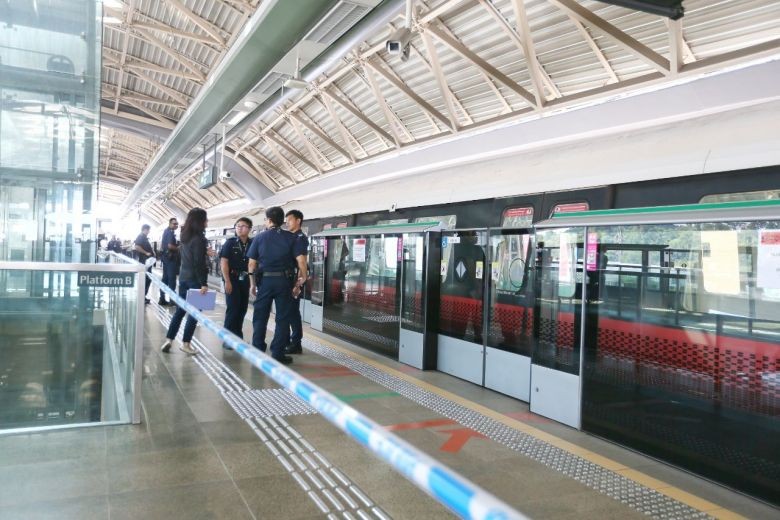 Police officers cordoned off a section of the platform after an SMRT train hit a stationary train in Singapore on Wednesday (Nov. 15, 2017). (The Straits Times/Jonathan Choo)
Singapore's mass-rapid rail system suffered its second collision since the network began in 1987, when a train operated by SMRT Corp. hit a stationary one Wednesday.
Two SMRT employees and 23 passengers sustained light to moderate injuries and were sent to two hospitals, SMRT and Singapore's Land Transport Authority said in a statement. They are investigating the incident, which took place around Joo Koon station in the western part of the city-state.
The incident is the latest blemish in a city known for its efficiency, tree-lined highways and smooth public transport network. Singapore's mass transit system has been strained as the population burgeoned to more than 5.6 million from under 4 million in less than two decades, leading to multiple breakdowns especially in the past six years.
The first train collision occurred Aug. 5, 1993, when an east-bound train stopped longer than scheduled at a station due to a technical fault and was then hit by another train, according to the National Library Board's resources. The train, which comprised six carriages, had a full capacity of 1,800 passengers, 156 of whom were injured during the peak-hour collision.
Topics :
Join the discussions