Indonesian court rejects petition to outlaw premarital, gay sex
Safrin La Batu

The Jakarta Post
Jakarta |

Thu, December 14, 2017

| 11:44 am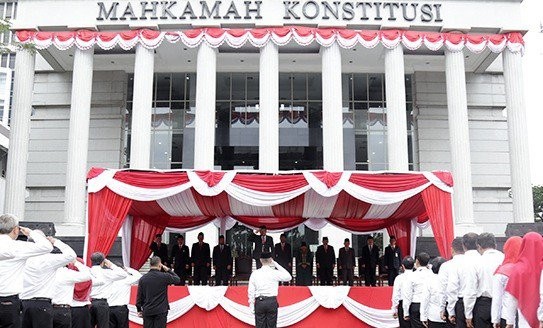 Constitutional Court justices stand on a podium during a ceremony to mark the court's 13th anniversary in front of the court building in Jakarta on Aug. 15. (mahkamahkonstitusi.go.od/Ifa)
The Constitutional Court rejected on Thursday a petition filed by conservative academics to make premarital and gay sex a crime punishable by up to five years in prison.
"The court rejects the petition," Chief Justice Arief Hidayat said while reading out the ruling.
The decision was handed down by a 5-to-4 majority. The five justices who rejected the petition were Saldi Isra, Maria Farida Indrawati, Manahan Sitompul, I Gede Palguna and Suhartoyo. The rest of the justices, including Arief, dissented.
In its ruling, the bench argued that the petitioners had sought to formulate new criminal acts in the existing criminal code, which is the right of the lawmakers at the House of Representatives, not the court.
"Just because a law is considered incomplete or no longer in line with the society's norms does not mean the law itself is contradictory to the Constitution," justice Saldi Isra read from the verdict.
Justice Maria Farida said that limitations on peoples' rights should be decided through a legislative process at the House. "Petitions filed [to the court] are meant to protect someone's rights from being limited," Maria said.
The petition to challenge the morality articles within the Criminal Code (KUHP) was filed by a group of academics, some of whom are members of the conservative group Family Love Alliance (AILA). They want to expand the definition of zina in KUHP to include premarital sex and same-sex relationships.
Civil rights activists previously called on the court to reject the petition, saying it would violate privacy and subject people to criminalization. (ahw)
Topics :
Join the discussions