Airlangga takes charge amid drop in electability
Rendi A. Witular, Nurul Fitri Ramadhani and Kharishar Kahfi

The Jakarta Post
Jakarta |

Fri, December 15, 2017

| 07:30 am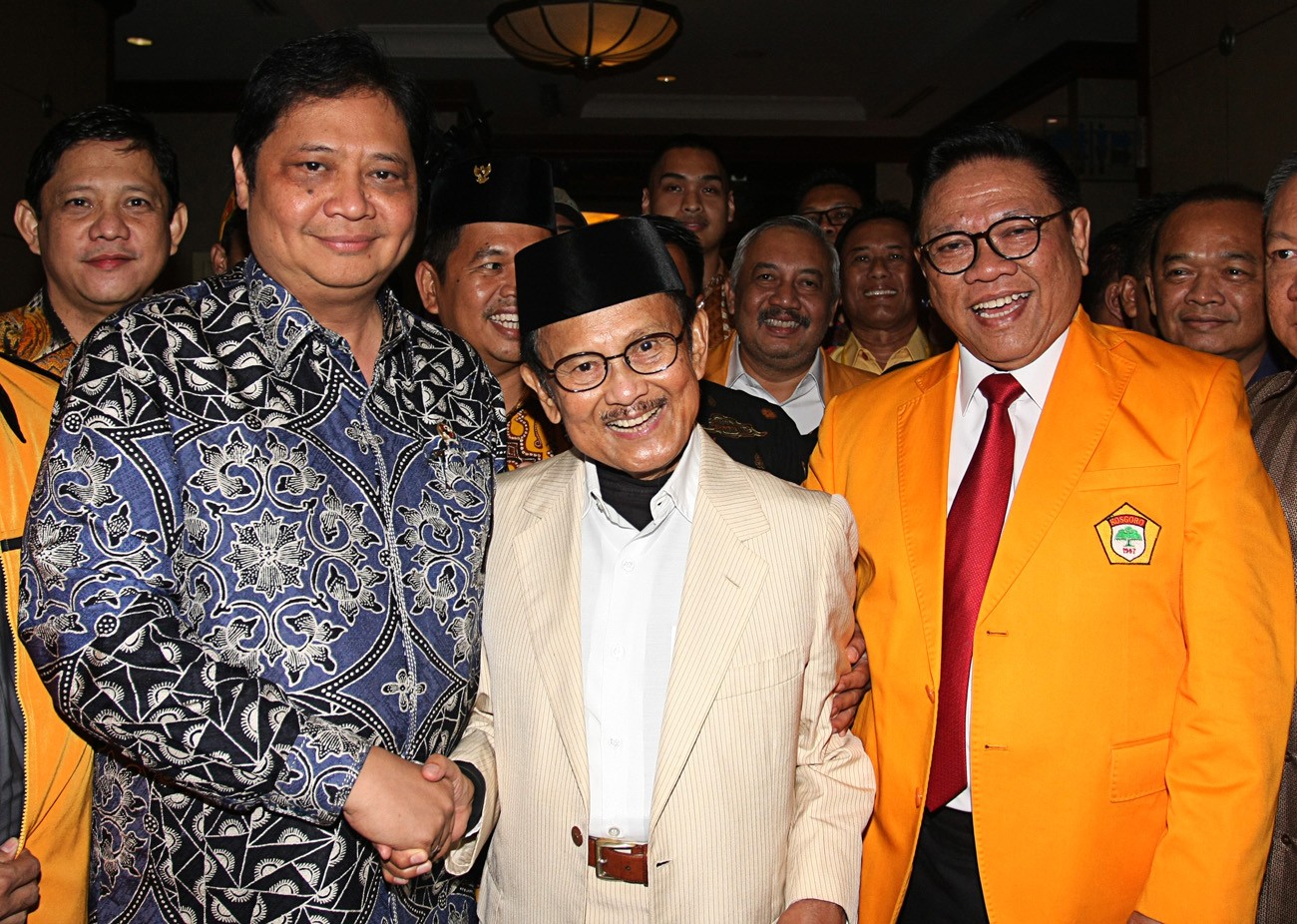 Maintaining solidity: Industry Minister Airlangga Hartarto (left), the newly appointed chairman of the Golkar Party, takes a picture with the party's honorary council chairman, former president BJ Habibie (center), and Kosgoro Chairman Agung Laksono (right), during the opening of the Kosgoro national working meeting in Jakarta on Dec.12. (Antara/Reno Esnir)
The newly appointed chairman of the Golkar Party, Industry Minister Airlangga Hartarto, is gearing up to face significant challenges, not only on the electoral front but perhaps more importantly in internal party matters.
He said his highest priority in reforming Golkar was ensuring party unity, and that he would not rock the boat to immediately root out the bad apples in the party.
"Golkar consists of diverse interests. My priority is to unite all elements in the party at a time when our electability, based on recent surveys, is alarmingly low at 11 to 12 percent," he said on Thursday evening.
Despite being the second-largest party in the House of Representatives, Golkar's popularity among voters has nose-dived recently, mainly as a result of the involvement of former chairman Setya Novanto in the highprofile e-ID corruption case for which he is currently standing trial.
During Wednesday's late-night plenary meeting, Golkar decided to appoint Airlangga as party chairman and remove Setya. The party will inaugurate Airlangga in an extraordinary congress on Dec. 19 and 20 in Jakarta.
Airlangga said the unity of Golkar would again be tested during the upcoming congress. "I am not sure whether all elements in Golkar are firmly behind me. The outcome of the congress will serve as confirmation of the level of support and unity in the party," he said.
The congress will mark the second time the party has appointed its chairman by acclamation, following the acclamation of Aburizal Bakrie in 2014. Aburizal's appointment then led to a prolonged internal conflict that divided the party, with rival camps claiming Aburizal and Agung Laksono as party chairman.
Airlangga's appointment did not run smoothly. There were concerns that leading party officials would oppose the plenary meeting's decision and demand a vote to elect the chairman as several other senior members had previously expressed a desire to run for the chairmanship.
Senior lawmaker and Setya loyalist Aziz Syamsuddin had stated his readiness to be a chairman candidate. Secretary-general Idrus Marham and Siti Hedijati "Titiek" Soeharto, the daughter of former president Soeharto, also planned to throw their hats in the ring. Several party executives confirmed that Aziz was backed by Aburizal, who would use Aziz as his "tool" to withdraw Golkar's support for President Joko "Jokowi" Widodo. However, they all stepped back in the last minutes preceding the plenary meeting after lobbying by Airlangga, a top party member said.
Believed to be close to Jokowi, Airlangga has guaranteed Golkar's support for the Jokowi administration and has committed to endorsing Jokowi for re-election in the 2019 presidential election. He has ordered all party members to abide by this commitment.
"I demand all Golkar members follow the mandate [supporting Jokowi]. Going forward, [there should be] no more factions in the party," Airlangga said, adding that he would make the party more transparent.
"My other priority is to eliminate the brokerage practices that are deep-rooted in the party. We will make a system in which candidates for local leadership will no longer deal with middlemen to get on the tickets. We should also ensure that Golkar will not be a family-run party; we are a 'publicly listed party' so we should not allow any room for this to flourish," he said.
Airlangga is likely to reorganize the central board and put in people he can trust.
Golkar executive chief Nurdin Halid said such an arrangement would be on the agenda of the congress.
"After the inauguration of the new chairman, we will continue with the selection and appointment of new board members and then inaugurate them," he said after the congress' organizing committee meeting. "Should any member raise any objection in the congress, he or she can be dismissed [from the party]."
Airlangga will need executives who will support his political direction.
"Airlangga has a tagline of Golkar Bersih [Clean Golkar]. Did the previous [leaders] have that kind of spirit?" Golkar deputy secretary-general Ace Hasan Syadzily said.
Idrus, however, demanded that Airlangga accommodate all members. "Power sharing is important — we have to consider those party members who have the skills for that [holding positions on the executive board]."
Join the discussions