Cement giant aiming to criminalize Kendeng farmer Joko Prianto, say supporters
News Desk

The Jakarta Post
Jakarta |

Thu, December 28, 2017

| 08:14 pm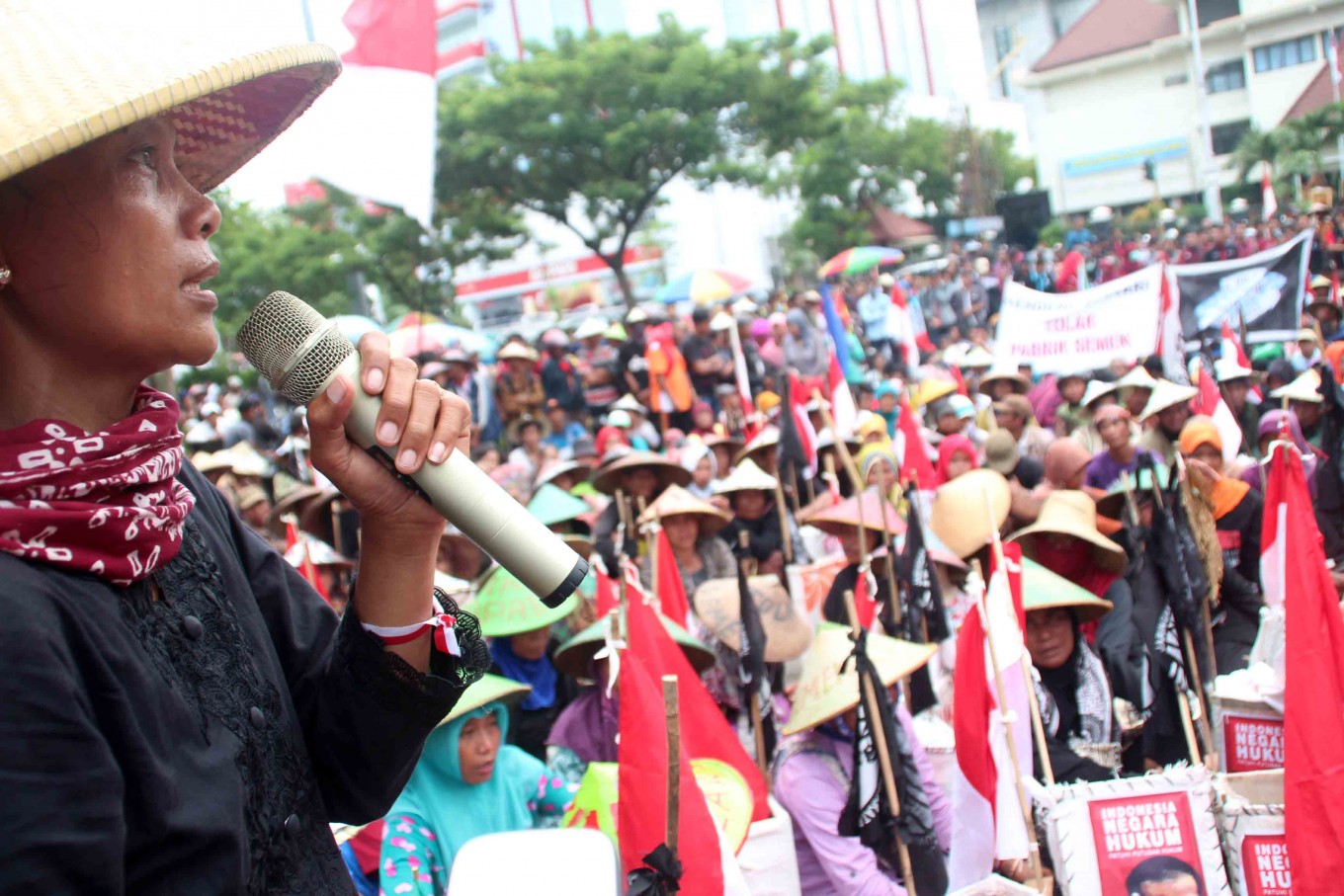 Taking a stand: A female farmer from North Kendeng Mountain makes an oration to reject publicly listed cement manufacturer PT Semen Indonesia's plan to build a cement factory in Pati regency at a demonstration in front of the Central Java governor's office in Semarang recently. (JP/Suherdjoko)
A new chapter of disputes between Kendeng farmer Joko Prianto and publicly listed cement manufacturer PT Semen Indonesia (PT SI) has opened as the Central Java Police are set to hand over Joko's case dossier to the local prosecutor's office.
Activists have voiced their supports for Joko, who was previously summoned by the police following a report by PT SI's lawyer, Yudi Taqdir Burhan, over alleged document forgery.
PT SI, which aims to continue its plan to build a cement plant in Kendeng despite protests, reported Joko to the police after the Supreme Court granted a case review request filed by Joko and other farmers, who claimed the company's plan was illegal.
The cement manufacturer's lawyers reported Joko to the police for the alleged falsification of signatures put on a petition rejecting the cement factory construction plan that was given to the Supreme Court to support his lawsuit.
Activists considered the company's lawsuit against Joko as a way to criminalize him.
"This is a way to criminalize Joko because an existing law says anyone who is fighting for the right to a good environment cannot be sued," said Kendeng farmer Ngatiban, citing Article 66 of the 2009 Environment Law.
Among the groups supporting the petition are the Kendeng Mountain Community Network (JMPPK), the Indonesian Legal Aid Foundation (YLBHI), Semarang Legal Aid Institute (LBH Semarang), the Indonesian Legal Aid and Human Rights Association (PBHI) and the Legal Resource Center for Gender Justice and Human Rights (LRC-KJHAM). (nmn/ebf)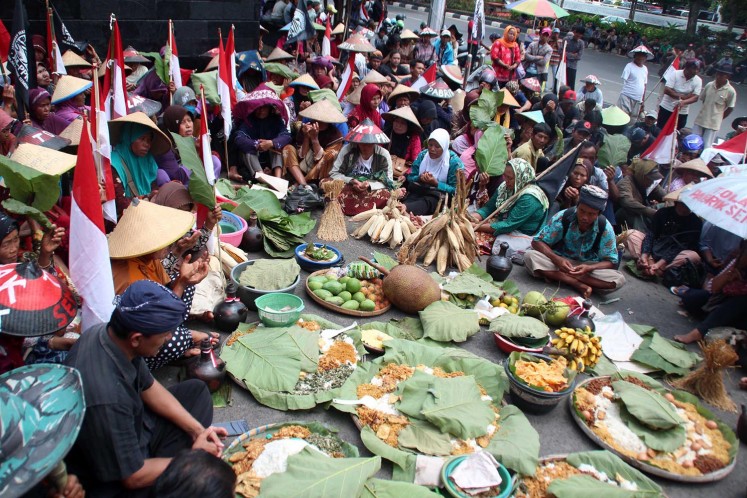 Making their voices heard: Hundreds of farmers from North Kendeng Mountain in Central Java voice their concern over PT Semen Indonesia's plan to build a cement factory in Pati regency. (JP/Suherdjoko)
Join the discussions