Air Force Twitter admin sparks LGBT debate
Gemma Holliani Cahya

The Jakarta Post
Jakarta |

Wed, January 10, 2018

| 11:11 am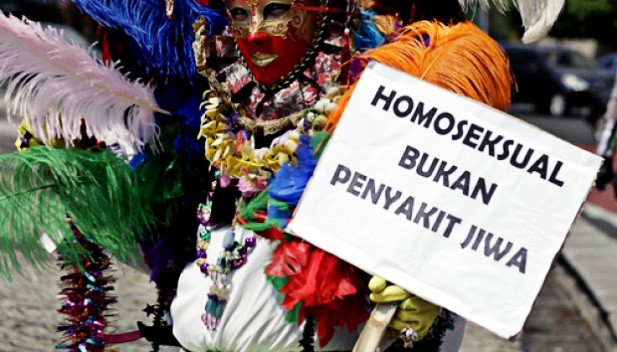 No disorder: A member of the Indonesian LGBT community holds a sign that says "Homosexuality is not a mental illness" in this undated file photo. Rights groups have said that recent comments from public figures condemning LGBT people were ill-informed and risked triggering discrimination. (Tempo/-)
An exchange of tweets on Tuesday evening between the Indonesian Air Force's Twitter administrator and its followers has opened a debate on whether members of the lesbian, gay, bisexual and transgender (LGBT) community were allowed to serve in the Armed Forces
It all started when the Air Force's official account, @_TNIAU, tweeted that every soldier was forbidden from committing immoral acts, and they would be discharged if they did. A follower using the Twitter handle RatnaPurba (@ratpruba) then posted a reply asking: "What about the LGBT?"
The Twitter administrator responded by saying that LGBT people could not join the Air Force, and that such sexual preferences were a mental disorder.
Ooohhh, tidak bisa 😱😱😱

Saat seleksi ada tes kesehatan jiwa, LGBT termasuk kelainan jiwa. Kalau msh banyak calon prajurit yg sehat jiwanya kenapa harus menerima yg tidak sehat? 🤔💂 https://t.co/Ssq8BAFxDi

— TNI Angkatan Udara (@_TNIAU) January 9, 2018
"There is mental health test in the selection process. LGBT is included as a mental disorder. If there are still many candidate soldiers who are mentally healthy, then why should unhealthy ones be accepted?" the admin tweeted in Indonesian on Tuesday.
The response sparked a debate on Twitter, with some agreeing but many more disagreeing with the statement. Others questioned the professionalism of the administrator for tweeting in an informal manner and speech.
"It's up to you if you are against [the LGBT community], but don't eliminate their right to be equal among others," @jea_hana replied.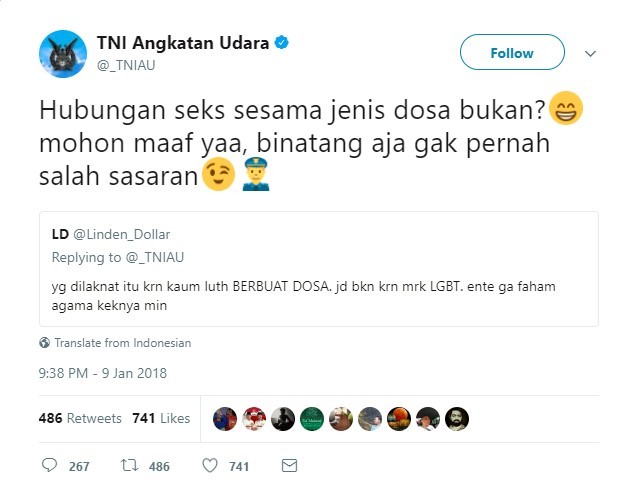 A tweet from @_TNIAU, an official account of the Indonesian Air Force. (Twitter.com/_TNIAU)
"This is a sensitive issue, but the TNI must be firm. TNI soldiers must be physically and mentally healthy […] Same-sex intercourse is a sin, right? I am really sorry, but even animals never miss their target [in mating]," tweeted @_TNIAU.
Although homosexuality is not illegal in Indonesia, it remains a sensitive issue in public. Members of the LGBT community in the country have long suffered social discrimination and stigmatization, especially amid growing conservatism and comments from public figures condemning them.
Join the discussions