Lapan holds viewings of rare lunar phenomenon for public, research
Arya Dipa

The Jakarta Post
Bandung, West Java |

Wed, January 31, 2018

| 09:12 pm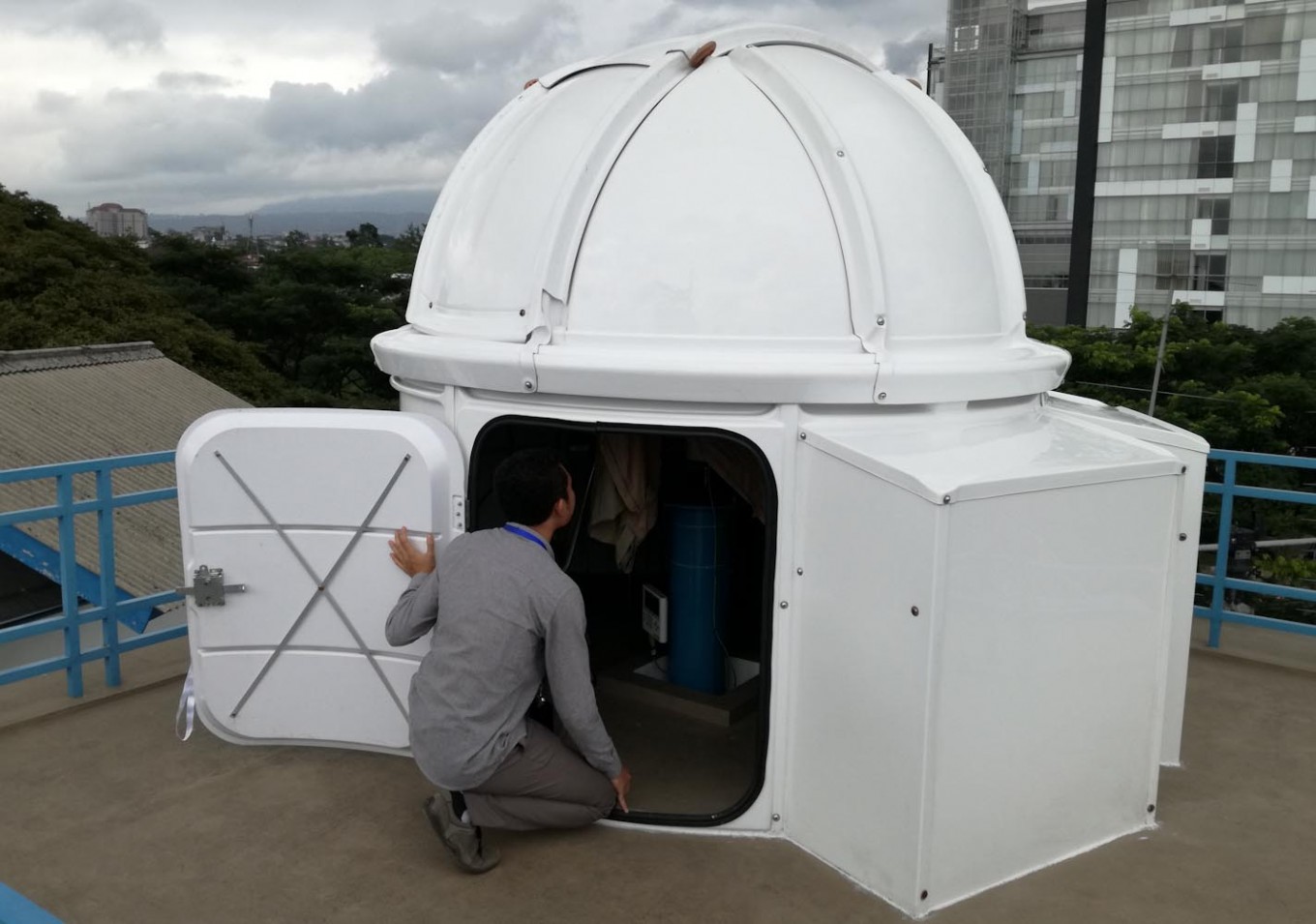 A researcher checks a telescope inside of a dome at the rooftop of the National Institute of Aeronautics and Space (Lapan) in Bandung, West Java, on Wednesday, Jan. 31. (JP/Arya Dipa)
The National Institute of Aeronautics and Space (Lapan) will hold viewings of the supermoon, expected to occur together with the total lunar eclipse on Wednesday, at its observation stations open to the public and for research purposes.
An astronomy and astrophysics expert at the institute, Muhammad Zamzam Nurzaman, said public viewings would only be held in Lapan's headquarters in Bandung, West Java.
"We will hold direct viewings as well as explanations to public, while they wait to peek at the Moon through the telescope," he said in Bandung on Wednesday.
Residents have been eager to witness the rare lunar phenomenon, which combines a blue moon, a supermoon and a total eclipse, which NASA has called a "super blue blood moon." Should the weather clear, the Moon will turn as red as blood, Zamzam said, explaining that the reddish color is from the Sun's rays spread by dust and molecules in the earth's atmosphere, which reflect off the moon.
Lapan also holds observations in its other stations, which are closed to public and are only for research. Other observation posts are the Space and Atmosphere Observation Centers in Sumedang and Garut, West Java, and Pontianak, West Kalimantan; the Aerospace Observation Station in Watukosek, East Java; and the Earth Station in Biak, Papua.
For scientists, the phenomenon can be used to measure the temperature on the Moon's surface.
"The observations can also help with research on types of rocks on the Moon. For established space institutes such as NASA, it could also serve as reference for Moon landings," Zamzam added.
Topics :
Join the discussions