Traffic jams biggest challenge for Asian Games
Ramadani Saputra

The Jakarta Post
Jakarta |

Sat, February 10, 2018

| 12:33 pm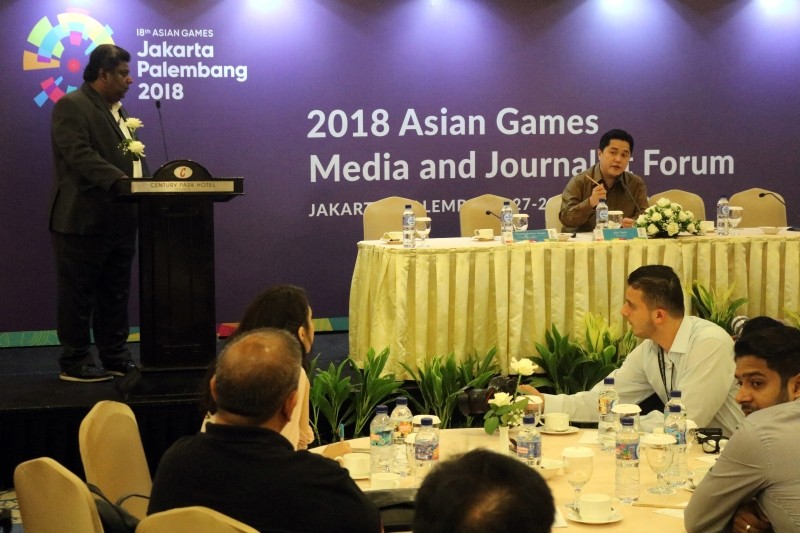 Indonesian Asian Games Organizing Committee (INASGOC) chief Erick Thohir (right) talks to the media, while Olympic Council of Asia (OCA) media committee Anthony J. Mariadas (left) looks on during the 2018 Asian Games Media and Journalists Forum at Century Park hotel in Jakarta on Monday. The forum was held to provide the media with latest updates on the Games' preparations. (Antara/Izaac Mulyawan)
The Indonesian Asian Games Organizing Committee (INASGOC) has called attention to the biggest problem observed during the ongoing Asian Games Invitational Tournament -- the city's terrible traffic congestion.

INASGOC chief Erick Thohir acknowledged that several issues needed to be addressed, in particular decreasing traffic jams so the athletes' time would not be wasted.

"One of the things we want to do is decrease traffic congestion by 20 to 30 percent. To achieve this, schools should be dismissed and office working hours adjusted. But we realize this is not within our authority," Erick told a press conference on Friday.

He added that INASGOC felt it was important to use the Asian Games lanes, referring to the existing Transjakarta lanes, and toll roads in order to avoid traffic. All vehicles with Asian Games stickers are granted access to these two lanes.

According to INASGOC, it took 41 minutes to travel from the athletes' village in Kemayoran to the venues at Gelora Bung Karno sports complex in Central Jakarta using the Asian Games lanes. While the same journey took around 27 minutes for vehicles using the toll road.

"Because of bad weather, on Thursday it took more than an hour, even using the toll road," he added.

To decrease the traffic, Erick emphasized the importance of implementing the solutions proposed by INASGOC [dismissing schools and adjusting office hours], as these strategies had been used for multisport events in other countries.

The Jakarta administration has earlierbeen urged to manage traffic from the athletes' village in Kemayoran to the Asian Games venue at the Gelora Bung Karno sports complex in Central Jakarta, to comply with standards set by the Organizing Committee of Asia (OCA) regarding the athletes' traveling time.

The OCA has stated travel time between the two points should not exceed 34 minutes.

Besides transportation issues, the committee also reviewed other matters such as the ticketing system and the condition of the venues. Erick said all the venues were ready to be used without any irregularities.

The athlete's village is also considered ready to accommodate athletes and officials.

Erick also said notes had been made regarding the communication and information system during the first day, as it was observed that the capabilities of some individuals assigned to the department were not sufficient.

"We will continue training the staff [to improve their capabilities]. Several facilities, such as the wifi connections, were also down for a little while," he said.
Topics :
Join the discussions