Man attacks churchgoers at St Lidwina church in Yogyakarta
News Desk

The Jakarta Post
Yogyakarta |

Sun, February 11, 2018

| 02:31 pm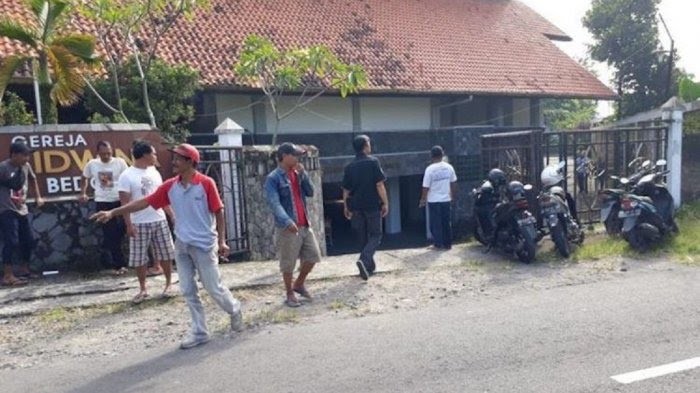 Residents stand outside St. Lidwina Catholic church in Sleman regency, Yogyakarta, following an attack by an unidentified assailant on Sunday morning. (Kompas.com/File)
An unidentified man has reportedly attacked churchgoers using a one-meter sword at St. Lidwina church in Sleman regency, Yogyakarta, on Sunday at around 7:30 a.m., injuring four people.
A video from tribunnews.com shows the young man, who is believed to be a university student, attack churchgoers in front of the west door before entering the church.
The man allegedly ran toward the choir and attacked pastor Karl Edmund Prier, who was leading the choir. He then slashed the statues of Jesus and Mary near the altar.
Pastor Prier reportedly suffered injuries to the back of his head, while two other churchgoers, Budijono and Martinus Parmadi Subiantara, and a police officer identified as First Insp. Adj. Munir, were also wounded.
Munir is said to have tried to negotiate with the young man and asked him to surrender, but instead Munir was attacked.
The police then reportedly fired a warning shot, which was ignored, before shooting the assailant in the stomach.
The perpetrator was rushed to Gadjah Mada University Hospital before being transferred to Bhayangkara Police Hospital.
"We rushed him to Bhayangkara Hospital for safety reasons," said Sr. Comr. Iman Prijantoro, Yogyakarta Police operational bureau head, as quoted by tribunnews.com. "He was shot by our officers."
St. Lidwina parish chairman, Sukatno, said churchgoers have calmed down and were not provoked by the incident.
"They are not affected. They know that the man only wanted to disrupt the peace," he said.
Sukatno said the church has invited the Sleman Police chief to speak to the people on the situation. He added that the church would be used for mass next weekend.
MAARIF Institute supervisory board member, Fajar Riza Ul Haq, called on the public to unite and not be provoked by any attempts to disrupt the peace.
"New cases of intolerance and religious violence should unite the people. We must be aware that there may be other reasons [for the violence]. Don't let the people become the victims of political interests by using religious violence," he said, as quoted by Kompas.com. (yan)
Join the discussions