Shiffrin savours 'sweet' Olympic giant slalom gold
 Alastair HIMMER

Agence France-Presse
Pyeongchang, South Korea |

Fri, February 16, 2018

| 09:00 am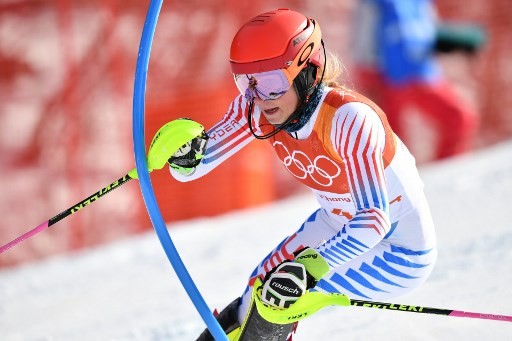 USA's Mikaela Shiffrin reacts after competing in the Women's Slalom at the Jeongseon Alpine Center during the Pyeongchang 2018 Winter Olympic Games in Pyeongchang on February 16, 2018. (AFP/Fabrice COFFRINI )
American Mikaela Shiffrin overcame the "mental strain" of her quest to win multiple Olympic gold by storming to victory in the giant slalom on Thursday.
One down, several to go for the 22-year-old, who produced an explosive second run to beat Norway's Ragnhild Mowinckel to the title by 0.39 seconds, with Italian Federica Brignone claiming bronze.
Shiffrin sank to her knees and sobbed tears of joy before hugging her coach as Italy's Manuela Moelgg, running last of the gold medal contenders, failed to reproduce the form that saw her pip the favorite in the morning.
"I told you guys you have to go for gold and I really went for it," said Shiffrin, who has a short turnaround before coming back on Friday to defend the Olympic slalom title she won in Sochi four years ago.
"There were moments when I thought 'I don't know if I'm good enough to do this'," added the American. "And then there were moments where I thought 'Who cares? You gotta try, you're here!'
"It's an incredible feeling to know that my best effort is good enough."
It was a clutch victory for Shiffrin after all the hype surrounding her assault on at least four of the women's Olympic alpine skiing's disciplines.
It was also a long time coming after poor weather played havoc with the schedule, postponing the women's slalom as well as the giant slalom.
"It's definitely been a mental strain the last couple of days -- thinking we were going to race and then not racing," said Shiffrin.
"To finally have the race actually happen today I was really hoping I could actually do it. I don't know how to explain it, it's crazy," she added.
"To come to the Olympics and to charge like that -- I risked it on the second run -- it's super-cool. We got the ball rolling and I'm really excited for tomorrow."
- Social media ban -
Shiffrin, who revealed she had a cat-nap between runs, quickly clawed back the two tenths of a second Moelgg gained on her after the first run with an aggressive ski, and powered over the line in 1min 9.20sec for a combined time of 2:20.02.
"I love slalom but G-S (giant slalom) is something I have this love-hate relationship with," said Shiffrin.
"It makes it a bit sweeter to have that performance today."
In an attempt to block out the attention, the American has banned herself from social media during the Games.
"I haven't been on Instagram, Twitter or Facebook for two weeks," she said.
"I'm watching Korean TV so that's easy because I don't understand it. If I don't see it I don't know what people are saying and I can ski for myself."
Mowinckel, fourth after the morning run, came through to take silver as Brignone kept her first-run position to claim bronze.
"The Olympics is about putting your best on the line," said Mowinckel. "I put a lot of fight into the second run and it's an incredible feeling."
Tessa Worley, the French world champion expected to challenge Shiffrin, recovered from a disastrous first run to clock 1:09.00, but it only lifted her to seventh.
Germany's Viktoria Rebensburg, who captured gold in Vancouver and bronze in Sochi, just missed out on a medal, finishing fourth.
Gusting winds that forced the postponements of the alpine skiing and the resulting delays could yet complicate Shiffrin's quest to medal in potentially five events.
Shiffrin, who has racked up 41 World Cup wins, is expected to make a decision on how to approach the compressed schedule after Friday's slalom.
American media reported she would skip the super-G on Saturday, citing Shiffrin's mother and coach Eileen. However, US ski officials told AFP a decision had yet been reached and to "stay tuned".
Further bad weather could force yet more delays, meanwhile, which could offer the skier a window to compete.
The women's downhill takes place next Wednesday, with the combined event two days later.
Join the discussions