US, Dutch officers swoop on dark web drug buyers
Driebergen, Netherlands |

Fri, February 16, 2018

| 09:29 am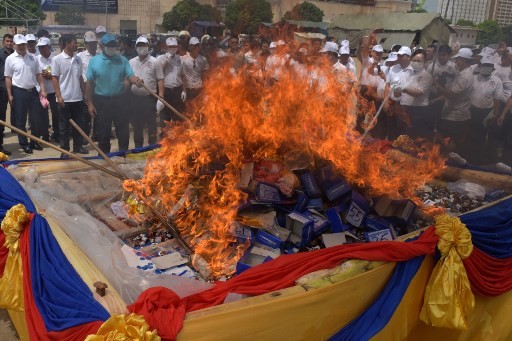 Cambodian officials torch a pile of drugs during a destruction ceremony to mark the UN's ( AFP/TANG CHHIN Sothy )
US and Dutch officers knocked on doors across the two countries this week in a massive combined operation to track down those buying illicit drugs on the dark web, officials said Thursday.
Operation "Decrypt" in the United States and "Mirum" in the Netherlands saw agents including from the Drug Enforcement Agency, visiting almost 100 addresses in so-called "knock-and-talk" actions in the two countries.
The operations are the first follow-ups since authorities last year shut down the massive illicit Hansa Market on the dark web, seen as one of the most sophisticated actions against internet criminality to date.
Together with AlphaBay -- which was also closed down -- the underground websites included tens of thousands of sellers of deadly drugs like fentanyl and other illicit goods, which served more than 200,000 customers worldwide.
But unknown to users, Dutch police secretly took over Hansa Market's administration before taking down the site, allowing officials to gather a wealth of intelligence on the buyers of illicit drugs.
Dutch police visited 37 addresses over the past two days to inform suspected buyers about the dangers of their actions "and to show that they are not as anonymous as they thought," officials said in a statement Thursday.
At least one 25-year-old man was arrested in the small central town of Wilp for ordering 150 ecstasy pills on the dark web, police said, adding that prosecutors were mulling further charges.
Buyers were mainly targeted for procuring drugs such as cocaine, ecstasy, LSD and hashish, Dutch police said.
At the same time, US authorities including the DEA, the FBI and others said they visited addresses in the United States.
Ahead of the operation, Kevin Scully, Europe's regional director of the US Drug Enforcement Agency, told AFP that "we'll be knocking on people's doors and talking with them, letting them know that what they are doing is wrong."
"The purpose is mainly to inform and educate people about the dangers of buying drugs over the dark web," Scully said on Tuesday.
"We also want to let people know that we've identified them. They can't buy drugs over the internet and assume that we're not going to know who they are," he added.
"And yes, some people will go to jail."
Nanina van Zanden, the dark-web team leader for the Dutch police said that when they took over Hansa Market, "we received great insights as to how it was organized and who was involved."
"This operation will make people understand that it's not as easy as you think to buy drugs on the dark web," she said.
Topics :
Join the discussions