Lukas-Enembe, John-Wempi to face off in Papua election
Nethy Dharma Somba

The Jakarta Post
Jayapura, Papua |

Tue, February 20, 2018

| 07:03 pm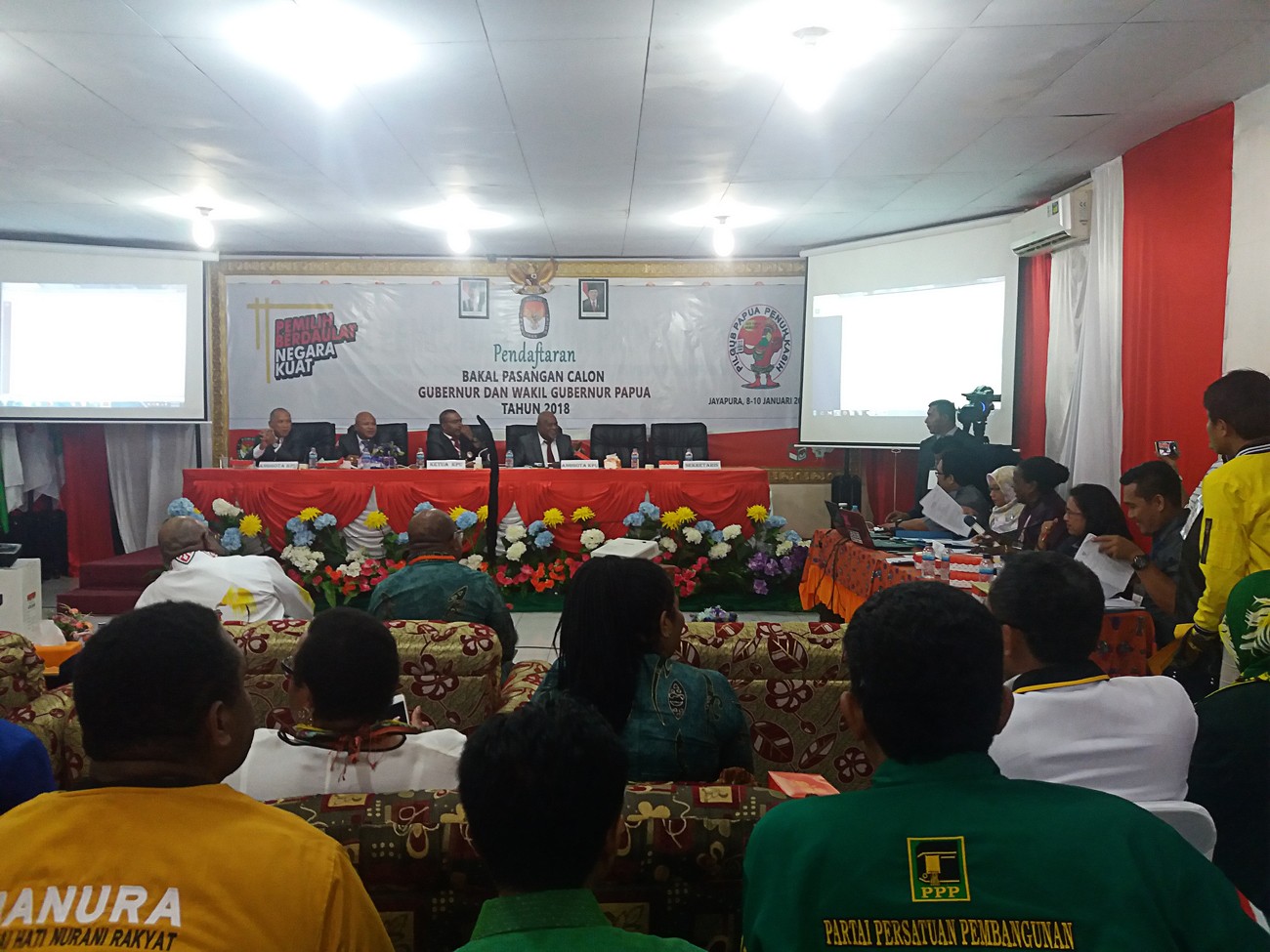 All ready: The Papua General Elections Commission (KPUD) verifies the administrative documents of incumbent candidate pair Lukas Enembe and Klemen Tinal on Jan.9. (JP/Nethy Dharma Somba)
After days of postponement, the Papua Elections Commission (KPUD) announced on Tuesday that incumbent pair Lukas Enembe - Klemen Tinal and the pair of John Wempi Wetipo - Hebel Melkias Suwae would compete in the province's gubernatorial election in June.
The Papuan People's Assembly (MRP) declared that both pairs were indigenous Papuans, a necessary requirement to run in the election.
The Lukas-Klemen pair is endorsed by the Democratic Party, the Golkar Party, the National Awakening Party (PKB), the United Development Party, the Prosperous Justice Party (PKS), the National Mandate Party (PAN), the NasDem Party, the Hanura Party, the Crescent Star Party (PBB) and the Indonesian Justice and Unity Party (PKPI).
John and Hebel, meanwhile, are supported by the Indonesian Democratic Party of Struggle (PDI-P) and the Gerindra Party.
"The MRP conducted a factual verification to check whether the four people originate from Papua. They all passed the verification process," KPUD Papua chairman Adam Arisoi said in a plenary meeting in Jayapura.
The national date to announce candidates was initially set for Feb.12, however the country's easternmost province was late to confirm its election candidates, as the MRP was late to submit the verification documents to the election offices of the four candidates' home regions.
Article 12 of the 2001 Special Autonomy Law stipulates that all candidates in the Papua election must be native Papuans, and that the MRP has the authority to determine whether or not the applicants meet the requirement. (foy/ebf)
Join the discussions