Lagarde urges Indonesia, ASEAN to continue reform
Marchio Irfan Gorbiano

The Jakarta Post
Jakarta |

Thu, March 1, 2018

| 08:50 am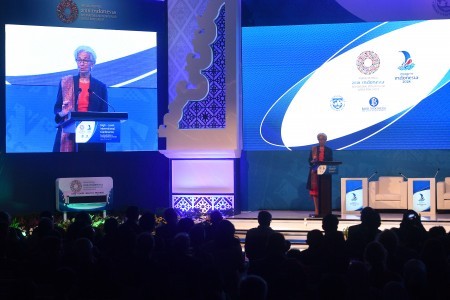 International Monetary Fund (IMF) managing director Christine Lagarde speaks at an international conference themed: Models in a Changing Global Landscape in Jakarta on Feb. 27, organized in the run up to the IMF-World Bank Annual Meetings 2018 in October. (Antara/Sigid Kurniawan)
International Monetary Fund (IMF) managing director Christine Lagarde has urged Indonesia, along with its ASEAN peers, to continue its reform agenda for a better-than-expected economic outlook this year.
The IMF recently projected the world economy would expand by 3.9 percent this year and in 2019, up from its previous estimation of 3.7 percent.
"Governments can use this moment of stronger growth to reinforce their policy frameworks. This includes further efforts to reform financial markets, upgrade labor laws and lower barriers," said Lagarde in her speech during a conference held in Jakarta on Tuesday.
Among key policy priorities, Lagarde said, was investing in human resources and infrastructure as well as improving the business environment by cutting red tape.
She went on to call on countries in the region to promote more inclusive growth, citing an IMF study that showed economic growth would become more resilient if the benefits of the growth were more widely shared among the population.
The IMF boss also applauded Indonesia's progress in the last two decades, during which the country has managed to cut its poverty rate by 40 percent, increase life expectancy by more than 6 percent and increase the number of people that receive tertiary education by 250 percent.
"These are big achievements, a representation of a positive trend that we see across the ASEAN countries," she said.
Lagarde also praised the progress of ASEAN economic integration. "ASEAN can be proud of the progress made so far, including the elimination of intra-regional tariffs," she added. (bbn)
Join the discussions