China's parliament abolishes presidential term limits
Beijing, China |

Sun, March 11, 2018

| 03:19 pm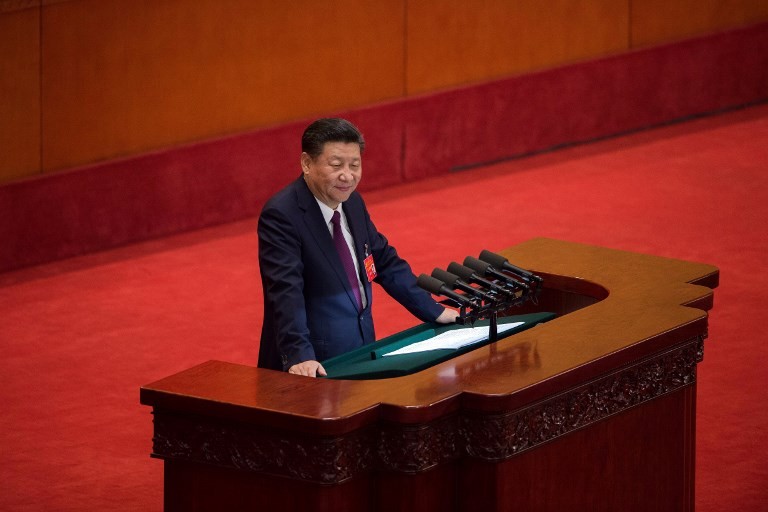 China's President Xi Jinping gives a speech at the opening session of the Chinese Communist Party's five-yearly Congress at the Great Hall of the People in Beijing on Oct. 18, 2017. (Agence France-Presse/Nicolas Asfuri)
China's parliament voted Sunday to abolish presidential term limits, clearing the path for President Xi Jinping to rule for life.
The almost 3,000 delegates to the country's rubber-stamp legislature passed the measure as part of a package of changes to the country's constitution, with 2,958 voting for, two against and three abstaining.
The move reverses the era of "collective" leadership and orderly succession that was promoted by late paramount leader Deng Xiaoping to ensure stability following the turbulent one-man rule of Communist China's founder Mao Zedong.
The historic constitutional amendment breezed through the rubber-stamp parliament with 2,958 in favour, two against and three abstentions despite an unusual bout of online criticism that censors have scrambled to extinguish.
Xi stood up first at the imposing Great Hall of the People in Beijing to cast his paper ballot in a red box, as delegates of the National People's Congress applauded after each vote on the constitutional amendment to lift the two five-year term limit for the presidency.
The first constitutional amendment in 14 years had been expected to breeze through the legislature, which has never rejected a Communist Party diktat in its half-century of existence.
"This is the urgent wish of the common people," Ju Xiuqin, a delegate from northeastern Heilongjiang province, told AFP, echoing party claims that the amendment had the unanimous support of "the masses".
Topics :
Join the discussions