Vatican ambassador visits Pontianak, brings messages of peace
Severianus Endi

The Jakarta Post
Pontianak, West Kalimantan |

Mon, March 12, 2018

| 03:34 pm Messages of peace: Vatican Ambassador to Indonesia Archbishop Piero Pioppo (left) talks with Pontianak Archbishop Agustinus Agus (second left) during his visit to the Inter-Diocesan Seminary of Antonino Ventimiglia in Pontianak, West Kalimantan, on March 11. (JP/Severianus Endi)
Vatican Ambassador to Indonesia Archbishop Piero Pioppo conveyed messages of peace during his pastoral visit to Pontianak, West Kalimantan, on Sunday.
After blessing the Mary, Queen of Peace Catholic Church and the statue of Antonino Ventimiglia, the patron saint of the Inter-Diocesan Seminary in Pontianak, Pioppo held a friendly dialogue with members of Catholic communities in the city.
In the seminary, dozens of fraters pursuing their further education at the "Pastor Bonus" School of Theology welcomed the apostolic nuncio by singing the prayer "Our Father" in Latin ("Paster Noster").
Speaking in front of the fraters, Pioppo said he was once a frater in a seminary, where he had to study and gain experience before he was declared suitable to be ordained as a pastor, with a main task as a shepherd of congregation.
"Don't forget, I was a seminarian many years ago. And now, we all must bring messages of peace as passed on by Jesus Christ," said Pioppo.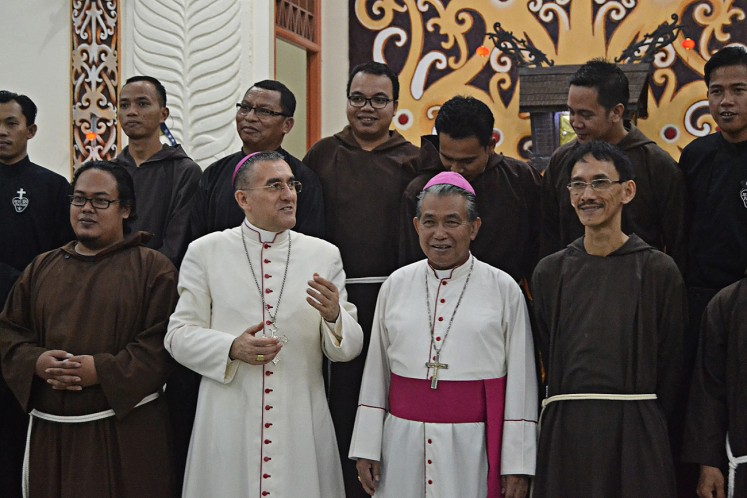 Peace mission: Vatican Ambassador to Indonesia Archbishop Piero Pioppo (second left) and Pontianak Archbishop Agustinus Agus (second right) take a picture with seminarians at the Inter-Diocesan Seminary of Antonino Ventimiglia in Pontianak, West Kalimantan, on March 11. (JP/Severianus Endi)
Amidst the rain, Pioppo blessed the Antonino Ventimiglia statue, which is flanked by a couple of figures wearing Dayak tribe costumes to represent local symbols. Ventimiglia is a pastor from Italy. He arrived in Kalimantan to begin his missionary work, introducing Catholicism to the Dayak people, in 1688.
Antonino Ventimiglia Inter-Diocesan Seminary rector Edmund Nantes said the seminary was built 20 years ago as an education center for pastor candidates from areas across Kalimantan.
"When it first operated, it educated only three seminarians and as of today, it has educated 246 fraters, 185 of whom have been ordained as pastors," said Edmund. (ebf)
Topics :
Join the discussions