Why blaming superstition for tiger's death is wrong
Moses Ompusunggu

The Jakarta Post
Jakarta |

Fri, March 16, 2018

| 03:28 pm Gadis, a Sumatran tiger with one of her paws amputated, is seen at the Barumun Nagari Wildlife Sanctuary in Padang Lawas Utara, North Sumatra on November 24, 2016. The four-year-old tiger had her right front paw amputated after it was caught in a pig trap. (AFP/Gatha Ginting)
Batang Natal, a remote district on the western coast of Sumatra, grabbed international headlines last week when dozens of villagers reportedly killed and hanged an endangered tiger after mistaking it for a shape-shifter (siluman).
Foreign news outlets such as The Independent, The Washington Post and The New York Post highlighted how local belief had driven the villagers in Hatupangan village in Batang Natal to slay the two-year-old male Sumatran tiger.
But a University of Indonesia (UI) anthropologist who has studied human-wildlife relations in Batang Natal doubted that local belief was what drove the villagers to attack the tiger. "I am not sure that a belief was what pushed them to kill. There must be another reason," Sundjaya told The Jakarta Post in a recent interview.
He argued that local belief had for decades served as a guideline for peaceful coexistence between humans and tigers in Batang Natal.
It is possible that such belief has been forgotten or is no longer effective, Sundjaya said. If anything, he warned that putting the blame on the villagers' belief could divert people's attention from the real culprit behind the incident: environmental degradation affecting both humans and big cats.
Peaceful coexistence
Sundjaya, who has worked with conservation groups since 1999, conducted his study in 2004, the same year that Batang Gadis National Park, located near the village and believed to be the habitat of the slain tiger, was established.
Read also: Tiger brutally killed in North Sumatra, hung from ceiling
The study examined the relationship between communities and natural biodiversity in the national park, surveying the situation in 10 villages. According to his findings, all of the villages had historic contact with tigers.
He recalled staying at the house of a villager when he was conducting the study in 2004. The owner casually told him that the night before he stayed at the house, a tiger slept underneath his stilt house. The owner even showed the tiger's footsteps to Sundjaya, showing no signs of concern.
It was a far cry from what happened in Batang Natal recently, when another tiger sleeping under a stilt house was repeatedly stabbed with spears.
Villagers hostility toward tigers had only happened recently, said Sundjaya. The relationship between villagers and tigers, at least until 2004, had not been as sour as the current perception.
"[When I was there] I never received reports about humans harming tigers," Sundjaya said. "There was a perception among locals that tigers had a mythological connection with their origin."
Tiger: Feared 'grandmother', 'leader'
The anthropologist found that locals tended to be fearful of tigers when, for instance, the latter marauded their villages, but this did not drive locals to slay the animals in revenge. Instead, locals regarded tigers highly in their cultural system, and even referred to the animals as nenek (grandmother) or datuk (leader).
When a tiger marauded a village, the locals perceived it as a sign that the villagers had done something wrong. They refused to call the animal a "tiger". If they did that, they believed it would come to their village. The thinking was: Don't do wrong if you don't want tigers to haunt you.
Read also: Special team formed to catch tiger in Riau
"It served as a symbol of how they regarded tigers in their culture. But what I don't know is the cultural changes that might have occurred there," Sundjaya said.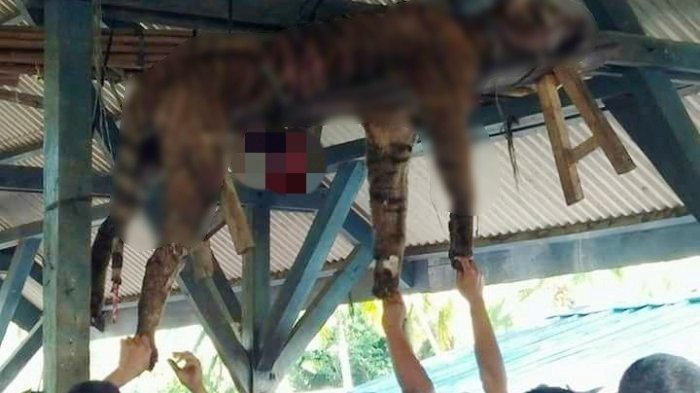 Local residents look at a dead Sumatran tiger hung in Hatupangan village, Mandailing Natal, North Sumatra, on Sunday morning. The tiger was allegedly killed by locals. (Tribun Medan/handover)
It is said that individual gold miners from other regions have been operating in Batang Gadis. Environmental news portal mongabay.co.id reported in 2014 that the majority of individual miners in the Batang Gadis area were from regions on neighboring Java island, such as Surabaya and Bogor.
"When a lot of outsiders come to an area, it affects how people there perceive a mythological belief. It's possible that the belief is no longer seen as functional," said Sundjaya.
Real versus unreal issues
Batang Natal subdistrict head Lion Muslim Nasution claimed that Hatupangan villagers were aware tigers were an endangered species, but they were so consumed by fear that they decided to kill the tiger.
Amrin, a local resident, claimed that even after killing the tiger, the villagers had yet to recover from the "trauma caused by the tiger shape-shifter issue."
Amrin admitted that he had never seen the siluman tiger, claiming that only people with supernatural powers could do that. "I don't have it, so I don't know what it looks like, but I believe it exists," he said.
Regardless of whether the whole village believed the siluman rumor, the way the villagers responded to the shape-shifter rumor — through violence and not a special ritual led by a shaman, for example — was odd, Sundjaya said.
Local authorities share Sundjaya's suspicion, alleging that certain parties —illegal loggers and animal traders — had spread the shape-shifter rumor to advance their interests.
"The fact is that they killed the tiger sadistically. The shape-shifter thing is only an issue used by a particular group to cow the villagers," said Hotmauli Sianturi, head of North Sumatra Natural Resources Conservation Agency (BKSDA).
Sundjaya has called on the authorities to just focus on the real issues.
"What is clear is that the real problems are that the natural lands have been converted and the ecosystem has changed," he said.
Since its establishment in 2004, Batang Gadis National Park has been facing several threats to its ecosystem in the form of extractive activities, most notably gold mining and palm oil businesses.
Environmental group JATAM, for instance, claimed that 37 percent of the Batang Gadis national park area overlapped with the concession of a mining firm. In 2009, the Supreme Court ruled in favor of the company.
Apriadi Gunawan contributed to this article from Medan
Topics :
Join the discussions