Land allocated to restore forests, ecosystem in Puncak
Theresia Sufa

The Jakarta Post
Bogor, West Java |

Tue, April 10, 2018

| 02:03 pm Closer partnership: State plantation company PTPN VIII Gunung Mas manager Hikmat Agustian (center) shows an agreement letter on the conservation of the Puncak area in Bogor, West Java, at a press conference on April 3. Puncak Conservation Consortium coordinator Ernan Rustiadi (second right) attended the event. (JP/Theresia Sufa)
Two tea plantation companies and state forestry company Perhutani have allocated land for forest restoration in an effort to rehabilitate the ecosystem Puncak, Bogor, West Java, which was previously the upstream area of Ciliwung river basin (DAS).
The tea plantation companies are PTPN VII Gunung Mas and Ciliwung, which are managed by tea company Sumber Sari Bumi Pakuan.
Together with Perhutani's Bogor forest management office (KPH), the two companies are carrying out forest restoration programs with support from Forest Watch Indonesia, Bogor Agricultural University's public service and research center and the Puncak Area Conservation Consortium.
The partnership has been formalized through the signing of an agreement between the companies and the consortium at PTPN VIII Gunung Mas on April 3.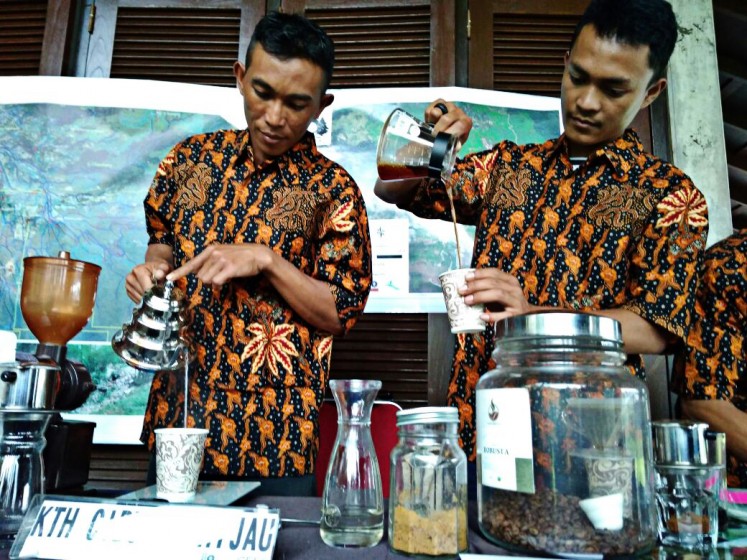 Natural products: Members of the Cibulao Hijau Forest Farming Group demonstrate forest products at Gunung Mas meeting hall in Bogor, West Java, on April 3. (JP/Theresia Sufa)
Thomas Oni Veriasa, manager of Perhutani KPH Bogor's program to mitigate the impact of climate change in the upstream area of DAS Ciliwung, said the company had allocated 30 hectares of land in Kampung Cibulao, North Tugu district, Cisarua, to cultivate coffee trees and forest plants through a community-based forest management scheme.
Meanwhile, PTPN VIII Gunung Mas allocated 125 ha of land for forest rehabilitation. This does not yet include 5,700 square meters of land provided to develop tree seedling estates.
Sumber Sari Pakuan, as the holder of the Ciliwung tea plantation's land use permit, has agreed to work with the Puncak Area Conservation Consortium. It agreed to allocate around 35-40 ha of land for the cultivation of various coffee and fruit plants and trees, among others things. (ebf)
Topics :
Join the discussions