Pertamina strives to tackle remains of oil spill
News Desk

The Jakarta Post
Jakarta |

Tue, April 10, 2018

| 02:28 pm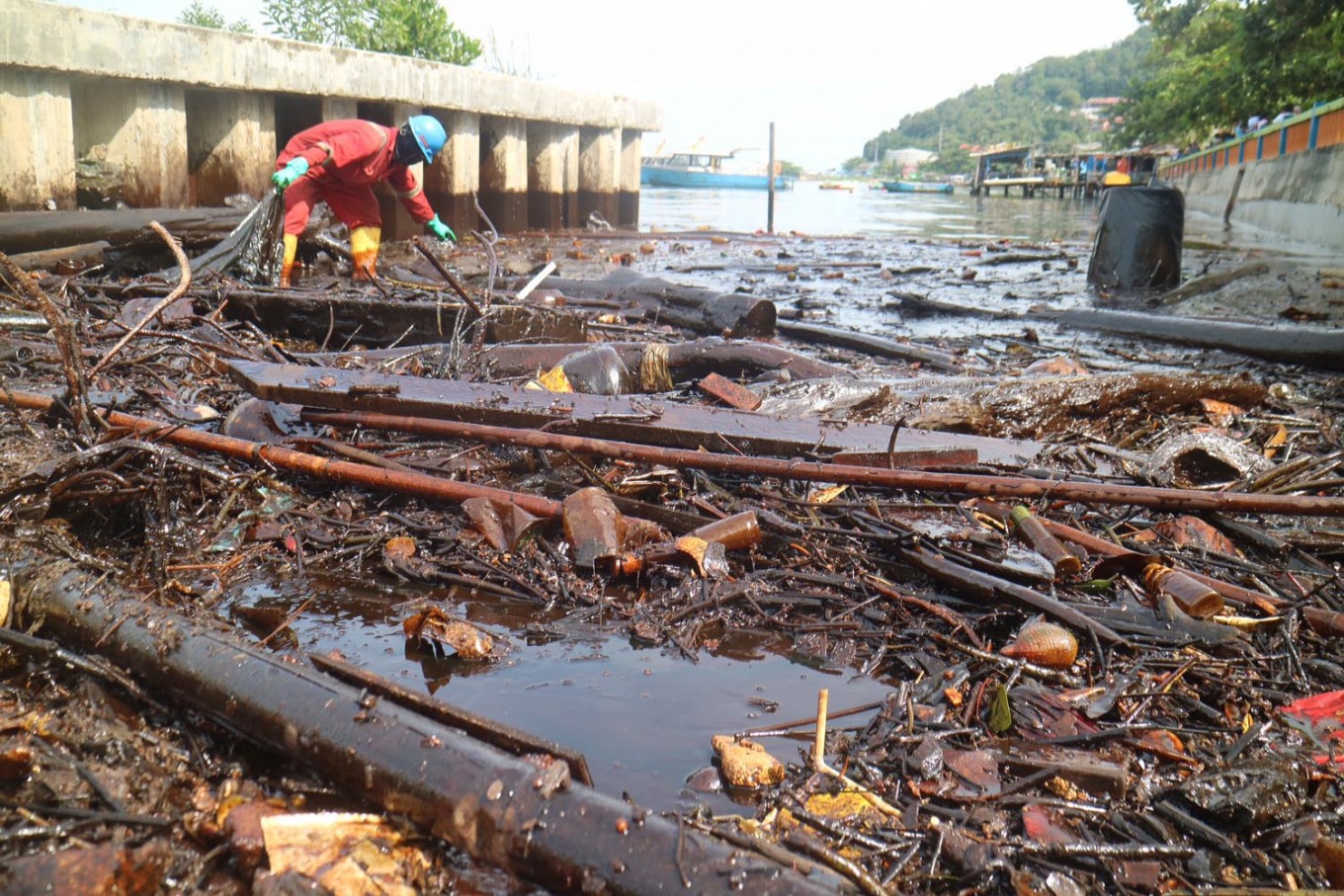 Heavily polluted: A worker of state oil and gas company Pertamina strives to clean the waters along the Melawai coast in Balikpapan, East Kalimantan, from debris containing crude oil on April 4. (Antara/Sheravim)
State-owned oil and gas company Pertamina continues to monitor the waters of Balikpapan Bay, East Kalimantan, to detect any remains of a recent oil spill.
Pertamina is concentrating on six areas of the bay in its cleanup: the jetty area, Semayang to Balikpapan Plaza, Kampung Atas Air to Kampung Ulu Baru, Penajam, Balikpapan Bay and Kariangau.
"Pertamina has three patrol boats in zones 1, 2 and 3," Kalimantan regional communication manager Yudy Nugraha said on Monday as quoted by Tempo.co. "Several boats are also on standby, consisting of seven tugboats, three barges and four aluminum boats."
On March 31, a burst undersea Pertamina pipe - connecting the company's Lawe-Lawe Terminal to its refinery in Balikpapan - caused an oil spill across 12,900 hectares of the bay. An ensuing fire resulted in the deaths of five people.
(Read also: Police question 22 witnesses in relation to Balikpapan oil spill)
Yudy claimed the Balikpapan waters appeared to be clean. "We still need to clean remaining layers of oil," he said. "We also need to clean oil-covered plants near residential areas."
Of the six locations, the jetty area was almost completely clean by Sunday, he said. "But we are still conducting patrols and cleaning the remaining pockets of oil and the thin layers."
According to Yudy, the waters and coastal areas in the Semayang-Balikpapan Plaza area looked clean. A film of oil remains in Kampung Atas Air while the Kariangau coast cleanup was in progress.
Pertamina claims that the Penajam and Balikpapan Bay areas have been clean since Friday. "However, boats will continue to patrol four times a day," Yudy said. (kmt/ebf)
Join the discussions