Pertamina to give victims' families Rp 200m
Jakarta |

Thu, April 12, 2018

| 11:11 pm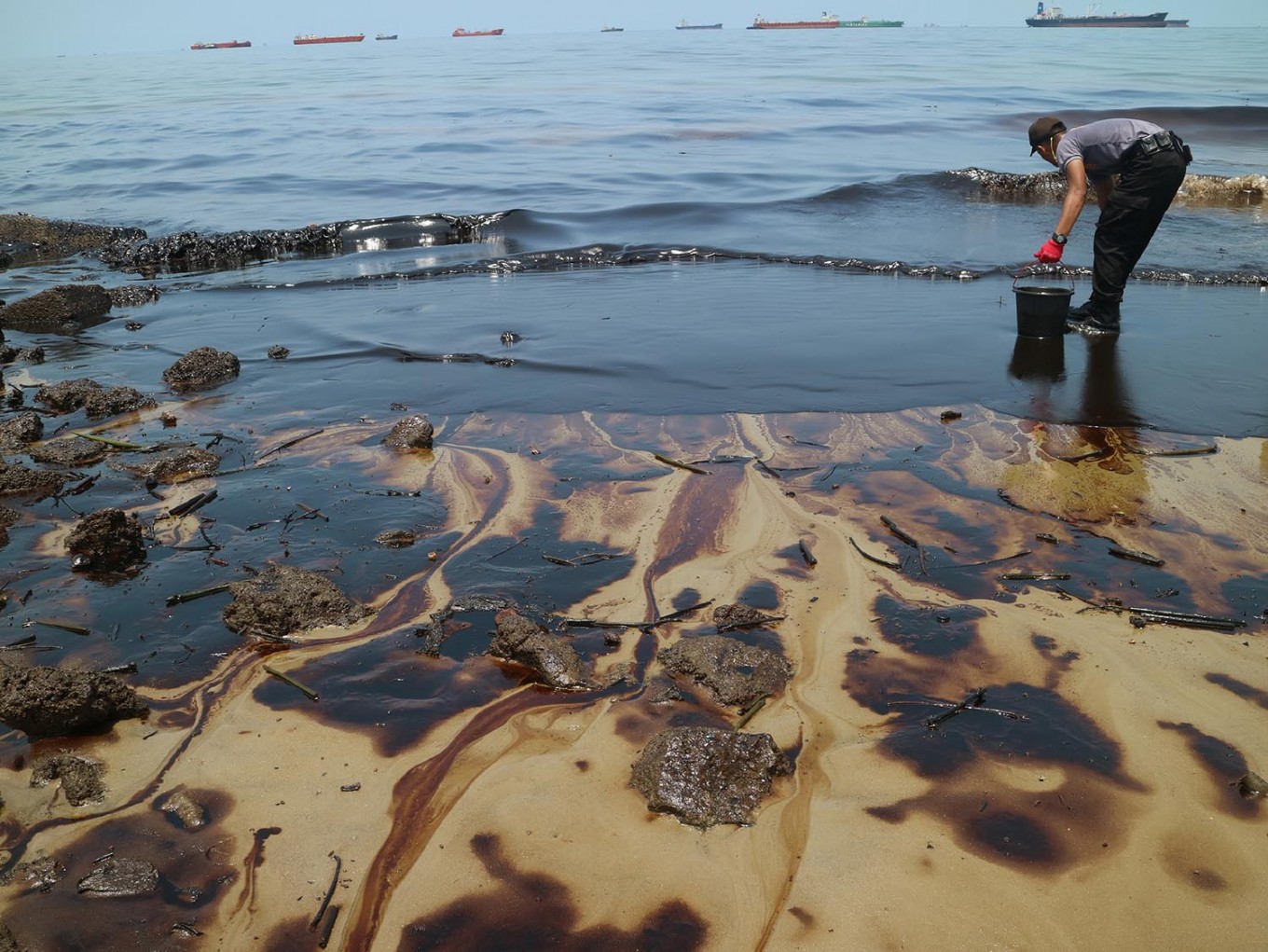 This picture taken on April 2, 2018 shows an Indonesian policeman trying to clean Benua Patra beach after a nearby oil spill in Balikpapan. An oil spill off Borneo island that led to five deaths and the declaration of a state of emergency was caused by a ruptured undersea pipe, Indonesia's national oil company Pertamina said on April 4. (AFP/-)
State-owned oil and gas company PT Pertamina plans to give the families of five people who were killed in a recent Balikpapan oil spill in East Kalimantan Rp 200 million (US$14,521) for compensation.
Pertamina regional manager for communications and corporate social responsibility (CSR) Yudi Nugraha said he hoped the money could be disbursed as soon as possible.
Five Balikpapan residents died following an oil spill that triggered a fire on March 31, namely Wahyu Gusti Anggoro, 27, Imam Nurokhim, 41, Agus Salim, 42, Suyono, 45, and Sutoyo, 52.
The five men had been fishing when they were trapped in the fire in the middle of Balikpapan Bay.
The family of Suyono also received Rp 160 million in insurance money from PT Jasa Indonesia.
"We handled the fishermen's insurance," said the head of Balikpapan's Marine, Fisheries and Agriculture Agency, Yosmianto.
Fishermen insurance is part of the agency's program and some of the participants' premiums are subsidized by government funds. But Suyono claimed he was paying the money out-of-pocket.
Siti Maghfiratul Jannah, 27, the widow of Wahyu, said her husband's life could not be replaced. She said if any legal action were taken against Pertamina, she would be willing to serve as a witness.
Authorities continue to investigate the parties responsible for the oil spill and fire.
Although the oil had come from Pertamina's burst pipeline, a government official said the spill was not Pertamina's fault.
"The pipe was allegedly dragged by an anchor dropped by a vessel, though no vessel was permitted to drop anchor or even pass through the bay," Djoko Siswanto, the Energy and Mineral Resources Ministry's oil and gas director general, told reporters on April 5 in Jakarta.
Wahyu's sister, Yuli Prasetya Ningrum, said she would let the authorities decide who was responsible for the fatal tragedy.
Earlier on Wednesday, Pertamina said they would wait until the investigation into the oil spill was complete to decide whether it would financially compensate the families of the five fishermen.
On April 9, lawmakers in Jakarta demanded that Pertamina provide the families with compensation.
On Wednesday, Yudi said the company would focus on "mitigating the impact of the oil spill". The program is under the company's CSR, he said.
Separately, City Secretary Sayid MN Fadli said the administration was studying the need for compensation, both for human casualties and environmental damages.
He added that the administration's study was in line with the Balikpapan Council's call for residents to file a class action. (evi)
Topics :
Join the discussions