Ethanol needed to treat 'oplosan' poisoning: Expert
Elly Burhaini Faizal

The Jakarta Post
Jakarta |

Mon, April 16, 2018

| 07:43 pm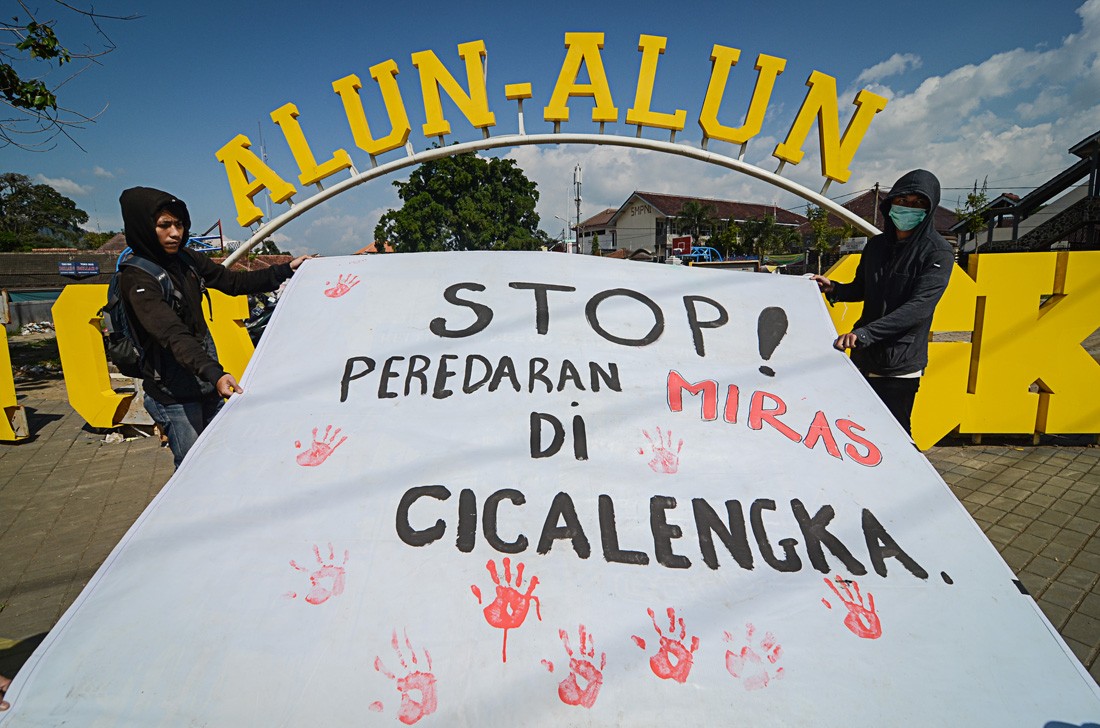 Fight against bootleg liquor: Members of civil society group Cicalengka Youth Solidarity Committee stage a rally at Alun-alun Cicalengka, Bandung regency, West Java, on April 13, to call on authorities to take tougher measures in stopping the spread of bootleg liquor, which has killed dozens of people in the regency. (Antara/Raisan Al Farisi)
Administering the proper course of treatment for victims of methanol poisoning, such as those who fell ill or died after drinking oplosan (bootleg liquor), can prevent further deaths, an expert has said.
According to Knut Erik Hovda, a medical expert from Norway's Oslo University Hospital, methanol is not toxic before it is transformed into formic acid in the liver. Only by giving the patient ethanol can the process be stopped, he added.
"We often get confused to see that people who consume bootleg liquor do not get sick or [fall into a] coma until at least 24 hours after they drink it. This is because ethanol in liquor will stop the metabolism of methanol into formic acid. As long as there is still ethanol in the blood of the patient, this toxic metabolism will not start," Hovda told The Jakarta Post on Sunday.
He further explained that methanol would transform into formic acid only after ethanol has left the body, which is why it takes 12-24 hours before a person consuming bootleg liquor shows symptoms of methanol poisoning.
"This is why the most important part of the treatment is to give the patients more ethanol. They need alcohol. This is the life-saving concept needed here," Hovda said.
(Read also: Bootleg liquor death toll rises to 60 in West Java)
The death toll from a spate of recent cases of people drinking unlicensed liquor has risen to 60 in West Java.
The West Java Health Agency said the victims had likely died of methanol poisoning.
"Ethanol is what we drink for recreational purposes, while methanol is the industrial alcohol mixed into ethanol. The only reason for mixing methanol with ethanol is to make more money," Hovda said.
"With methanol, you can sell more at higher price to make more money with less amount of ethanol."
Medecins Sans Frontieres (MSF) country director Daniel von Rège said methanol poisoning was not unique to Indonesia; it was happening globally.
"This case has always followed the same pattern and the pattern is that you will have one manufacturing site, usually, where additional substances, like methanol, get added on," he said.
Topics :
Join the discussions