Critically endangered Javan Rhino dies in Indonesia
Jakarta |

Thu, April 26, 2018

| 07:30 pm A member of the Rhino Monitoting Unit (RMU) looks for foot prints of the Javan rhinoceros in an area known as the center of the species' habitat near Cigenter River in a protected forest area. (JP/Dhoni Setiawan)
A Javan rhino has died in Indonesia, the environment ministry said Thursday, bringing the critically endangered mammals closer to extinction with just 60 believed to be still living in the wild.
The body of the male rhino was found inside West Java's Ujung Kulon national park, the creature's last remaining habitat.
Its death was believed to be from old age rather than poaching.
The animal has been driven to the brink of extinction as their horns are highly valued in traditional Chinese and Korean medicine, although most countries in the region have banned the trade.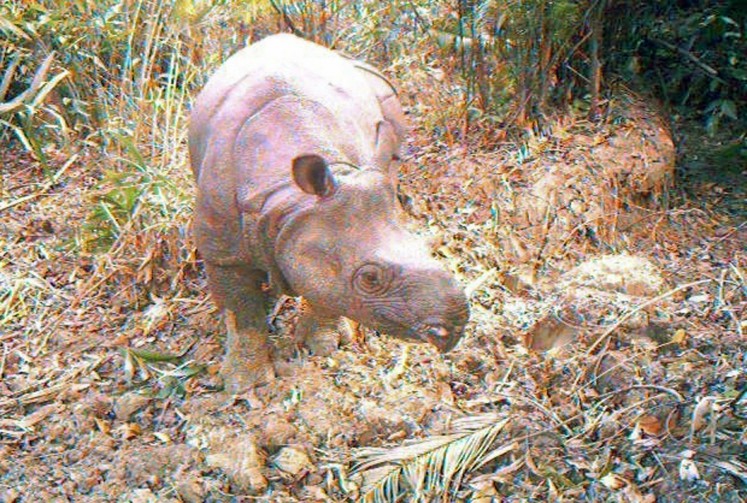 In this undated handout picture released by Ujung Kulon national park on December 30, 2011, a Javan rhino, part of a group of 35 critically endangered Javan rhinos, is seen at the Ujung Kulon national park. Hidden cameras in the jungles of Indonesia's Java island have captured images of 35 critically endangered Javan rhinos, including five calves, an official said December 30. (Ujung Kulon National Park/AFP/File)
"We found it on (Monday) and are now performing an autopsy," said environment ministry spokesman Djati Witjaksono Hadi.
The 40-year-old rhino didn't had any offspring, he added.
Javan and Sumatran rhinos are classified as "critically endangered" by the International Union for Conservation of Nature (IUCN).
The Javan rhino is distinguished from African rhinos by its smaller size, single horn and loose skin folds which give it the appearance of wearing armour plating.
Topics :
Join the discussions