Medan street art becomes iconic tribute to Tapanuli orangutans
Apriadi Gunawan

The Jakarta Post
Medan |

Tue, May 8, 2018

| 05:00 am Orangutan street art by Vhils aka Alexandre Farto in Medan, North Sumatra. (Courtesy of Sumatran Orangutan Society/Nicholas Chin)
Stunning street art depicting orangutans created by globally renowned artists have become an icon of Medan, the capital of North Sumatra, the province where the rarest ape in the world, Pongo tapanuliensis, live and where their numbers are dwindling.
Scientists believe that only about 800 Tapanuli orangutans remain in the wild.
The art is located in different locations in Medan including the SIB traffic circle on Jl. Gatot Subroto, Jl. Perdana and Jl. Sisingamangaraja.
Panut Hadisiswoyo of the Orangutan Information Center said the orangutan street art had become iconic because many tourists have been taking pictures of it.
He added that he did not expect it to have such a positive impact on Medan's tourism. The artwork was created to celebrate the third species of orangutan and to raise public awareness.
"Our initial goal is to raise awareness of orangutan protection, especially Tapanuli orangutans, whose habitats are continued to be exploited," Panut told The Jakarta Post on Sunday.
Read also: Newly discovered orangutan species is most endangered great ape
In March, a number of international artists promoted environmental issues through their art. The theme was "Splash and Burn", a play on the words "slash and burn", the traditional practice of opening up forests for plantations.
This is the second time that the artists have visited Medan for the environmental campaign.
Lithuanian Ernest Zacharevic, one of the artists, said they came to Medan to encourage the Indonesian art community to create murals with an environmental conservation perspective.
Zacharevic said he came this year to repair his own mural, which he created on Jl. Perdana last year. His work, depicting three children playing with orangutans on a motorized pedicab, was vandalized. The real pedicab attached to the wall was stolen and damaged. But this year he managed to repair his art.
The United Kingdom-based Sumatran Orangutan Society (SOS) reported on their website that besides Zacharevic, another street artist, Vhils whose real name is Alexandre Farto, constructed a large face of an orangutan in Medan. The Portuguese artist used a different method, instead of painting he chipped and chiseled it on the side a building.
"It's artists who power the cities we live in -- who counterbalance the pressures of different issues by creating images on walls. You can start a discussion and bring to the public issues that otherwise would not be there," Vhils said, as quoted by SOS.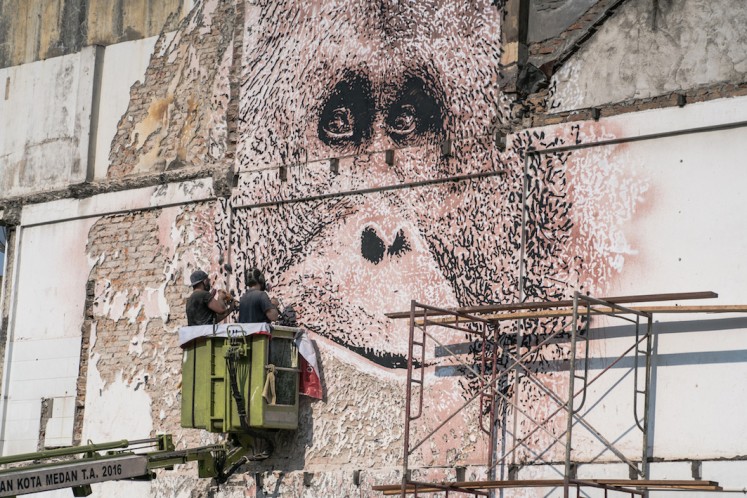 Portuguese street artist Vhils chisels an orangutan's face on the side of a building at the Majestik traffic circle area in Medan in March. (Courtesy of Sumatran Orangutan Society/Skaiste)
Its data showed that there were 14,600 orangutans in the wilds of Sumatra, including 800 of the third species, the Tapanuliensis.
Scientists have so far recorded three species: the Tapanuliensis, Sumatran and Bornean.
Outwardly, the Tapanuli orangutan bears a closer resemblance to its Bornean counterpart, with cinnamon-colored fur that is frizzier than its Sumatran relative. It also has a "prominent mustache", according to the findings published in the journal Current Biology.
Scientists believe the three types of orangutans share a common ancestor but began to diverge into different species about 3.4 million years ago.
"The Batang Toru orangutans appear to be direct descendants of the initial orangutans, who had migrated from mainland Asia, and thus constitute the oldest evolutionary line within the genus Pongo," said scientist Alexander Nater of the University of Zurich, as quoted by AFP in November last year.
Read also: China-backed Sumatran dam threatens the rarest ape in the world
The Tapanuli orangutan species became isolated from its Sumatran relatives about 10 to 20,000 years ago, Nater added, eventually settling in the Batang Toru forest in North Sumatra.
Recently, distinguished research professor and Australian laureate at James Cook University, Bill Laurance wrote in The Conversation that Tapanuli orangutans faced various threats, including from a planned massive hydropower dam as part of China's Belt Road Initiative.
Topics :
Join the discussions