Debates on Hizbut Tahrir Indonesia trending topic on Twitter
Gemma Holliani Cahya

The Jakarta Post
Jakarta |

Tue, May 8, 2018

| 09:21 am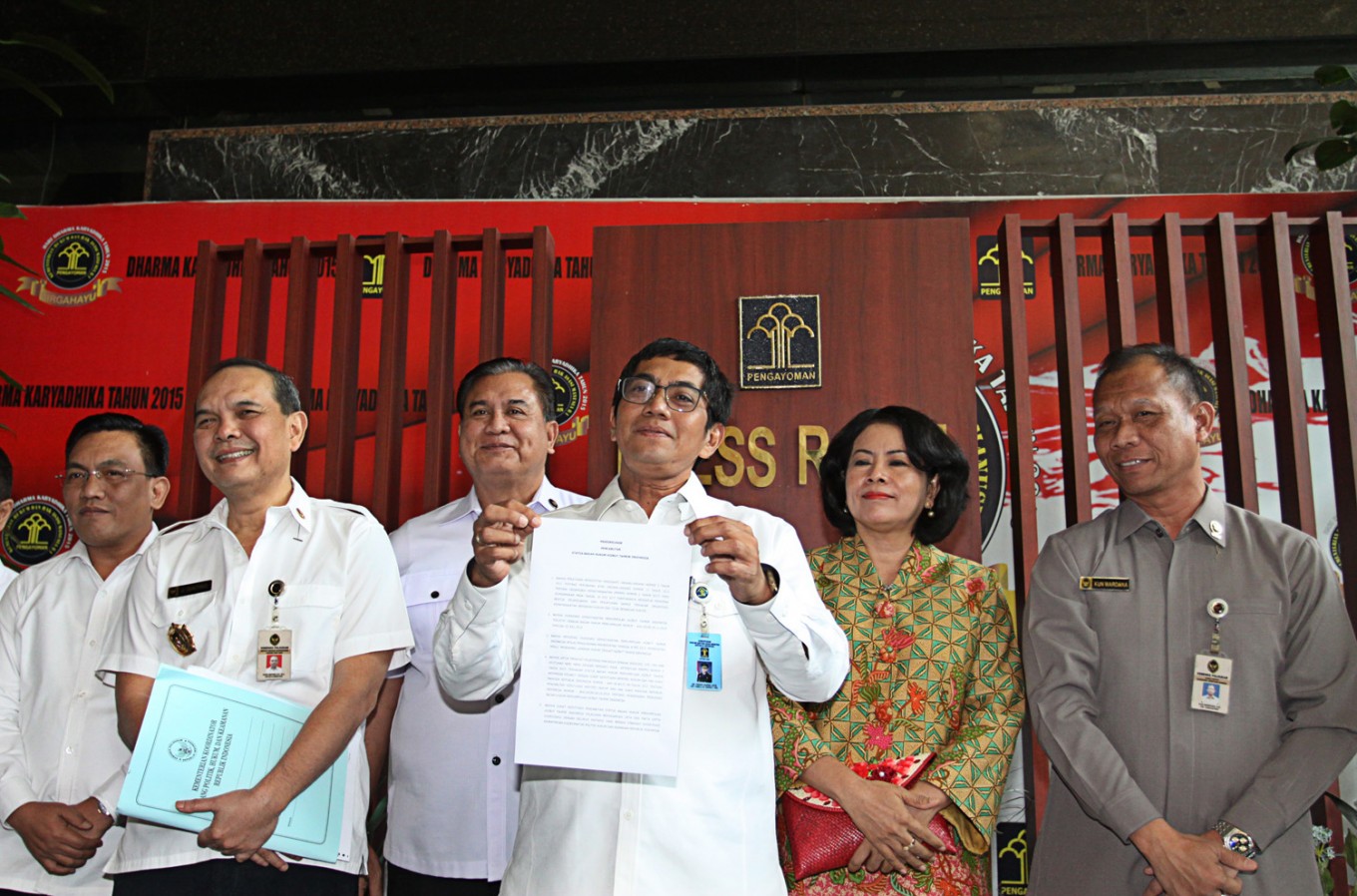 The Law and Human Rights Ministry's General Law Administration director general Freddy Harris (center) gives a press statement about the disbandment of Islamic organization Hizbut Tahrir Indonesia (HTI) in Jakarta in July last yearGemma Holliani Cahya. (Antara/Reno Esnir)
The Jakarta State Administrative Court (PTUN) judicial panel's decision on Monday to keep Hizbut Tahrir Indonesia (HTI) disbanded sparked a debate on Twitter and made HTI a top trending topic on Twitter.
Those against the decision tweeted hashtags such as #HTISiapBanding (#HTIReadyToAppeal), which has been used over 19,300 times, and #AllahBersamaHTI (#GodIsWithHTI), which topped the nation's twitter trending topics with 156,000 tweets using the hashtag as of Monday afternoon.
"If you are against HTI, then you are not fighting HTI, but you become the enemy of God," tweeted @GP_Sultra.
ANDA MENENTANG KHILAFAH?? BUKAN BERHADAPAN DENGAN HTI, MELAINKAN ANDA TELAH MEMUSUHI ALLAH SWT#HTILanjutkanPerjuangan #AllahBersamaHTI #KhilafahAjaranIslam pic.twitter.com/Ib5CMZx5XJ

— Gema Sultra (@GP_Sultra) May 7, 2018
However, other hashtags like #TolakOrmasRadikal (#RejectRadicalOrganization) and #HTIBubar7Mei (#HTIDisbandsMay7) also became trending topics after being used by several accounts supporting the PTUN decision to uphold the HTI's disbandment. #HTIBubar7Mei has been used over 24,100 times.
"This country doesn't need HTI. Hubbul Wathan minal Iman [Loving one's homeland is part of faith] #HTIDisbandsForever," tweeted @Kawuloalit1977, NdoroPercil.
#BangsainitidakbutuhHTI
Hubbul Wathan minal Iman #HTIBubarSelamanya#NKRIPancasilaTetapJaya#BubarkanHTISelamanya#JagaNKRITolakKhilafah#NKRIYesKhilafahNo #HTIKO#NKRIHargaMatiTolakHTI#HTIBubar7Mei#HTIresmiBUBAR pic.twitter.com/la39TSvk6G pic.twitter.com/cavgUPfjoF

— Ndoro Percil (@Kawuloalit1977) May 7, 2018
The judicial panel, led by Tri Cahya Indra Permana, on Monday's hearing said HTI's activities went against the Pancasila state ideology.
The panel also said the evidence proved that HTI had tried to spread caliphate teachings in an effort to alter the state ideology, even holding a caliphate conference in 2013 at Gelora Bung Karno Stadium in Jakarta. (evi)
Topics :
Join the discussions