Ramadhan starts on Thursday, says Muhammadiyah
Bambang Muryanto

The Jakarta Post
Yogyakarta |

Mon, May 14, 2018

| 08:54 pm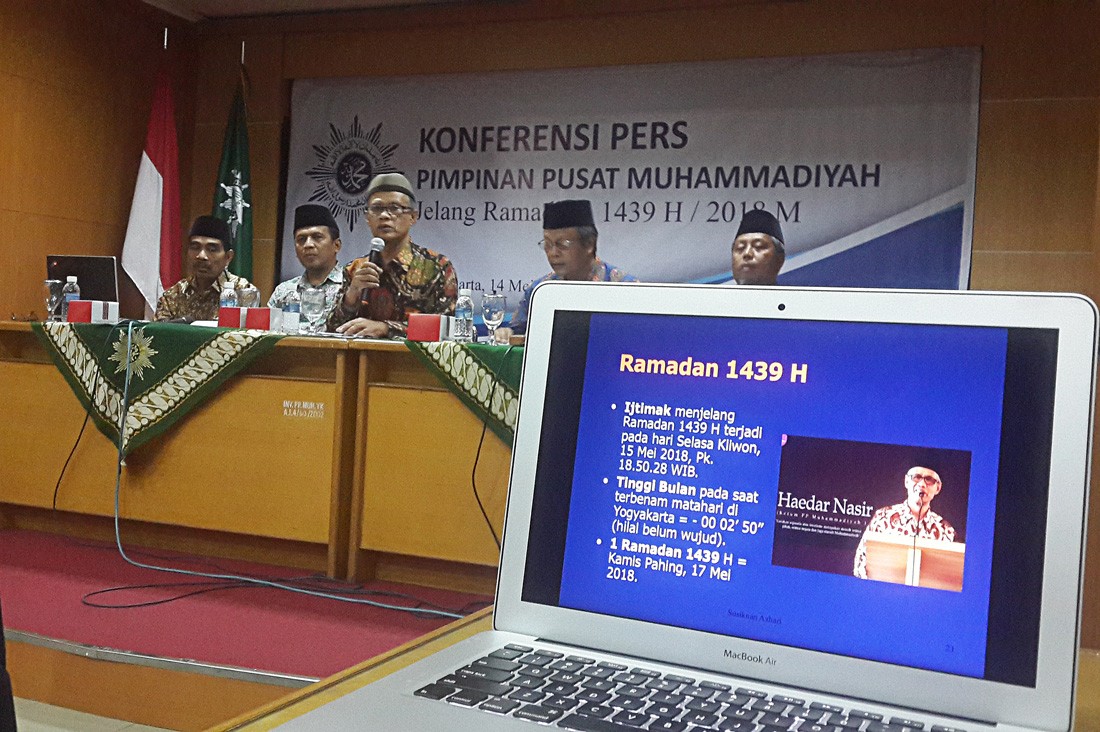 All set: Central executive board members of Indonesia's second-largest Islamic organization, Muhammadiyah, announce in a press conference on Monday that the start of Ramadhan would fall on Thursday. (JP/Bambang Muryanto)
Indonesia's second-largest Muslim organization, Muhammadiyah, has said according to the Islamic calendar based on the astronomical calculations, the first day of Ramadhan 1439 will fall on Thursday.
Muhammadiyah followers will therefore celebrate Idul Fitri, which marks the end of the Ramadhan fasting month, on June 15.
Muhammadiyah deputy chairman overseeing tarjih and tajdid (Islamic thoughts) Oman Fathurrahman said the organization came to the conclusion referring to the fact that ijtimak, or conjunction, where the Earth and the Moon stand at the same longitude, will occur on Thursday.
"All prerequisites to determine ijtimak have been fulfilled," Oman told journalists in a press conference at Muhammadiyah's central executive board office in Yogyakarta on Monday.
Muhammadiyah executive Yunahar Ilyas said fasting during Ramadhan could become a process to create an individual piety both in private and social spheres.
"Be a Muslim that is always keen to put forward good deeds and avoid all bad things in every form to achieve eternal happiness in the world and life afterward," he said.
As Indonesia starts to enter the political years, Yunahar said he hoped the Ramadhan fasting month could become a source of moral and spiritual strength to push forward politics that were peaceful, polite, noble, harmonious and upholding of goodness.
Meanwhile, Muhammadiyah chairman Haedar Nasir highlighted that fasting should become a medium to avoid politics that were extreme and radical. "Politics that use extreme and radical methods will end up in conflict," he said. (ebf)
Join the discussions