Children involved in Surabaya attacks isolated from school, society
Safrin La Batu

The Jakarta Post
Surabaya, East Java |

Tue, May 15, 2018

| 07:30 pm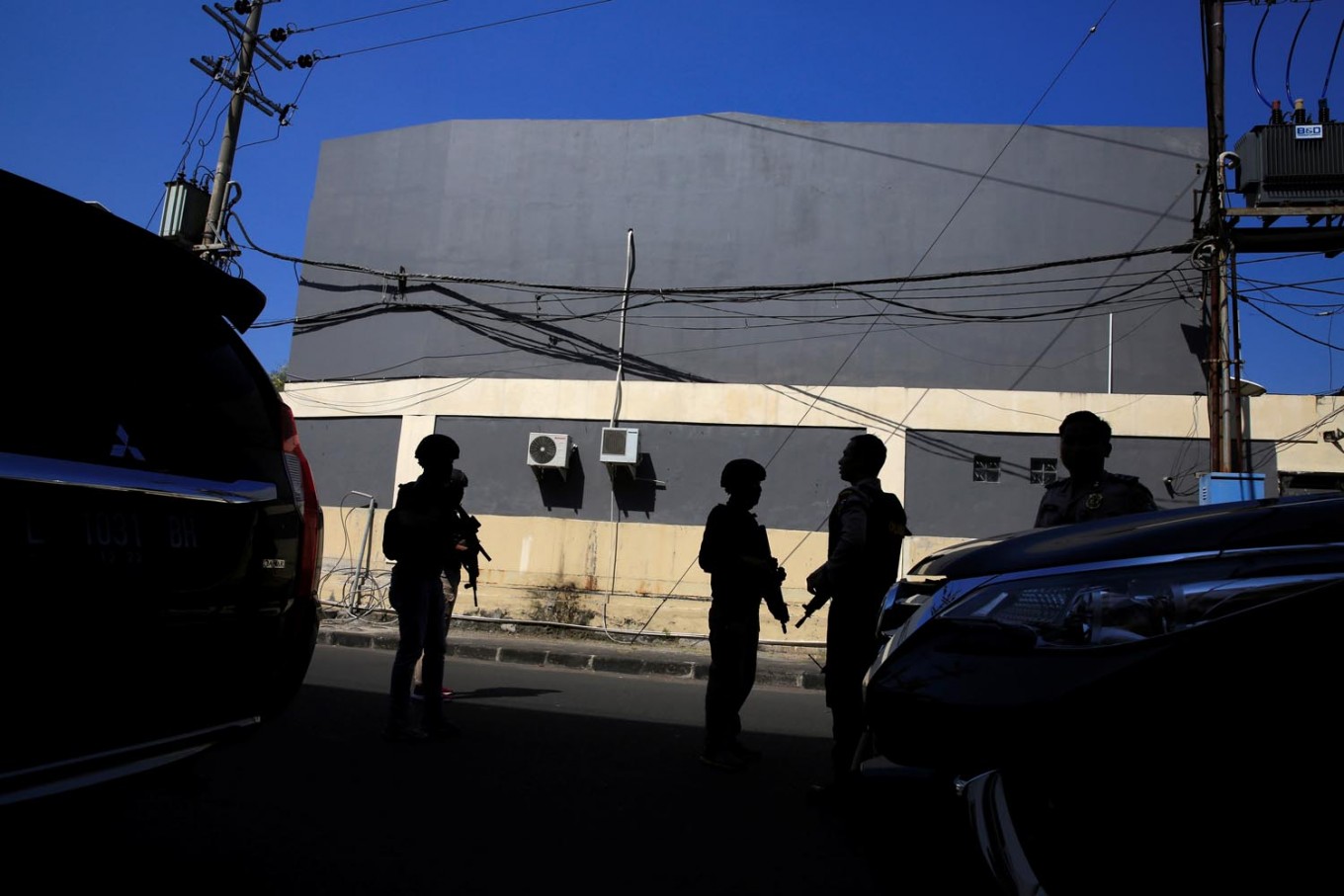 Counterterrorism police stand guard following a bomb blast at Surabaya police headquarters, East Java, on May 14. (Reuters/Beawiharta)
The families responsible for the suicide bombings in Surabaya and Sidoarjo, both in East Java, prohibited their children from receiving formal education so they could more easily instill them with radical ideologies, the police revealed on Tuesday.
East Java Police chief Insp. Gen. Machfud Arifin said the three families had often gathered at Dita Oeprianto's house where they learnt how to make bombs. During the gathering, they also showed their children movies of violent jihad to teach them radical ideologies, he added.
Dita along with his wife and four children were involved in the suicide bombings at three churches in Surabaya on Sunday.
Another suicide bombing took place at a low-cost apartment in Sidoarjo on Sunday, while a suicide attack at the Surabaya Police headquarters occurred on Monday. These two attacks were carried out by two different families.
"These three families come from the same network. They gathered every Sunday after afternoon prayer," Machfud said.
(Read also: Suicide bombing families attended same religious gatherings prior to Surabaya attacks)
To avoid suspicion from their neighbors, the children were told by their parents to say they were homeschooled if anyone asked them where they studied, Machfud said.
"In fact, they [the children] had never been homeschooled. They were cut off [from society] and indoctrinated," Machfud said.
"They were consistently indoctrinated with videos and lectures."
Three suicide bombings occurred at three churches in Surabaya on Sunday, killing 18 people including six of the perpetrators: Dita, his wife Puji Kuswanti and their four children.
Hours after the church bombings, a bomb prematurely exploded in a low-cost apartment in Sidoarjo, killing a family of three: Anton Ferdianto, his wife and their eldest son. Their three other children survived.
Machfud said Anton's second son was not indoctrinated because he lived with his grandmother and attended formal schools.
"Anton's son did not want to get indoctrinated. He lived next to their [his parents'] apartment and never lived with his parents," Machfud went on.
After the two bombings on Sunday another suicide bombing took place at the Surabaya Police headquarters, killing four of the perpetrators and wounding 10 people. (ebf)
Topics :
Join the discussions