State-sponsored homophobia forces LGBT community to lay low
Gisela Swaragita

The Jakarta Post
Jakarta |

Thu, May 17, 2018

| 10:05 am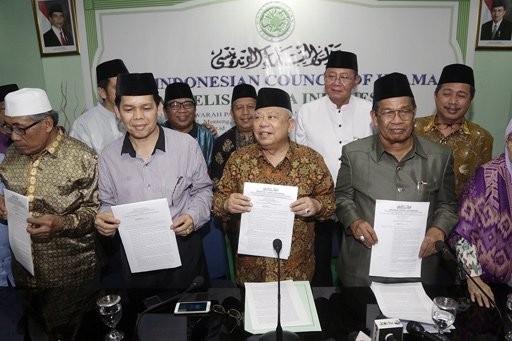 Indonesian Ulema Council (MUI) chairman Ma'ruf Amin (center), accompanied by MUI deputy secretary-general Amirsyah Tambunan (left) and representatives from Islamic mass organizations, shows off a new edict during a press conference at the office of the MUI in Jakarta. In line with the anti-LGBT edict, the MUI urged the government to ban the lesbian, gay, bisexual and transgender (LGBT) community. (JP/Wendra Ajistyatama)
As the world is commemorating International Day Against Homophobia on May 17, Indonesian lesbian, gay, bisexual and transgender (LGBT) people have been laying low in response to actions and statements from government officials over the past two years that could be perceived as state homophobia.
Among the most recent such activity was a banner circulating on social media this month that drew criticism from netizens. The banner, signed by the West Java Social Affairs Agency, campaigned for "war against societal illnesses" including "LGBT". Besides LGBT, the office listed "beggars, ex-convicts, people with HIV/AIDS, and prostitutes" as illnesses.
Kok sedih ya baca ini

Gelandangan itu penyakit masyarakat? Eks napi juga? pic.twitter.com/Nck3rk6LW3

— Andris Wisatha (@rebornblessing) May 11, 2018
The previous month, the Attorney General's Office seized hundreds of comic books reportedly depicting LGBT images from the Pasar Baru Post Office in Central Jakarta, Antara news agency reported.
Read also: Anti-LGBT team established in Depok
In February, the Depok administration set up an anti-LGBT team. "By forming this special team, we can help limit the presence of the LGBT community in the city," Depok Mayor Muhammad Idris said.
Rising since January 2016
The Indonesian government and society have never been warm to the LGBT community. However, rising government persecution has been palpable since January 2016, when several officials, lawmakers and the media made statements cornering the LGBT community.
The first statement was from Research, Technology and Higher Education Minister Muhammad Nasir, stating that "LGBT people should be banned from entering universities for corrupting the nation's morals."
The minister made the statement in response to an uproar concerning a poster by the Support Group and Resource Center on Sexuality Studies (SGRC) at University Indonesia, which announced their LGBT counseling program earlier in the month.
Read also: LGBT group faces state persecution
In February the same year, the Indonesian Ulema Council announced their plan to issue an edict banning all Muslims from joining advocacy activities supporting LGBT rights.
Sociologist and gay-rights activist, Dede Oetomo, said LGBT people did not get equal protection from the government. "When it comes to protection for the LGBT community, the government are not progressive, and are even lagging behind the international world," Dede told The Jakarta Post on Wednesday.
Dede said Indonesia, which declared itself a democratic country, was governed by conservative apparatuses and manned by conservative society.
Although the Constitutional Court rejected the request to criminalize LGBT sexual activities in December last year, the court did not touch on the substance of the request. The majority of justices, five out of nine, said the broadening definition of adultery and "criminal law norms" was not their decision to make, but that of the House of Representatives and the government.
At present, the House is deliberating revisions to the Criminal Code and several lawmakers have discussed the possibility of adding an article to criminalize gay sex.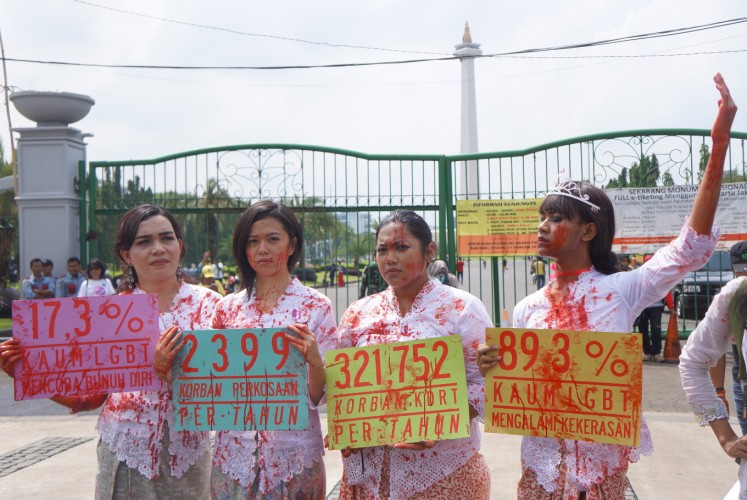 Participants of Women's March in 2017 bring posters showing the percentage of LGBT people who try to commit suicide (left) a year. (JP/Ni Nyoman Wira)
Lini Zurlia, an Indonesian advocate of Southeast Asia gay rights NGO, SOGIE Causcus, cited another example of the homophobic state, which was a statement published on the website of the Indonesian Broadcasting Commission in 2016 that banned programs promoting the LGBT community from television and radio.
"Soon afterward, even dance maestros such as Didik Ninik Thowok found it hard to perform on air," she said.
Lini said Indonesia used to celebrate artists with androgynous expression such as Dorce Gamalama and Ozy Syahputra.
Lini said some local cultures embraced diverse sexual and gender orientation and were relaxed about them. But lately, such cultural expression had more limited space.
"It is a shame that instead of reducing homophobia, the state is sponsoring hate," she said.
Pressured, some gay people wish to be straight
Ran, not his real name, a 24-year-old gay man from Bandung, West Java, said he had to keep his sexual identity hidden from his conservative family. "They would disown me if I came out," he told The Jakarta Post on Wednesday.
Read also: Fear haunts LGBT community
He also said he felt being gay was wrong.
"This is not normal, it is against God's law," he said.
Jay, also not his real name, a 24-year-old gay man living in North Jakarta, said being gay was just a phase in his life. "One day I will get married to a girl and have children," he said. "I am my parents' only child. I know they want me to continue the family line."
Responding to this, Lini said feeling guilty of being gay was a phase that LGBT people often went through as a consequence of the repressing society.
"When society represses your sexuality in the name of religion, morality or family resilience, unnecessary guilt can internalize within yourself," she said.
She also said that repression could cause LGBT people in denial to become homophobic too.
"It is called internalized homophobia. When people try too hard to deny they are actually gay, this can be expressed as aggressive hate toward the LGBT community because they do not want to be identified as one of them," she said.
Ran and Jay, however, said they were content with laying low and not making a stir by coming out, which could attract persecution.
"Every time someone called me a 'fag' or I saw anti-LGBT banners in public places I'd just shoo the pain away," Ran said.
Topics :
Join the discussions