Riau terror suspect wanted to blow up House, Council buildings: Police
Rizal Harahap

The Jakarta Post
Pekanbaru |

Sun, June 3, 2018

| 11:57 am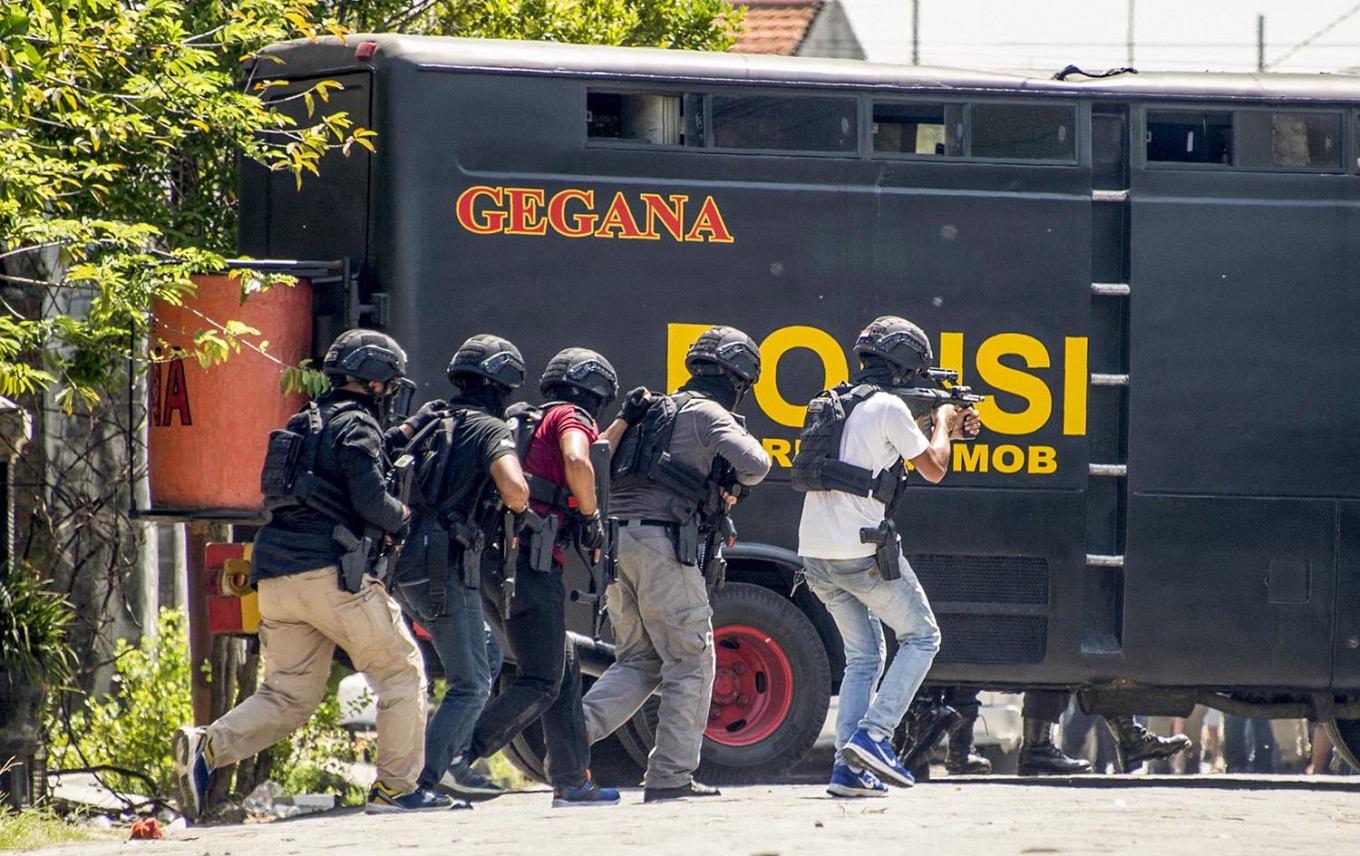 Densus 88 members conduct a raid on the residence of a family suspected of taking part in the recent suicide bombings in Surabaya. (AFP/Juni Kriswanto)
A terror suspect, arrested by the National Police's elite counterterrorism squad Densus 88 in a campus raid on Saturday, allegedly planned to blow up the House of Representatives and Riau Council buildings, police said on Saturday night.
Densus 88 raided a student facility building, Gelanggang Mahasiswa, at Riau University's Social and Political Sciences Department in the provincial capital, Pekanbaru. After the raid, the police arrested three men, identified as Muhammad Nur Zamzam, Rio Bima Wijaya and Orandi Saputra alias Kalek. The police named only Zamzam as suspect.
"Our investigation revealed that the suspect wanted to blow up Riau Council and House of Representatives buildings," said Riau's Police chief, Insp. Gen. Nandang, in a press statement in Pekanbaru on Saturday night as quoted by Antara.
The three detainees are Riau University alumni
During the raid, police seized four homemade bombs and bomb-making material, Nandang said.
Large universities in Indonesia have student halls called Gelanggang, which are home to theaters, martial arts studios, sports activities and student newspapers.
Nandang said the three were using the campus building to plan their attacks. (roi)
---
Editor's note: The earlier version of this article contained a mistake about the number of suspects. On June 2, the police arrested three alumni of Riau University but only declared one, identified as Muhammad Nur Zamzam or Zamzam, a suspect. The other two, Rio Bima Wijaya and Orandi Saputra alias Kalek, were arrested but as of Monday afternoon have not been named suspects. We have also updated the names of the arrested men.
Topics :
Join the discussions