McDonald's Indonesia launches special program for World Cup
News Desk

The Jakarta Post
Jakarta |

Sat, June 9, 2018

| 08:14 pm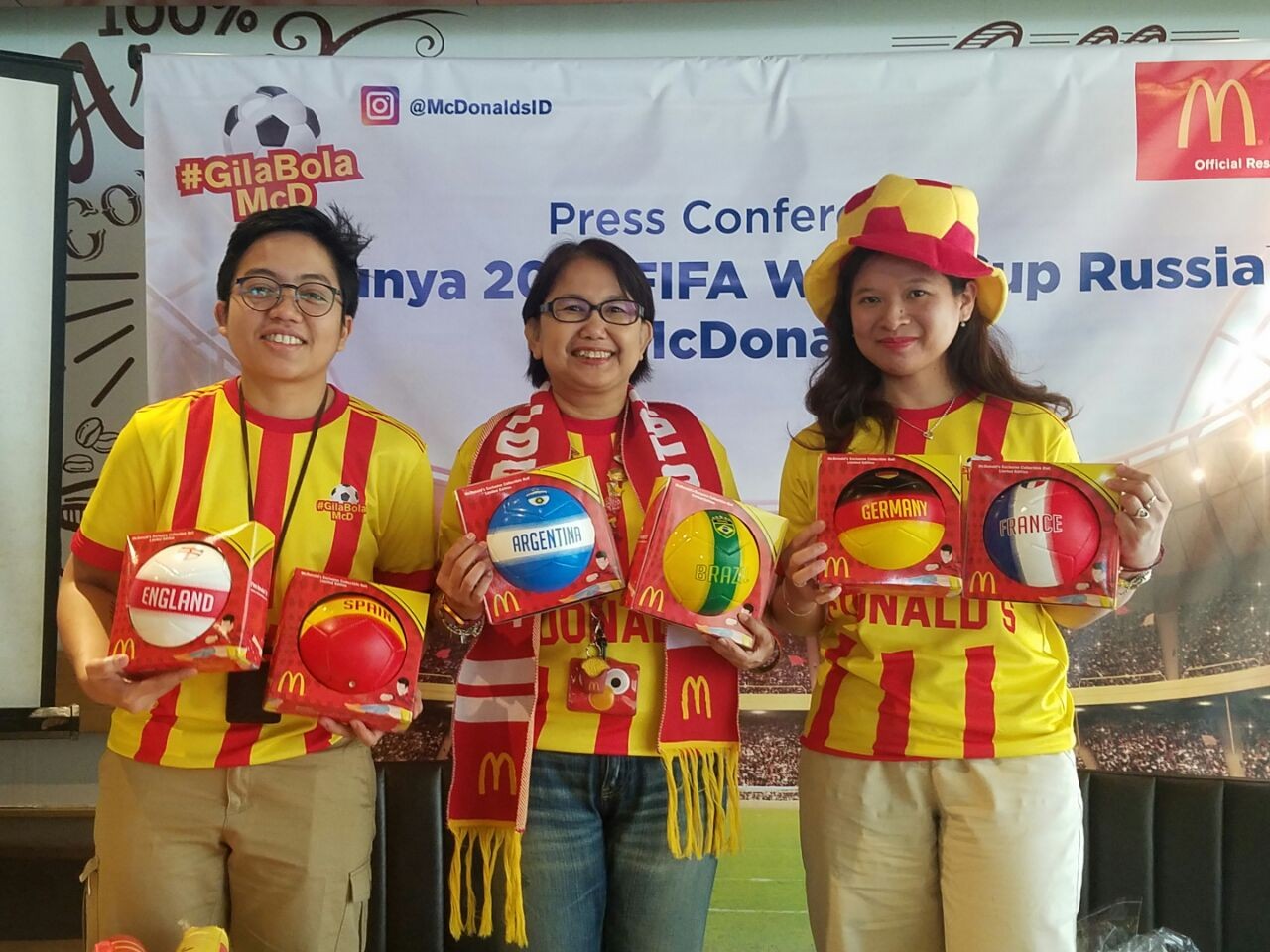 McDonald's Indonesia has launched a special program to celebrate the FIFA World Cup. Among the items on offer are specially designed soccer balls that cost Rp 50,000 (US$3.59) each. (McDonald's Indonesia/McDonald's Indonesia)
McDonald's Indonesia has launched a #GilaBolaMcD program to celebrate the month-long FIFA World Cup, which kicks off on June 14 in Moscow, Russia.
The program offers a selection of soccer balls, which are in the colors of the top teams, special meal sets, a competition on Instagram with official merchandise as the prize, public screenings at 120 restaurants nationwide and a new menu called Spicy Chicken Fingers, which will be released on the opening day of the soccer spectacular.
McDonald's Indonesia started its World Cup program in early March by organizing a program called Aku Duta Cilik Piala Dunia FIFA (I am a Junior Ambassador for the FIFA World Cup). The program aimed to find two Indonesian children who would be sent to the event to serve as player escorts during the opening ceremony and final match.
The program selected Raina Premiera Gumay and Maula Alvaro Putra Ario Bimo, who will fly to Moscow with their parents, as the winners.
"McDonald's Indonesia doesn't just want to offer a different experience to customers, especially soccer fans, we also want to be the main destination [for them to enjoy the event]," said Caroline Kurniadjaja, McDonald's Indonesia's associate director of marketing
The specially designed balls in the colors of Brazil, England, Germany, France, Spain and Argentina are priced at Rp 50,000 (US$3.59) and will be sold at all restaurants in Greater Jakarta from June 14 to July 15.
Public screenings will be held on June 30 at selected restaurants.
Join the discussions