Kalla stresses UNSC reform need to nix veto power
Marguerite Afra Sapiie

The Jakarta Post
Tokyo, Japan |

Mon, June 11, 2018

| 02:20 pm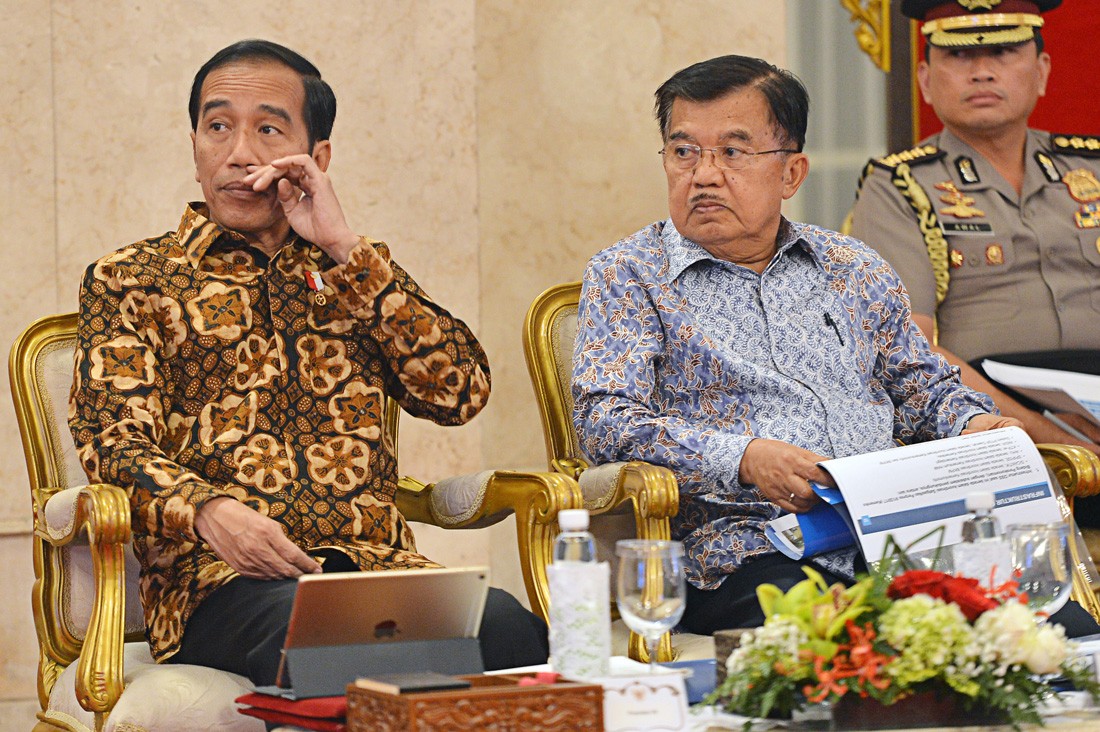 Vice President Jusuf Kalla (right) accompanies President Joko "Jokowi" Widodo in leading a plenary Cabinet meeting on May 16 at the State Palace in Jakarta. (Antara/Wahyu Putro A.)
Vice President Jusuf Kalla has highlighted the need for the UN Security Council (UNSC) to reform by abolishing the veto power of its five permanent members, saying that the privilege often hampered the decision-making process on crucial matters.
Kalla's statement came after Indonesia won, for the fourth time, a two-year term as a non-permanent UNSC member for the 2019-2020 period.
"One of the UN reforms is to ensure that there is no more discrimination. Thus, the veto power of the five [permanent UNSC] members must be scrapped," Kalla told journalists on the sidelines of his work visit to Tokyo, Japan, on Monday.
"It's not only an Indonesian effort, but also a joint effort to reform the UN," he went on.
For example, Kalla said, each time the UN brought up issues related to Palestine – among the key concerns of Indonesian diplomacy – the US always used its veto power to reject a resolution. Russia had also used its veto right when a decision was sought against pro-Russia countries.
Along with the US and Russia, Britain, China and France can veto any resolution presented to the council, which requires nine votes for adoption.
"[...] The efforts of the UNSC on crucial issues will often be met with vetoes from [permanent members]," Kalla said. "Therefore, Indonesia wants to ensure that there is no discrimination among [member] countries."
Kalla said that during Indonesia's fourth non-permanent term on the council, the country would focus on contributing to realizing world peace and stability. Besides Palestine, Indonesia would particularly push its concerns on peacebuilding efforts in war-torn Afghanistan, as well as efforts to settle the Rohingya crisis. (ebf)
Topics :
Join the discussions