Naqsabandiyah followers celebrate Idul Fitri on Wednesday
News Desk

The Jakarta Post
Jakarta |

Wed, June 13, 2018

| 01:41 pm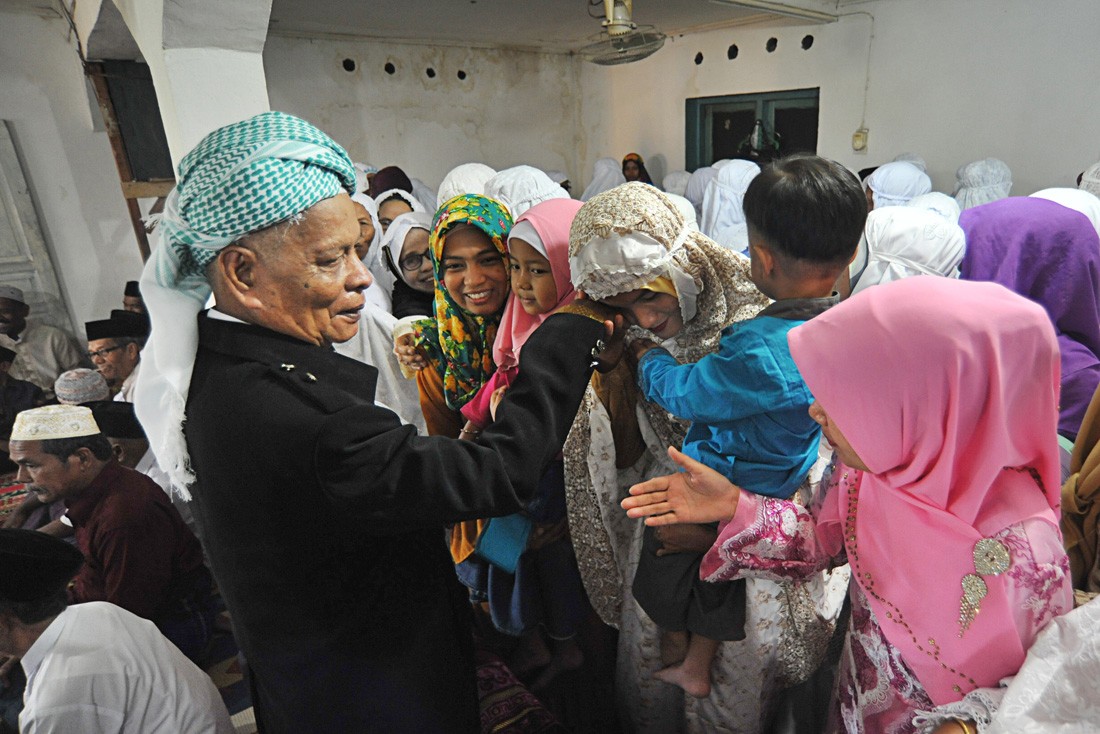 Joyful day: Naqsabandiyah followers shake hands with the "khatib" (cleric) of Idul Fitri prayers they joined at Baitul Makmur Mosque, Pauh, Padang, West Sumatra , on June 13. (Antara/Iggoy el Fitra)
Although the Religious Affairs Ministry has not yet held an isbat (confirmation) meeting to determine the fall of Syawal 1, which marks Idul Fitri, followers of Islamic minority group Naqsabandiyah in West Sumatra celebrated Idul Fitri on Wednesday.
Hundreds of Naqsabandiyah followers performed Idul Fitri prayers at Baitul Makmur Mosque in Pauh regency, Padang, West Sumatra, at 8 a.m. local time. The prayer was led by its main cleric, Syafri Malin Mudo, and ended with a speech delivered in Arabic.
Syafri said the Naqsabandiyah community decided the start of Syawal, or the fall of Idul Fitri, using a system called hisab munzit, in which they set the date according to the month's rotation.
Although Nqsabandiyah followers ended their fasting period earlier than other Muslims in Indonesia, Syafri said there was no difference between the community's Idul Fitri celebration and the one celebrated by other Muslims in Indonesia.
"We perform our Idul Fitri prayer like anyone else," Syafri said as quoted by tribunnews.co on Wednesday.
A report from a local source in Maluku revealed that seven villages in the province also celebrated Idul Fitri today. The villages are: Wakal, Hila, Kaitetu , Waiputi, Wailapia, Liaela and Tengah-Tengah.
Similar to the Naqsabandiyah group, people in the aforementioned villages also started their fasting period earlier than other Muslims, which was on May 14. Followers of Indonesia's largest Islamic organizations, Nahdlatul Ulama (NU) and Muhammadiyah, and most Muslims in the country started fasting on May 17.(dpk/ebf)
Join the discussions