What is Tik Tok? An app blocked before we (older people) even heard of it
Dyaning Pangestika

The Jakarta Post
Jakarta |

Wed, July 4, 2018

| 06:02 am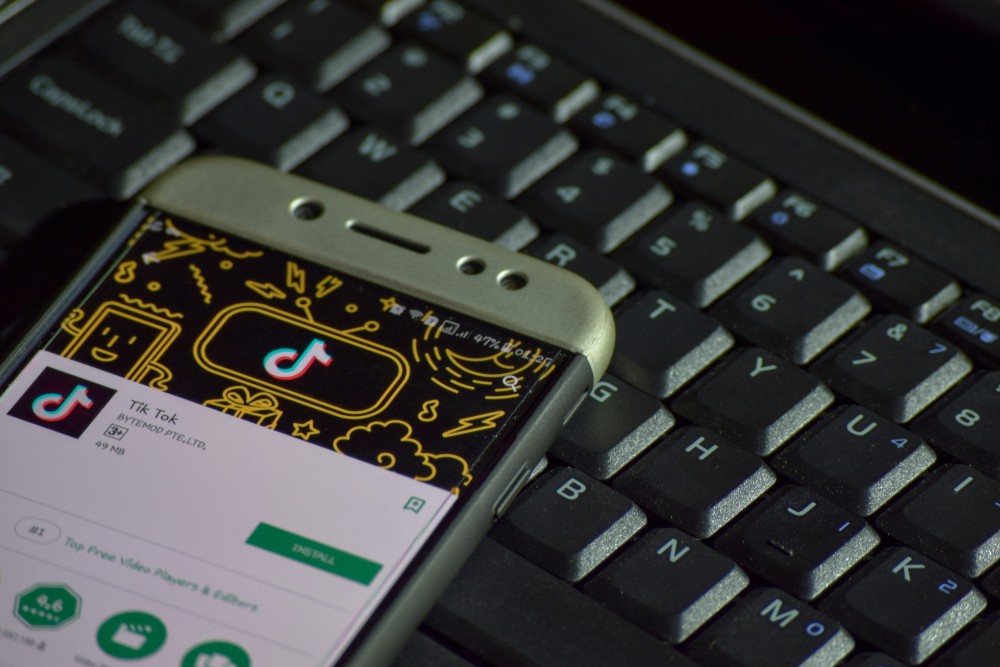 In a written statement received by The Jakarta Post on Tuesday, it is stated that the ministry had decided to block Tik Tok after learning that the app contained "pornography, inappropriate content and blasphemy". (Shutterstock/-)
Twenty-three-year-old Maulydia Yusliwan recalled how annoying it was for her extended family when her 10-year-old cousin would not put down her smartphone for a second at every family gathering, glued as she was to Tik Tok, a China-based music-video platform, and social network.
"The only time she interacted with us is when she asked us to be in her Tik Tok video," Maulydia said on Tuesday.
Maulydia had known about Tik Tok but she only discovered the impact of Tik Tok on someone's social life when she saw the effect on her preteen cousin.
Blocked
On Tuesday afternoon, the Communications and Information Ministry temporarily blocked the app following a coordination meeting with the Women's Empowerment and Child Protection Ministry and the Indonesian Child Protection Commission (KPAI).
In a written statement received by The Jakarta Post on Tuesday, it is stated that the ministry had decided to block Tik Tok after learning that the app contained "pornography, inappropriate content and blasphemy".
"This blocking is temporary until Tik Tok fixes and clears its illegal content," said the ministry's Information Application Director General Samuel A. Pangerapan on Tuesday.
So what is it?
What is Tik Tok actually, an app blocked by the government even before many Indonesians, at least those over 30 years old, had even heard of it?
Originally called Douyin in China, Tik Tok was launched in 2016 by Zhang Yimin, who is also the founder of Beijing-based news and information platform Toutiao. Tik Tok was brought to Indonesia in September last year by tech company ByteDance. The app allows its users to create short music videos.
To create content, users need to pick background music from the app's music library first. After that, the app will record them doing whatever they want to do for 60 seconds. Users can also make their video more interesting by inserting a selection of stickers, filters or effects—like shivering or shaking—on it.
Although the apps page in Play Store and Apple Store state that it is rated PG (parental guidance needed) for user interaction, the app's terms of service do not specify an age limit for users, which means anyone of any age can easily create an account.
Because of the lack of an age requirement, Tik Tok users in Indonesia mostly consist of teenagers and preteens, with Tik Tok rising in popularity rapidly thanks to its loyal users.
Similar to Instagram and Twitter, the growing popularity of Tik Tok has also given birth to a new culture of social media celebrity. In Tik Tok, users who manage to gain hundreds of views and likes on their videos will obtain the title "muser", a Tik Tok term for popular users.
Some of these musers, who happen to be preteen or teenagers as well, capitalize on their own fame by charging their fans to meet and greet and take selfies with them.
The rise of Bowo
One muser shot to instant fame recently.
Bowo Alpenliebe, also known as Prabowo Mondardo, is a Tik Tok muser who has become notorious, even among non-Tik Tok users, after a meet and greet event went wrong. On Monday, the 13-year-old, who has 790,000 followers on his Tik Tok account, organized a meet-and-greet event in East Jakarta, to which his followers were required to pay Rp 80,000 (US$5.57) admission.
However, complaints arose after many fans, who had already paid, could not get to meet him, reportedly because the event was poorly managed. The protests quickly turned into public mockery of Bowo himself, as his followers stated that Bowo looked better on Tik Tok than in real life.
Midwife's misstep
On June 30, Bekasi's Regional Commission for Child Protection (KPAD), visited a midwife in a mother and baby hospital in Bekasi, West Java, after the office received reports that the midwife used the face of one of her patients' babies to make a video for Tik Tok.
Commissioner Rojak told kompas.com on June 30 that the midwife apologized to the parents of the baby and the family accepted her apology. The family also said they considered the matter closed.
In the video, the midwife held the small face of the sleeping baby and put some whiskers on it. Her video went viral and many people were upset by her action.
15 minutes of fame for everyone
What has allowed Tik Tok to gain a cult following among minor users is the app's facility for allowing people to easily gain fame, social media expert Nukman Lutfie says. Such easy fame is something many young people crave in the era of social media.
"Tik Tok allows users to make interesting content with its various features. If you manage to make interesting content, people will see you as a trend-setter and follow you," he told The Jakarta Post.
Unfortunately, Nukman added, Tik Tok users will literally do anything in order to become popular.
The Post's observation of the app before it was blocked found some users—some of them preteens—twerking, or dancing in a sexually provocative manner, a move popularized by American stars like Miley Cyrus.
"Some of them will even resort to pranks, which could harm someone if they go wrong," he said.
Nukman said it was important for parents to always keep an eye on what their children did on social media.
"Parents need to learn more about social media literacy in order to protect their children from any harm that could come to them on the internet," he said. (evi)
Topics :
Join the discussions