Dozens of civilians, personnel killed by armed groups in Papua, police say
Nethy Dharma Somba

The Jakarta Post
Jayapura, Papua |

Wed, July 4, 2018

| 11:00 am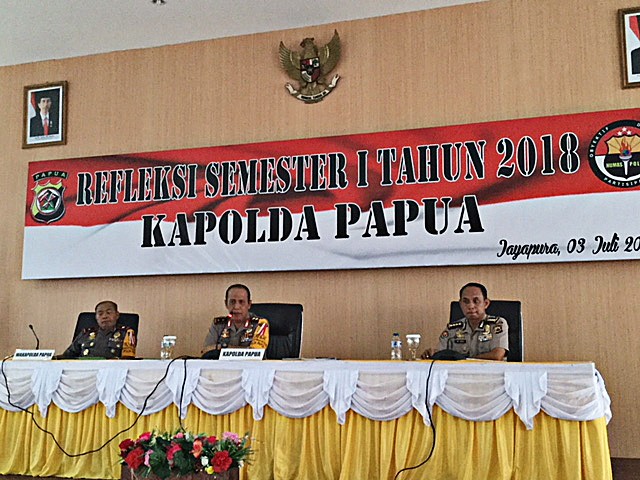 Papua Police chief Insp. Gen. Boy Rafli Amar (center) speaks during a press briefing on the police's performance in Jayapura on July 3. (JP/Nethy Dharma Somba)
Violent attacks committed by armed civilian criminal groups in Papua over the last 10 years have resulted in the deaths of 78 civilians, 57 National Police members and 62 Indonesian Military (TNI) personnel as well as hundreds of injuries, a report revealed on Tuesday.
"Two out of the total 57 personnel were Polri members who were killed while securing regional elections in Torere district, Puncak Jaya. Meanwhile, the 78 civilians included three residents of Kenyam Nduga who were killed one day before the regional elections," said Papua Police chief Insp. Gen. Boy Rafli Amar during a press briefing on the police's performance in the first half of 2018 in Jayapura on Tuesday.
Boy said 117 civilians suffered injuries during the attacks. "The armed groups' violent acts are rampant in Pegunungan Tengah areas, such as Puncak Jaya, Nduga, Puncak, Lanny Jaya and Timika."
(Read also: Indonesian forces to blame for Papua killings: Amnesty)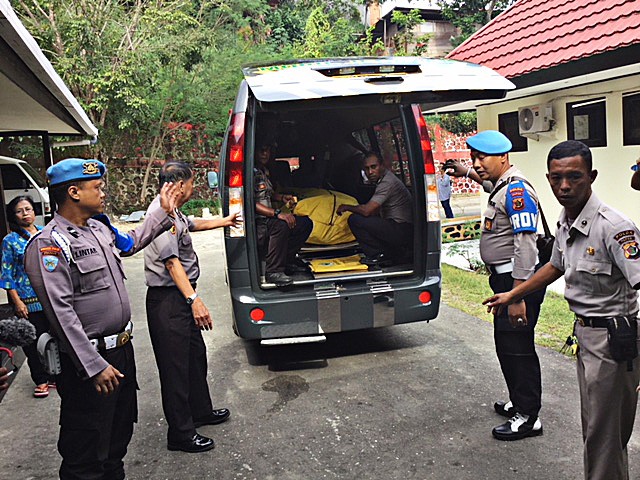 Fatal attack: Personnel remove the body of Brig. Sinton Kbarek from a vehicle for an autopsy at Bhayangkara Hospital in Jayapura, Papua. Sinton's body was found four days after he was reported missing on June 27. Sinton was buried in Jayapura on July 3. (JP/Nethy Dharma Somba)
Boy said 18 violent acts were committed by armed civilian criminal groups in Puncak Jaya and Mimika throughout 2018. All violence in Mimika occurred within the working areas of gold mining company Freeport Indonesia. Most of the them were attacks against Freeport vehicles traveling from Timika to Tembagapura and vice versa. "Those violent acts killed several policemen" Boy said.
He said two National Police members – Brig. Sinton Kbarek and Second Insp. Jesayas Nussy – were killed in the recent attack in Torere. They were reported missing shortly after the shooting incident occurred and later found dead.
Sinton was buried at the Waena Hero Cemetery in Jayapura on Tuesday while Jesayas' body will soon be flown from Memberamo Raya to Jayapura for a burial. (hol/ebf)
Topics :
Join the discussions