Prabowo-Agus or Anies-Agus? SBY may determine Jokowi's challenger
Nurul Fitri Ramadhani

The Jakarta Post
Jakarta |

Fri, July 6, 2018

| 12:20 pm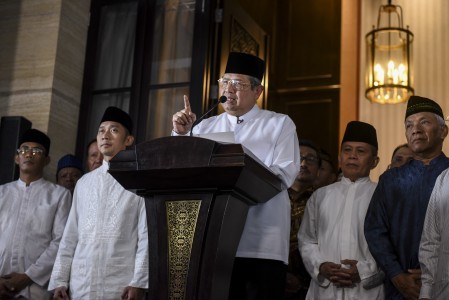 Former President Susilo Bambang Yudhoyono and chairman of Democratic Party Susilo Bambang Yudhoyono speaks at a press conference at his house in Mega Kuningan in Jakarta in this Feb. 14, 2017, file photo. (Antara/Hafidz Mubarak A.)
Former president Susilo Bambang Yudhoyono could become the kingmaker that would decide whether Prabowo Subianto or Anies Baswedan would emerge as President Joko "Jokowi" Widodo's rival in the upcoming presidential election.
Gerindra Party announced on Thursday evening that party patron Prabowo and Yudhoyono, often referred to as SBY, would be meeting soon to discuss its proposal to pair the former commander of the Army's Special Forces with Yudhoyono's eldest son and political heir apparent, Agus Harimurti.
The proposal emerged amid reports that the Prosperous Justice Party (PKS) and the National Mandate Party (PAN) – Gerindra's closest allies and critical to Prabowo's chances at being nominated – were considering Jakarta Governor Anies Baswedan instead of Prabowo as their presidential candidate.
Without PAN and PKS, Gerindra would have to join forces with the Democratic Party to field Prabowo in the election, as it only has 13 percent of seats in the House of Representatives, 7 percent short of the minimum presidential threshold.
A coalition between Gerindra and the Democrats, if one materialized, would force PAN and PKS to join either the Prabowo camp or the Jokowi camp, as the parties do not have enough combined votes to contest the election.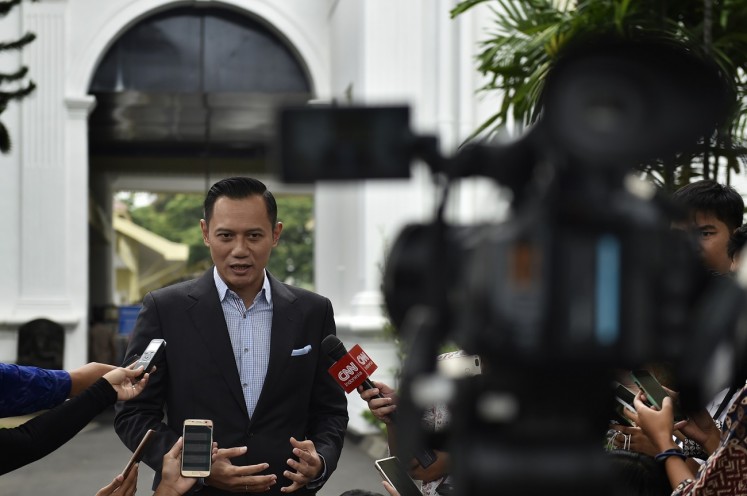 All set: Democratic Party executive Agus Harimurti Yudhoyono talks to journalists after his meeting with President Joko "Jokowi" Widodo at the State Palace in this file photo. (Antara/Puspa Perwitasari)
On Thursday evening, Yudhoyono sent his surrogate Syarief Hasan to Prabowo's residence in Kertanegara, South Jakarta, to set the terms of the meeting between the two political bigwigs.
According to Democrat deputy secretary-general Andi Arief, Prabowo made an offer for Agus to run for the vice presidency alongside him.
"The party will discuss [the proposal] internally," Andi said in a statement hours after Syarif's meeting with Prabowo.
"We hope there will be a major meeting between SBY and Prabowo soon, after we have reached an agreement on the [structure] of our coalition and whether Agus will be the vice presidential candidate, like Prabowo said," he added.
It is unclear if Yudhoyono will accept Gerindra's proposal, as he and Prabowo have had a rocky relationship. During the 2014 presidential election, when Prabowo ran against former Jakarta governor Jokowi, Yudhoyono chose to remain neutral.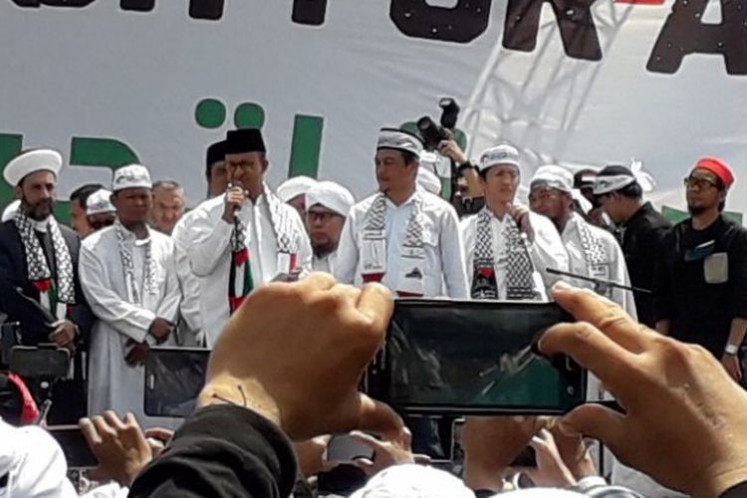 Jakarta Governor Anies Baswedan (third left) attends the Aksi Indonesia Bebaskan Baitul Maqdis (Indonesia for the Liberation of Jerusalem) rally on May 11 at National Monument (Monas) Square in Central Jakarta. The rally protested the United States' recognition of Jerusalem as the Israeli capital. (kompas.com/Ardito Ramadhan D)
The Democrats, which reportedly failed to persuade Vice President Jusuf Kalla to run with Agus against Jokowi, has floated the idea of pairing Agus with Anies with the backing of PKS and PAN.
"The option [to pair Anies] with Agus has emerged among the cadres, although it's not as strong as the Kalla-Agus option. The party is now mulling several other options. It could be Anies-Agus, [Gatot Nurmantyo]-Agus, or another option. The cadres have [voiced] many aspirations and we are listening to them," Democrat executive Ferdinand Hutahaean said on Thursday.
Also on Thursday evening, Yudhoyono met with PAN chairman Zulkifli Hasan to discuss a possible coalition.
"Neither of us [Democrats and PAN] can walk alone. We need to form a coalition," said Zulkifli. "But that doesn't always mean that we will team up with the Democrats. The discussion is still ongoing."
Meanwhile, Gerindra deputy chairman Ferry Juliantono said the party was upbeat that the coalition talks with the Democrats had been positive. "[Prabowo and SBY] will meet soon," he said, adding, "Syarif's visit has boosted our spirits." (ahw)
Join the discussions