In Papua, polio vaccines to be provided along with MR immunization
Nethy Dharma Somba

The Jakarta Post
Jayapura, Papua |

Thu, July 12, 2018

| 05:49 pm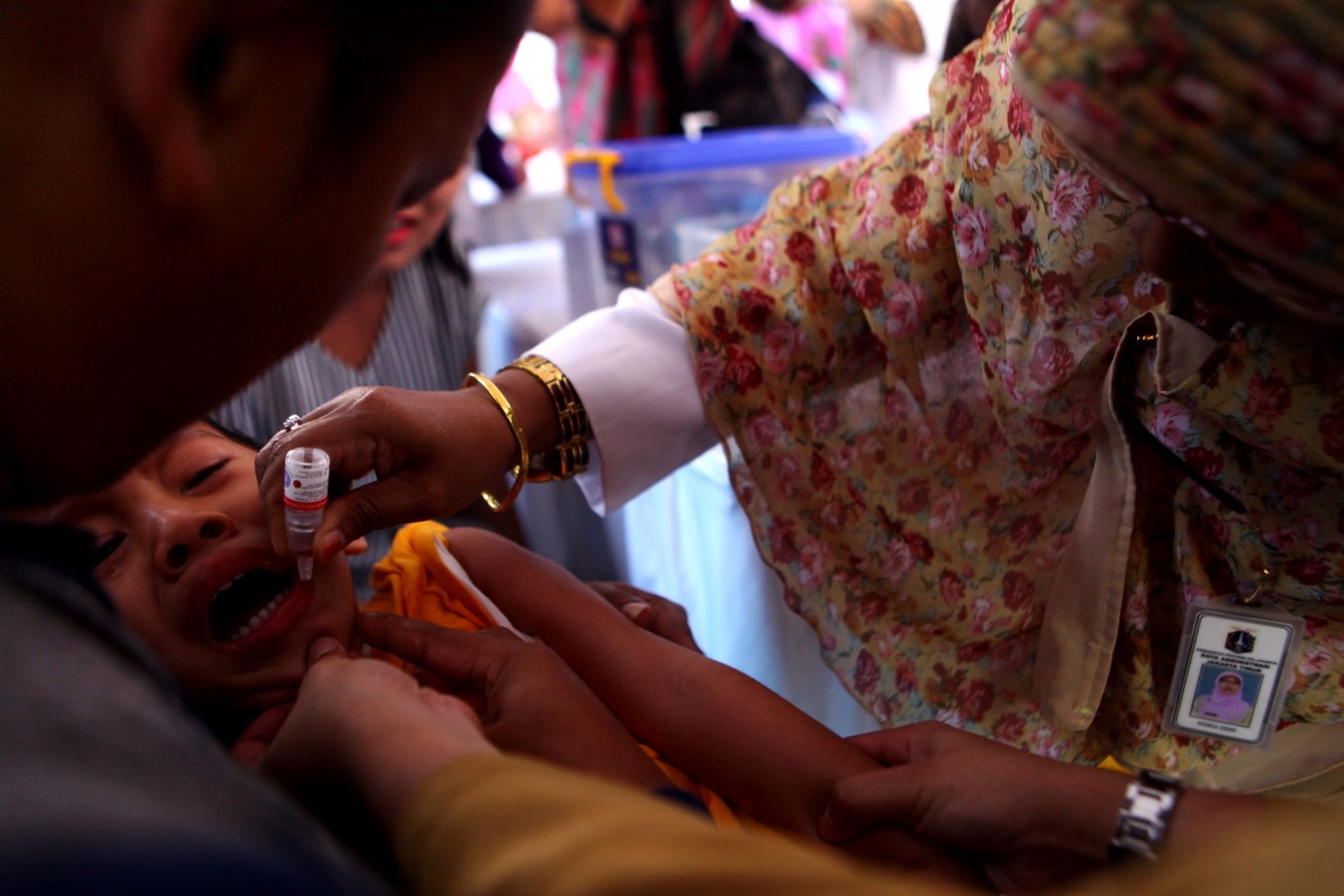 For health's sake: Health workers of the Ciracas community health center (Puskesmas) vaccinate a child in East Jakarta, on July 18, 2016. (The Jakarta Post/Seto Wardhana)
Children receiving measles and rubella (MR) immunizations, which will be administered simultaneously from Aug. 1 to Sept. 31, will also be vaccinated for polio during the campaign, a Papuan health official said on Thursday.
The Papua Health Agency's disease control and prevention head Aron Rumainum said based on a recommendation from the Indonesian Technical Advisory Group on Immunization (ITAGI), the government decided to include polio vaccinations in the anti-MR campaign, which targeted 1 million children in Papua.
"The polio vaccination is included because an extraordinary event [KLB] of polio occurred in our neighboring country, Papua New Guinea. So, in line with the ITAGI recommendation, each child receiving the MR immunization will also be given two doses of polio vaccine," Aron told journalists in Jayapura on Thursday.
He said the flow of people crossing from Papua New Guinea to Papua via either land or sea was very high, forcing authorities to stay alert for possible transmission of polio.
Aron said polio immunization coverage in Papua was still low, standing at 75 percent in 2017. "What we are expecting is a herd immunity. So, the immunization coverage must stand at 95 percent."
Community and religious leaders in Papua expressed their support of the government's MR immunization campaign during their meeting with strategic partners in Jayapura last week.
"We want every child in Papua to be healthy physically and mentally. To ensure that every child can get his or her right to live healthily, we will encourage our congregations to participate in the MR immunization program," said Catholic priest Aventius Jenaru from the Jayapura Diocese. (ebf)
Topics :
Join the discussions