Police's work in orangutan cases lauded
Balikpapan |

Thu, July 12, 2018

| 09:15 pm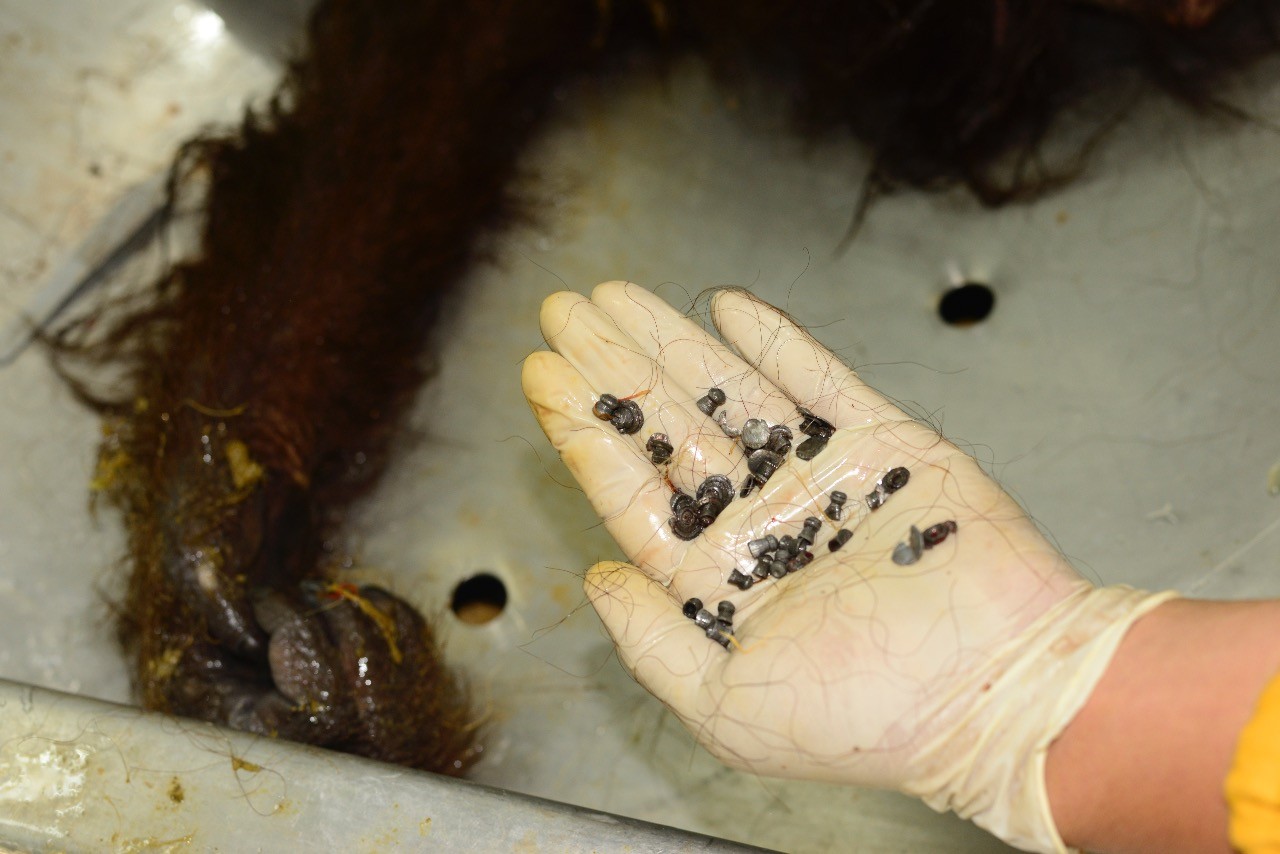 An officer shows airsoft gun pellets retrieved from the corpse of the ill-fated orangutan in East Kalimantan. (Courtesy of the Centre for Orangutan Protection/File)
Conservation group the Centre for Orangutan Protection (COP) lauded the local police for their swift action in solving two cases of brutal orangutan slaughter in Kalimantan this year.
Two orangutans were killed separately in February, one at nearby Kutai National Park in East Kalimantan and the other in January in South Barito, Central Kalimantan. Local police managed to arrest the suspects within two weeks of each incident.
"We thank all stakeholders [particularly the police] for their hard work in enforcing the law," COP director Ramadhani said on Thursday.
On Feb. 19, East Kutai Police named four men of Teluk Pandan and a 13-year-old suspects of the brutal orangutan killing 12 days after spotting the dying creature. Around 130 air rifle pellets were found in the corpse, along with 19 fresh stab wounds.
The case was brought to the Sangatta District Court in late April, around two months after the incident.
On Tuesday, the court sentenced each of the four men to seven months in prison for the intentional killing of the orangutan. The court also ordered them to pay Rp 50 million (US$3,478) in fines or serve an additional two months in prison. The boy was released as he is a minor.
In the case of the Central Kalimantan killing, the South Barito Police named two suspects on Jan. 30, 15 days after a headless carcass of an orangutan was found floating in a river in Kalahien village. The Buntok District Court sentenced each man to six months in prison and Rp 500,000 in fines in May.
The COP, however, found the convictions were too lenient to deter the culprits and to mitigate the damage to the conservation of the critically endangered species, which is protected by the law. Violators are punishable by up to five years in prison and a fine of up to Rp 100 million. (nor/ipa)
Topics :
Join the discussions