Accolades galore as Minister Susi graduates from high school
News Desk

The Jakarta Post
Jakarta |

Mon, July 16, 2018

| 08:40 am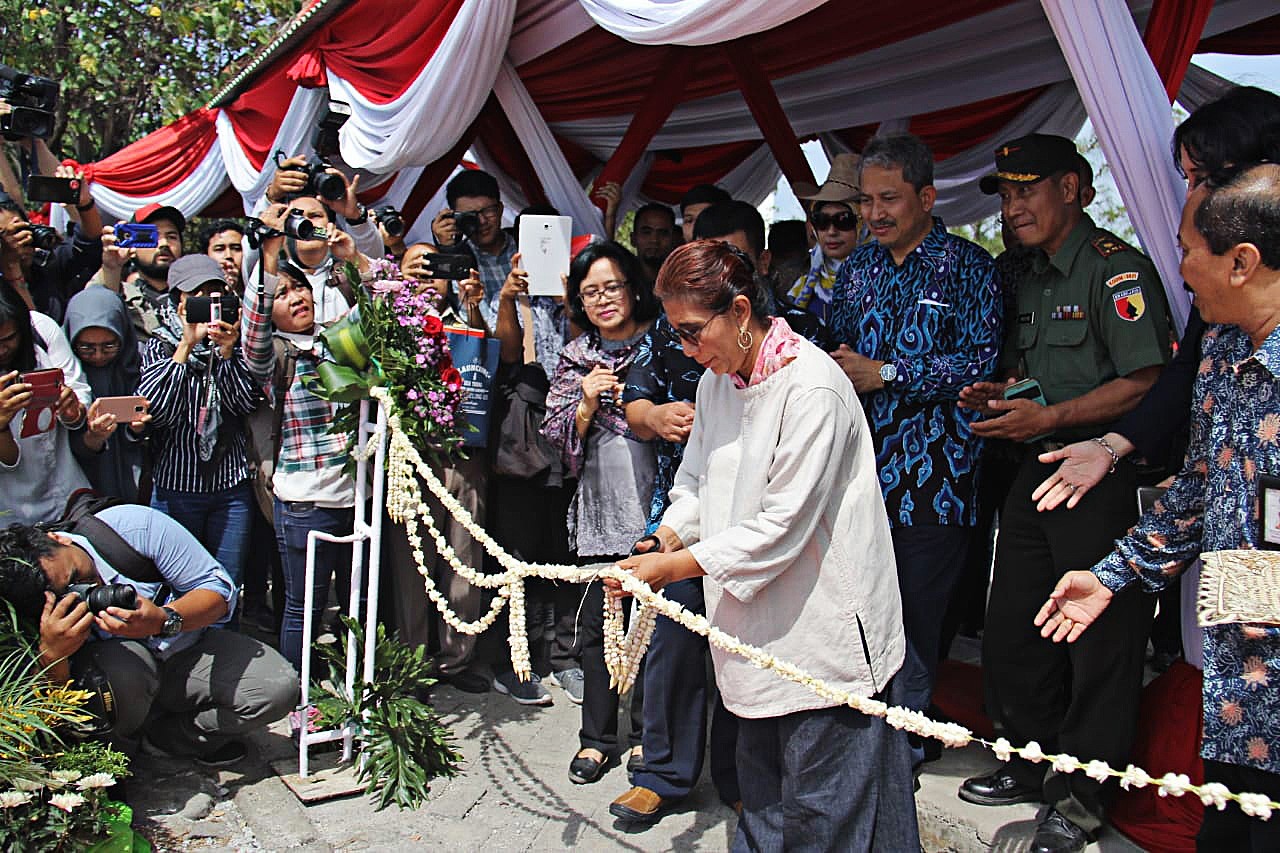 Upbeat: Maritime Affairs and Fisheries Minister Susi Pudjiastuti launches the world's first bamboo ship at Kenjeran beach in Surabaya, East Java, on July 2. The ship was invented by a team from the Sepuluh November Institute of Technology (ITS) Surabaya. (Courtesy of ITS Surabaya/File)
Several prominent figures have conveyed their congratulations to Maritime Affairs and Fisheries Minister Susi Pudjiastuti over the weekend for finishing high school.
Central Java Governor Ganjar Pranowo commented on his Twitter account on Saturday, jokingly telling her not to paint her uniform on her graduation celebration, as high school students usually do.
In a reply tweet, Susi assured Ganjar she would not celebrate the achievement in that style, because she had not graduated with her friends. "But if I may, I want to request a six-month holiday from the President. I would be very happy," she wrote on Twitter Saturday.
Bu @susipudjiastuti dalam perayaan kelulusan jangan corat-coret baju seragam ya... https://t.co/6XE5AHw6Zf

— Ganjar Pranowo (@ganjarpranowo) July 14, 2018
Susi also received compliments from other figures.
"Congratulations, Bu Susi, what an achievement," Jakarta Deputy Governor Sandiaga Uno congratulated the minister on Friday.
Deputy House of Representatives Speaker Fahri Hamzah, a member of the opposition's Prosperous Justice Party (PKS), wrote in his Twitter account that he wished Susi a shining career ahead.
The secretary-general of the ruling Indonesian Democratic Party of Struggle (PDI-P), meanwhile, promised to send Susi flowers for her achievement. "She is a figure of extraordinary achievement," Hasto Kristiyanto said Friday, as quoted by tempo.co.
Susi received her high school diploma on Friday. She had taken a high school equivalency examination at SMA 1 state senior high school in Pangandaran regency, West Java, on May 11-13. Susi passed the test with 429 points from seven subjects, giving her the highest score among the 569 participants in the exam.
Susi had registered for the exam in 2015. However, given her busy schedule as a minister, she only got down to taking the exam this year, Antara news agency reported.
Her personal assistant, Fika Fawzia, explained the story behind Susi's decision to take the exam on her Instagram account on Saturday. After a Cabinet meeting on June 16, 2015, Anies Baswedan, then Education and Culture Minister, had approached Susi and asked whether she was interested in taking a high school equivalency test in the following year.
Susi responded to that with a joke, but Anies kept persuading her until she agreed to heed his advice.
"I was walking behind them and only heard their conversation faintly, but finally Pak Anies turned to me, 'You're the witness, right. Ibu [Susi] said 'yes', so next year we'll arrange it,'" Fika said.
Fika added that she hoped what Susi did would encourage school dropouts across the country and inspire others to keep learning and going to school.
On Saturday, Anies congratulated Susi, saying, "I am very proud, Bu Susi is a learner."
Her effort to get a diploma was not seen as a positive thing by everyone. Indonesian artist Sudjiwo Tejo tweeted that her move would reinforce "the [glorification] of schooling and higher education institutions" in the country, as reported by tribunnews.com. "Without those diplomas," Sudjiwo added, "Bu Susi has proven [her worth]."
Susi replied with a tweet, saying, "If we don't have a diploma, meaning we have no value."
Susi often joked about her education track record, saying "I am the minister with the lowest education."
Susi was born on Jan. 15, 1965 in Pangandaran, where she went to school until junior high school. Later she continued to study at SMA 1 state high school in Yogyakarta, but dropped out when she was in second grade. She later became a successful businesswoman in fishing and aviation with Susi Air.
In 2014, President Joko "Jokowi" Widodo appointed Susi as the maritime affairs and fisheries minister. Susi is famously known for her decision to blow up boats used for illegal fishing in Indonesian waters.
She was named on the BBC's 2017 list of inspirational and innovative women, as the only Indonesian on the list.
In November last year, Susi received an honorary doctorate from state university Sepuluh November Technology Institute in Surabaya for "her success in developing the fishery and maritime sectors."
In April this year, a group calling itself Joss, which stands for Jokowi and Susi Pudjiastuti, touted Susi as Jokowi's running mate for the 2019 presidential election.
However, Article 169 of Law No. 7/2017 on general elections says that a presidential and vice presidential candidate must have at least a high school degree or formal education of the same level. (stu/evi)
Topics :
Join the discussions