Activists demand review of rape victim's punishment for abortion
Jon Afrizal

The Jakarta Post
Jambi |

Sun, July 22, 2018

| 12:41 pm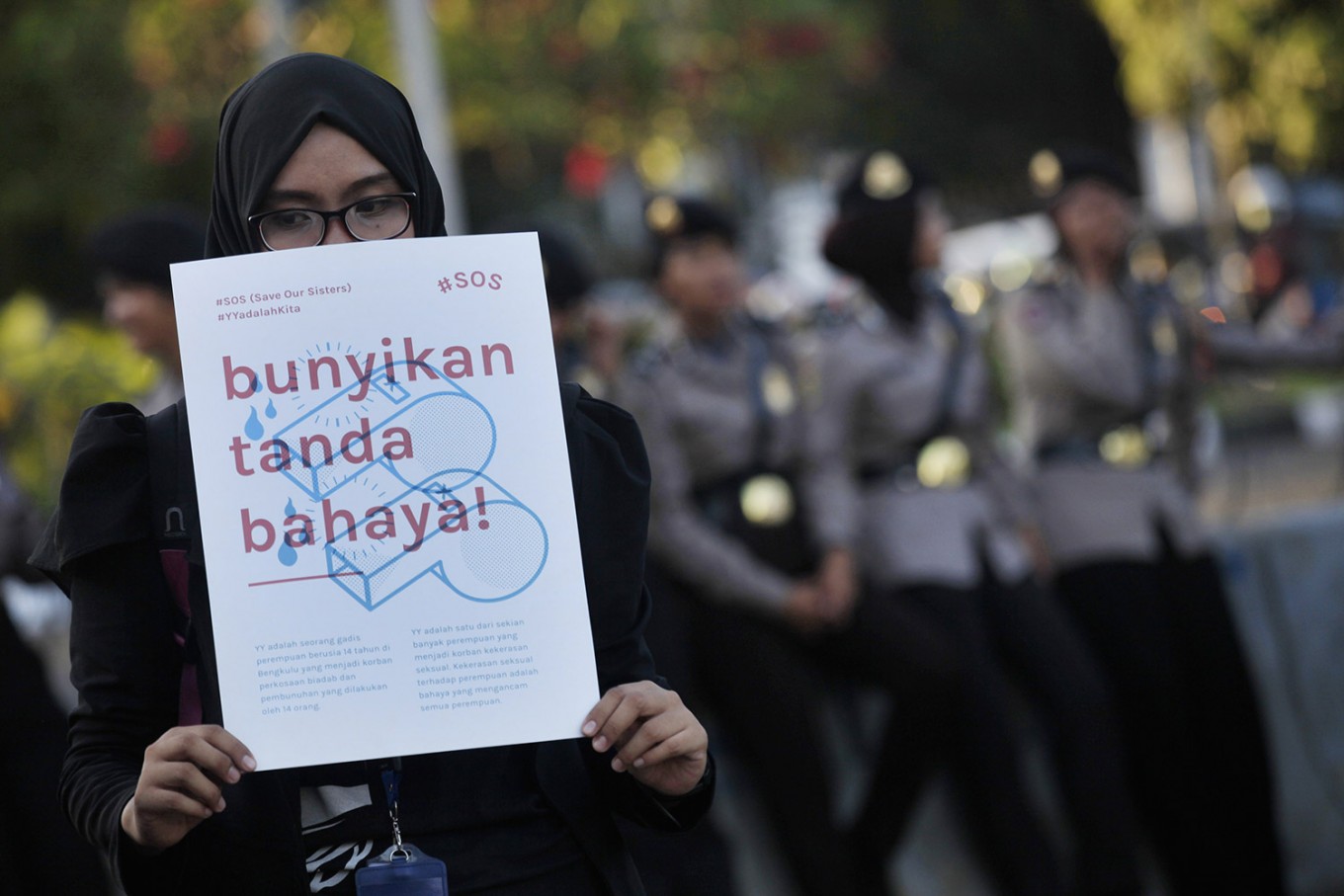 Activists from the Women Action Committee stage a rally as part of the #SOS (Save Our Sisters) campaign in May. (JP/Dhoni Setiawan)
Activists criticize the six-month imprisonment of a 15-year-old girl in Batanghari, Jambi who aborted her rape-related pregnancy, asking the government to review the case.
A women's activist from Embun Pagi Women School in Jambi, Zubaidah, said Sunday that the girl's case had a legal fallacy.
"This case must not be viewed as an abortion case," she said Sunday. Abortion is a crime in Indonesia but there are some exceptions. Zubaidah said the girl's case should be seen as a medical emergency, thus an exception.
The Muara Bulian District Court sentenced the victim to six months' imprisonment for undergoing an unlawful abortion of the 8-month fetus and sentenced her brother-cum-assailant to two years' imprisonment for sexually assaulting a minor.
The girl's mother had helped her abort the pregnancy out of shame, after discovering she had been raped and impregnated by her own brother.
The mother, who claimed she was unaware of the sexual abuse, is still on trial.
The Institute for Criminal Justice Reform (ICJR) objects to the sentence, arguing that Indonesia's abortion laws are unfair to victims of sexual abuse.
ICJR mentioned articles 75 and 76 of the Health Law, which state rape victims can undergo an abortion if it is performed by a licensed practitioner less than 40 days after her last menstruation.
"[But] In practice, many women only discover they are pregnant after 40 days. By then it is too late for them to undergo a lawful abortion," said Anggara, executive director of the Institute for Criminal Justice Reform (ICJR) on Saturday.
"The state should help these victims recover from their trauma instead of punishing them, especially if they are children," she added
Read also: Rape survivors often have to bear it alone
The ICJR also pointed out that judges often neglected victim rights and lacked gender sensitivity when dealing with sexual violence cases, despite both concepts being enshrined in the 2017 Supreme Court Regulation No. 3 on women before the law and the 2014 law on victim and witness protection.
The Legal Aid Foundation of Indonesian Women's Association for Justice (LBH APIK) also object to the girl being imprisoned stressing that, as a minor and a victim, she should not be held responsible for having an abortion.
"It's not fair that she was punished just because it [the abortion] was done on her body," said Uli Pangaribuan a lawyer from LBH APIK.
She also objected to imprisonment, arguing that she is likely to suffer heavy stigmatization on top of rape trauma. Several online news portals are already guilty of sensationalizing the case as pasangan sedarah (incest) and their village has banned the siblings from returning home.
"There's no way she can get the necessary psychological help in prison. She should be sent for treatment and counseling instead," added Uli.
Zubaidah, of the women's school, said such cases of incest were likely to recur if the government did not pay attention to proper sex education.
"Incest cases have never been handled well. This proves that many people do not know the roots of the problem," she said.
She said schools did not teach children how to build healthy relationships with the opposite sex.
The case surfaced after residents found a dead baby boy in a palm plantation in Pulau village, Muaratembesi district, in early June.
The brother told the police investigators that he had forced his sister to have sex with him eight times since September 2017. He said he would hit his sister if she refused. The brother, WA, said he watched pornography and wanted to have sex.
The villagers saw the case as incest, dismissing the fact that the sister had been forced to have sex. They told the siblings to leave the village.
The head of Pulau village, Damanhuri, called the siblings perpetrators. "The perpetrators would be banished from the village. It is the agreement between the customary institution, village and residents," he said. (nor/evi)
Topics :
Join the discussions