PDI-P says Kalla right person for Jokowi's VP, again
News Desk

The Jakarta Post
Jakarta |

Tue, July 24, 2018

| 08:20 pm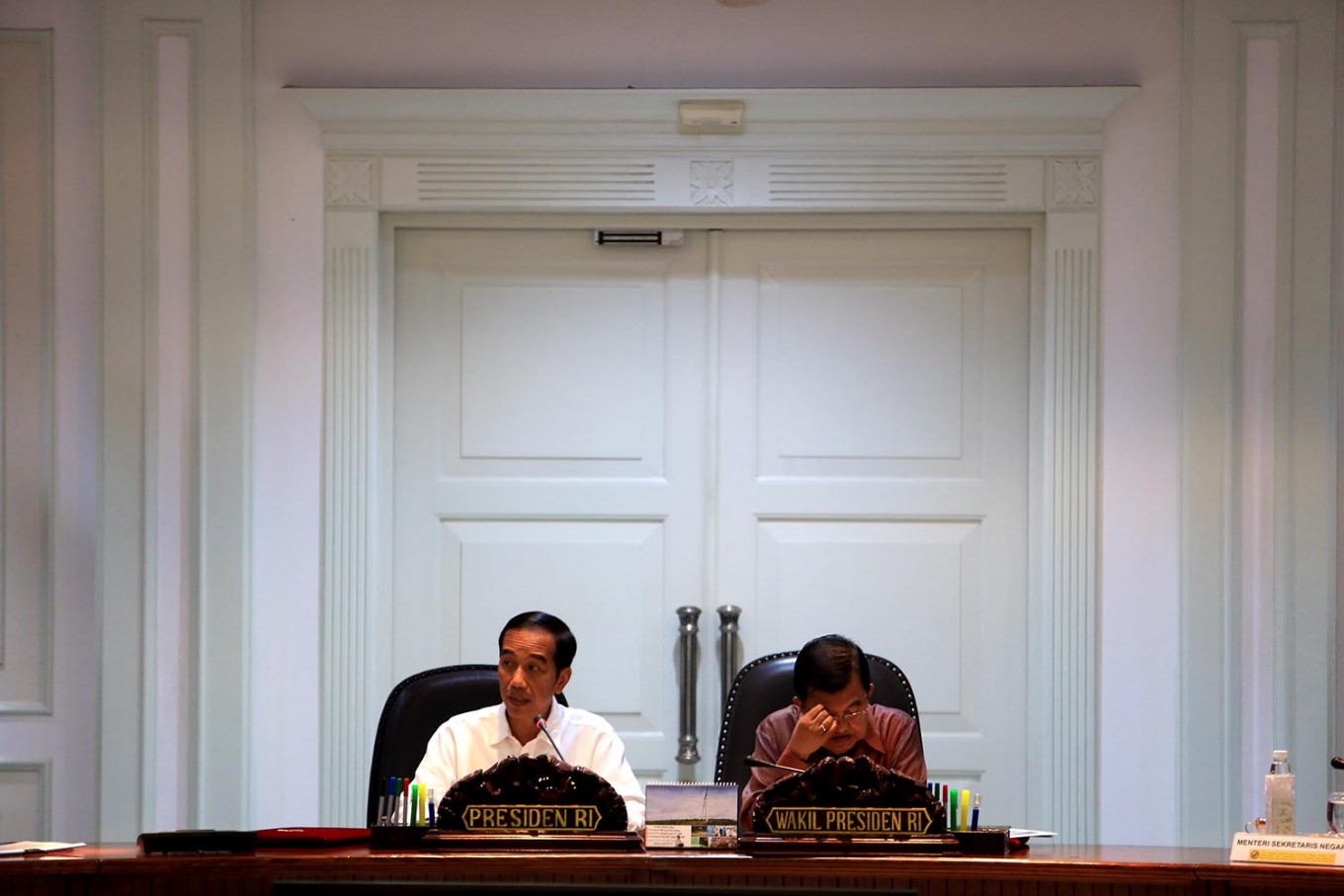 President Joko "Jokowi" Widodo (left) and Vice President Jusuf Kalla. (JP/Seto Wardhana)
Vice President Jusuf Kalla is a suitable candidate for vice president, the Indonesian Democratic Party of Struggle (PDI-P) said in a written statement on Tuesday.
The party says they agree that Kalla will make a good vice president judging from his past performance. "The PDI-P considers Jusuf Kalla a national figure who continuously inspires others to unite the nation. Our highest respect goes to him," the statement, signed by the party's secretary-general Hasto Kristiyanto, said.
The PDI-P believes that its chairwoman, Megawati Soekarnoputri, and President Joko "Jokowi" Widodo will place Kalla in an important position, considering his broad experience and reputation after serving twice as vice president. "As to who will accompany Jokowi, Kalla, who has a reputation for building dialogue and seeking a peaceful solution to the Aceh conflict, has, of course, proven himself as a vice president who can cooperate with Jokowi," the statement went on.
Read also: Kalla seeks legal certainty amid calls for reelection
As to how much chance there is for Kalla to run again, the PDI-P would wait for the Constitutional Court's decision, the party said.
The court is handling a judicial review of Article 169 of the 2017 Election Law, which prohibits a president or vice president from seeking a third term in office, regardless of whether they held office for two consecutive terms. Perindo, as the petitioner, claimed that the Constitution banned candidates from seeking a third term only if they held the position for two consecutive terms.
Kalla served as vice president from 2002 to 2009. He was elected to the position for a second time in 2014.
Read also: Jokowi coalition agrees on VP candidate
The statement said all the leaders of the parties supporting Jokowi had agreed that the name of the vice presidential candidate for Jokowi would be announced "at the right moment".
On Monday evening, six party leaders dined with Jokowi at Bogor Palace.
The meeting was attended by Megawati, NasDem Party chairman Surya Paloh, Golkar Party chairman Airlangga Hartarto, United Development Party (PPP) chairman Muhammad Romahurmuziy, National Awakening Party (PKB) chairman Muhaimin Iskandar and Hanura Party chairman Oesman Sapta Odang. (dpk/evi)
---
Editor's note: This article has been updated on July 24 at 10:40 p.m. to reflect a more accurate translation of PDI-P's statement.
Topics :
Join the discussions