In this tobacco village, smoking 'kretek' is rite of passage
Kusumasari Ayuningtyas

The Jakarta Post
Magelang |

Thu, July 26, 2018

| 08:37 am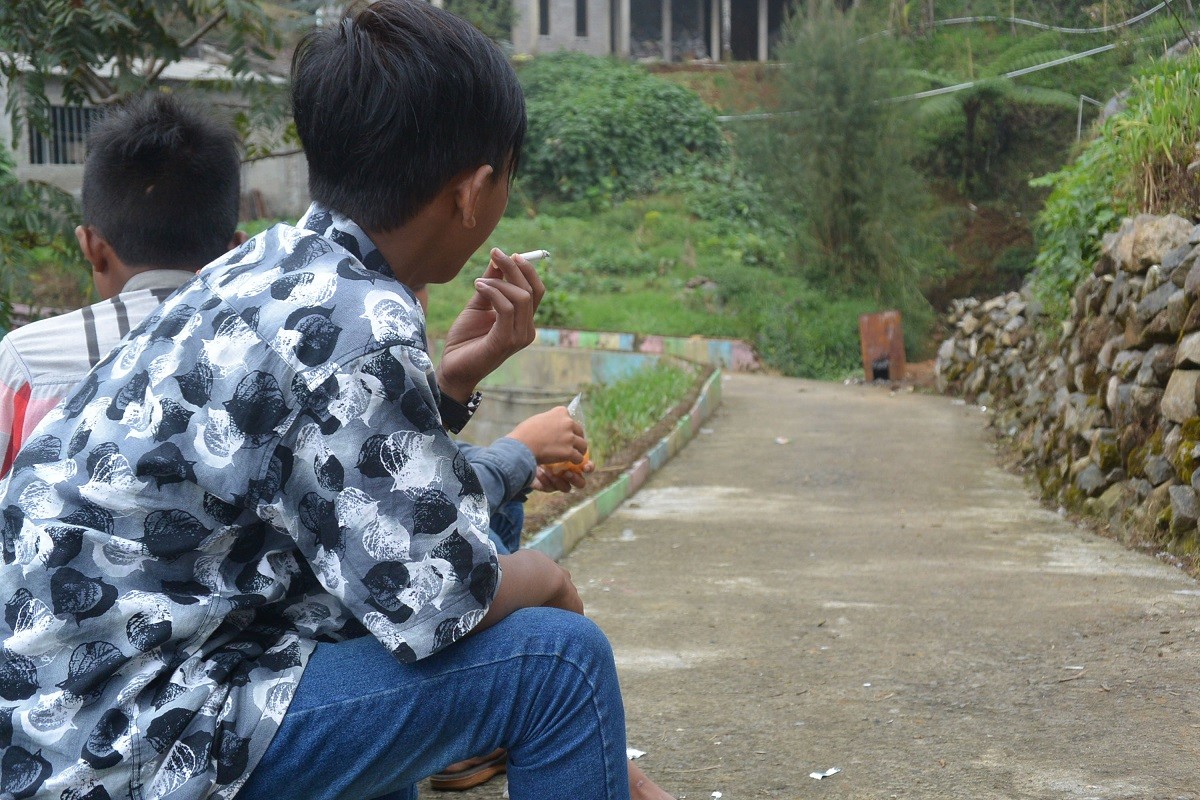 Katon Wijaya, 14, plays outside while smoking his last cigarette of the day in July in Kaliangkrik district in Magelang regency, Central Java. Katon got his first cigarette when he was 11 as a gift for his circumcision. (JP/Kusumasari Ayuningtyas)
In a tobacco-producing district in Magelang, Central Java, smoking has become part of the rite of passage for boys.
The long-ingrained tradition, coupled with regional revenue from the tobacco industry, has made regency officials hesitant to send a strong message against tobacco control.
Katon Wijaya began smoking when he received four packs of cigarettes from his father as a gift for his circumcision. He was 11. Some cultures in Indonesia regard circumcision as the mark of when a boy becomes a man.
Now, when he has a craving, he spends more than half of his pocket money, Rp 5,000 (34 US cents), to buy two cigarettes.
But the resident of Butuh village in Kaliangkrik district would love to smoke more often. When he turned 14, Katon got seven packs of kretek (clove) cigarettes as a birthday gift from his brother. Containing 12 cigarettes each, the seven packs lasted only a week. "I smoked a pack a day," the teenager said.
Katon always carries a lighter in his pocket. "How could I not [always bring it]?" he said as he lit a flame.
His close friend, Sulistiyanto, also 14, began smoking when he was 9 years old when he received cigarettes as a gift for his circumcision. Like Katon, Sulistiyanto also spends about half of his pocket money on cigarettes. When he wants more, he rolls the bitter-tasting cigarettes himself.
Both dismissed the warnings that smoking is bad for their health. They said they had never been sick.
'Dare to plant, dare to smoke'
Kaliangkrik has long been known as a center of tobacco production. According to data from the Central Statistics Agency (BPS), Kaliangkrik has the largest tobacco fields, with 2,193 hectares, among the 21 districts in the regency in 2015.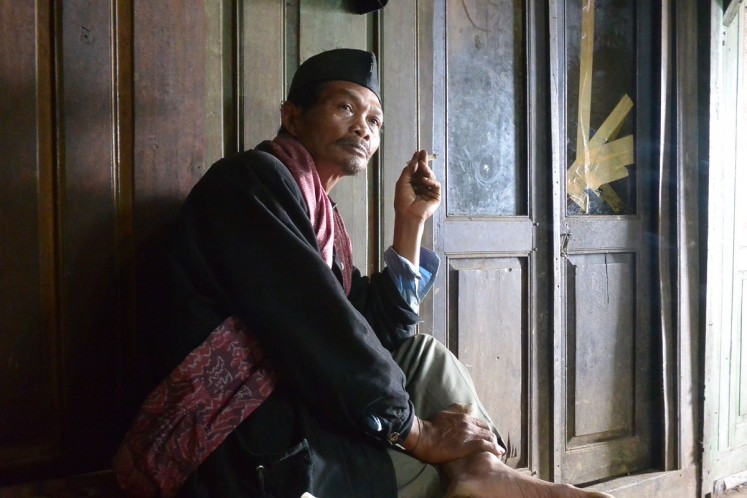 Markodi, a community elder in Butuh village, Kaliangkrik believes smoking is not harmful and instead heals, as his ancestors taught him. (JP/Kusumasari Ayuningtyas)
The total size of tobacco fields in the regency in 2015 was 6,613 ha. Among other plantations managed by smallholders, tobacco topped the list, followed by coconuts with 5,023 ha and coffee with 813 ha. The whole regency also had 702 ha of smallholders' clove fields, which is essential for kretek cigarettes.
"Daring to plant tobacco means daring to smoke too," said Markodi, 53, a resident.
He said he was proud that he could give his second son two boxes of cigarettes as a gift for his circumcision. Smoking is common in Butuh village, even among children, so he sees nothing wrong with giving cigarettes as a gift.
"Since the time of our ancestors, tobacco has been seen as a medicine. It doesn't harm us; it instead heals us," he said.
Health vs income
Chairperson of Magelang Muhammadiyah University's Muhammadiyah Tobacco Control Center (MTCC), Retno Rusdjijati, said the case of Kaliangkrik put tobacco-control campaigners like her in a dilemma.
"On one hand smoking is a part of the culture in the village. On the other, these children have to get help to quit smoking," said Retno.
The Magelang regency administration launched an intensive campaign against children smoking early this year. They go to junior high schools to explain the dangers of smoking to teenage students.
The head of the Magelang Health Agency's Non-Infectious Disease Control and Prevention Section, Bambang Prihutomo, said they were aware of children smoking in Kaliangkrik. "But it is difficult [to tell them to stop] because it has been a tradition and to my knowledge, their own mothers give the cigarettes to the children," he said.
Besides campaigning in schools, they have also drafted a regulation on smoking-free zones.
Bambang said his office had submitted the draft in 2014. However, he said, the draft stopped at the regency administration's law bureau.
"The law bureau does not dare to propose it further, saying it was like defying the administration," Bambang said. He referred to the fact that tobacco is considered a lucrative commodity in Magelang.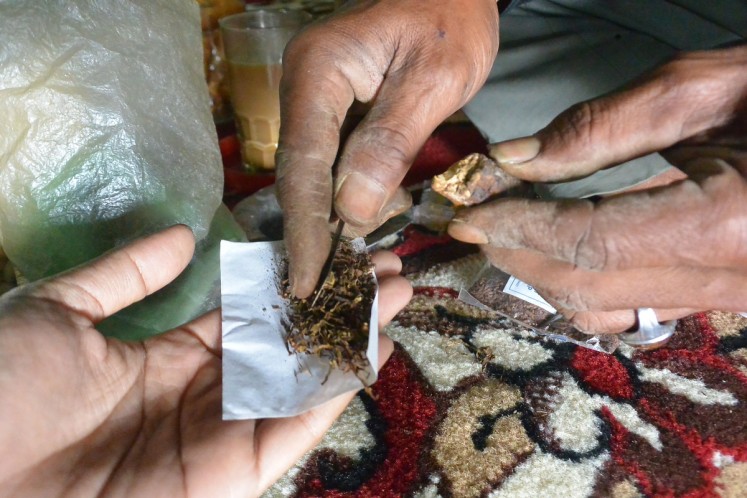 Kaliangkrik district in Magelang regency has about 2,000 hectares of tobacco fields, making it the district with most tobacco fields among 21 districts in Magelang, Central Java. (JP/Kusumasari Ayuningtyas)
Magelang councillor Suroso Singgih said he preferred campaigning rather than applying regulation on smoke-free areas. He said the regency administration would face a big challenge when it came to enforcing a regulation on tobacco control.
Central Java Governor Ganjar Pranowo said smoking was an individual choice. Every region has its own approach to tobacco control, he said. It is either through regulation along with the sanctions, and directly through parents and their children.
"Not all regulations are effective. Without regulation it may be even more effective because of the approach conducted directly with parents and their children," Ganjar said.
Parents and government play a role
Researcher Rosita Eva of the Indonesian Consumers Foundation (YLKI) once expressed concern on how easy it is for children in Indonesia to obtain cigarettes.
The 2016 Survey on Health Indicators in Indonesia by the Health Ministry found the government could not reach the target of reducing the prevalence of smoking among people aged 10 to 18 years old. The survey found in 2016 it stood at 8.8 percent, much higher than the government's target of 5.4 percent by 2019.
Rosita blames the condition on, among others, weak implementation of the regulation requiring cigarette consumers to be at least 18 years old. She also blamed the uneven implementation of smoke-free areas and retail sales of cigarettes that made purchasing easy for children.
She said ideally cigarettes had to be sold at Rp 50,000 per pack, thus making it less affordable for children with an average of Rp 10,000 per day in pocket money.
"This is where the parents and the government play important roles," Rosita said.
She added that parents must be responsible their children's smoking habits, while the government is in control of increasing excise.
"Unfortunately, excise that should be used to control consumption has in fact become a source of income," she said.
Join the discussions