Indonesians more worried about terrorism, support stronger measures: Survey
News Desk

The Jakarta Post
Jakarta |

Tue, July 31, 2018

| 06:20 pm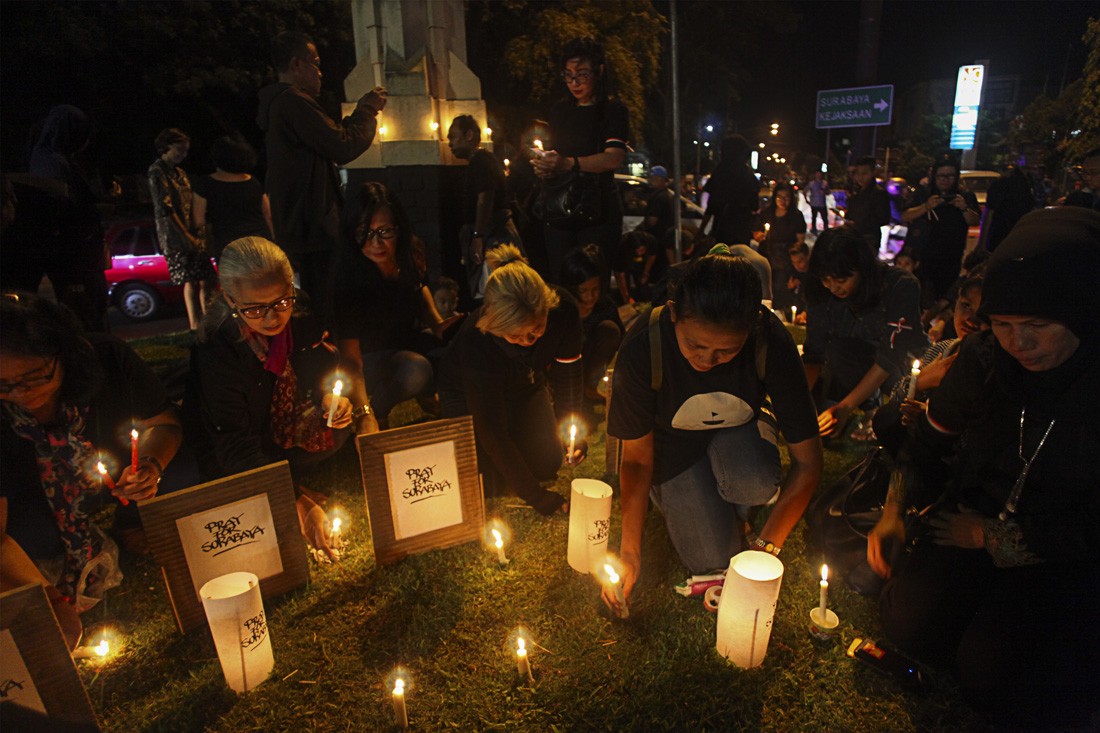 In mourning: Residents attend a candlelight vigil in Surakarta, Central Java, on May 13, to pray for victims of church bombings in Surabaya, East Java, and terror attacks in areas across the country. (Antara/Maulana Surya)
Indonesians have become more concerned about terrorism since the Surabaya bombings, according to a recent survey.
The Indonesian Survey Institute (LSI) found that 82 percent of Indonesians, regardless of gender, religion, income, education and political affiliation, are more concerned about terrorism as a result of the Surabaya suicide bombings in May.
"We've witnessed a new development in terrorism where women and children are now involved [in terrorist attacks]," said LSI researcher Ardian Sopa on Tuesday in Jakarta.
The Surabaya bombings shocked the nation as 10 minors were used in a string of bomb attacks. Only three of them survived.
The survey, which interviewed 1,200 respondents above the voting age, also indicates that most Indonesians favor stronger antiterrorist measures and support the new Terrorism Law, which is described by some human rights groups as draconian and prone to abuse.
More than 76 percent of respondents approved longer detention periods for suspected terrorists as stipulated in the new law, according to the survey. Furthermore, 70 percent of respondents also supported increasing the annual budget for the police in order to crack down on terrorism.
However, the survey also showed that 53 percent of respondents felt that civil society, including the media, NGOs and religious organizations, had fallen short of raising awareness about terrorism.
"The police have been quite successful in curbing terrorism but the people also want civil society to better raise awareness to support the police," Ardian said. (nor/ahw)
Topics :
Join the discussions