'Black River' residents challenge viral photo owner to prove authenticity
News Desk

The Jakarta Post
Jakarta |

Sun, August 5, 2018

| 12:18 pm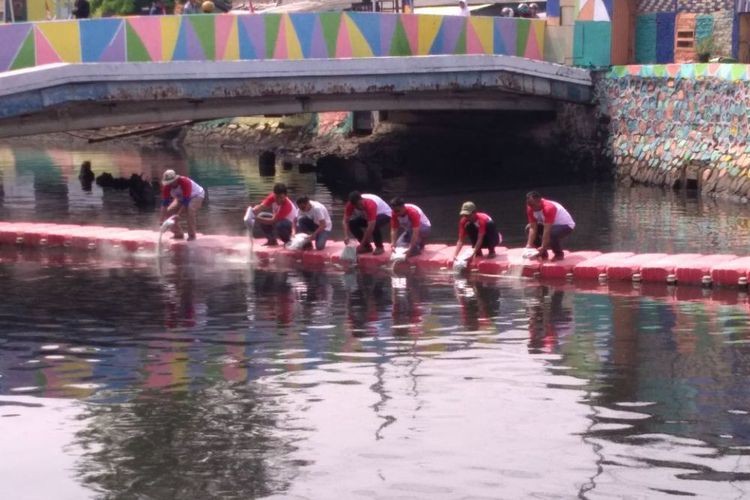 Members of the Jakarta Indonesian Farmers Association (HKTI) scatter some 500 kilograms of DeoGone deodorizing powder to reduce the smell of the Sentiong River, which has been dubbed Kali Item, or the Black River, because of its level of pollution, in Central Jakarta, on July 29. (kompas.com/File)
The talk about Kali Item, or the "Black River", in Kemayoran, Central Jakarta, is not yet over, with a fresh debate arising over the weekend surrounding a series of viral photos that show clear, light green water in the river.
The pictures, uploaded by Rifqi Fathullah, are dated to March 26 last year, during the term of former governor Basuki "Ahok" Tjahaja Purnama. Rifqi said he took the picture last year when he was in the neighborhood and saw children swimming in the river, which actual name is Sentiong River.
Read also: What makes Jakarta's rivers ugly and smelly
Residents living nearby, however, said they had never seen such clear, light green water in the river. Siti Rodiyah, who has lived on Jl. Sunter Jaya 1 since 1994, told tempo.co that she had never seen such clear water in the Sentiong River.
"All my life, I have never seen Kali Item that clear," said Siti, 49, when she saw the viral pictures on Saturday.
Inal, another resident, challenged the owner of the photos to show other proof that the river was that clear. Upload a video, he said as quoted by tempo.co. He said when the water flow increased in the Sentiong River, the water would change from black to murky brown. "I give four thumbs up to the person who edited the pictures," Inal said.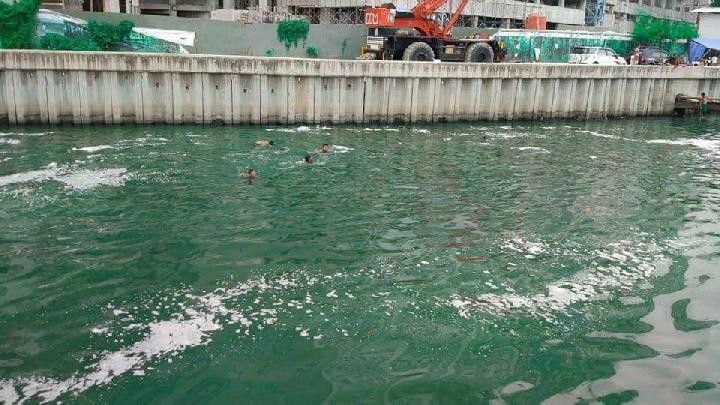 This picture of children swimming in a "clean" Sentiong River near the athletes village in Kemayoran, Central Jakarta, was uploaded to the Facebook account of Rifqi Fathullah on March 26, 2017. Rifqi said he had brightened and enhanced the color of the picture. (Via tempo.co/Facebook)
Rifqi uploaded the pictures last year but they went viral after they were uploaded by an Instagram user who has 20,000 followers. The Jakarta administration is trying to improve the appearance and smell of the river ahead of the Asian Games.
Rifqi said last year when he took the pictures he was surprised to see that the river was free of solid waste and was flowing. He said the water was not black either. However, he told tempo.co on Saturday that he had "brightened and enhanced" the color, although he insisted he had done so so the pictures would match what he saw in reality.
Under the Ahok administration, Jakarta began a large-scale campaign to clean solid waste from rivers, which made the rivers look much cleaner than before.
Jakarta, however, has yet to realize its plan to build wastewater treatment plants to clean the city's rivers from pollution emitted by millions of households, home industries and commercial buildings. Jakarta has only one wastewater treatment plant in Setiabudi, Central Jakarta, which treats only 2 percent of the estimated 2.5 million cubic meters of liquid pollution that enters 13 rivers every day. (evi)
Join the discussions