[UPDATED] What you need to know about the Lombok earthquake
Karina M. Tehusijarana

The Jakarta Post
Jakarta |

Mon, August 6, 2018

| 04:17 pm A woman carrying a child walks past a shop destroyed by an earthquake in West Lombok regency, West Nusa Tenggara, on Aug. 6. (Antara/Ahmad Subaidi)
A 7.0-magnitude earthquake rocked the island of Lombok, West Nusa Tenggara (NTB) on Sunday, just a week after a 6.4-magnitude quake hit the same area.
It also followed two quakes that occurred earlier on Sunday, a 5.6-magnitude one on the Mentawai Islands, West Sumatra, and a 5.2 one on the island of Flores, East Nusa Tenggara (NTT).
The quake
According to the Meteorology, Climatology and Geophysics Agency (BMKG), the earthquake was felt at 7:46 p.m. local time with an epicenter located 18 kilometers southwest of East Lombok with a depth of 15 km.
#Gempa Mag:5.6, 05-Aug-18 19:49:52 WIB, Lok:8.28 LS,116.17 BT (15 km BaratLaut LOMBOKUTARA-NTB), Kedlmn:10 Km, tdk berpotensi tsunami #BMKG pic.twitter.com/5QsbI2286O

— BMKG (@infoBMKG) August 5, 2018
The agency initially placed the northern part of East and West Lombok on a tsunami alert soon after the quake but the alert was revoked at around 9:30 p.m. local time.
Read also: What to do when an earthquake strikes
"Tsunami waves did hit the coast, but only at a height of 9 to 13 centimeters. The waves didn't cause damage or casualties," National Disaster Mitigation Agency (BNPB) spokesman Sutopo Purwo Nugroho said in a statement on Sunday.
The tremor was felt in neighboring Bali and some parts of East Java.
The aftermath
As of Aug. 15, the BNPB has recorded at least 469 deaths and 7,773 injuries as a result of the quake. As many as 71,962 buildings were damaged and 417,529 of people fled their homes after the tsunami alert.
The worst hit area was North Lombok regency, where at least 396 people were killed and 640 were injured. Sutopo said most of the deaths were caused by falling building debris.
As of Aug. 15 the agency estimated that the financial loss caused by the earthquake reached Rp 7.45 trillion (US$509 million).
Power outages also hit North and East Lombok, while Lombok International Airport sustained some minor damage and halted operations temporarily before resuming at 8:30 p.m. local time on Sunday.
Several buildings in Bali were also damaged by the quake, including the Denpasar Cathedral and Ngurah Rai International Airport, but airport operations continued as normal.
The initial earthquake was followed by over 132 aftershocks, and many residents remain unwilling to return to their homes for fear of another tremor.
Below is what we know so far about the earthquake.
The cause
Indonesia, which sits on the so-called "Ring of Fire", is one of the most disaster-prone countries in the world.
Lombok is located in between two earthquake "generators", namely the Flores back arc thrust to the north and the boundary of the Sunda and Indo-Australian tectonic plates to the south.
Read also: Third earthquake in 2018 in Lebak: Is Jakarta ready for megathrust quake?
The BMKG said this quake and the 6.4-magnitude one last week were caused by upward movement of the Flores back arc thrust fault.
The thrust fault was formed due to friction with the Indo-Australian plate and was mapped in a 1981 joint expedition between the University of California Santa Cruz and the Indonesian Institute of Sciences (LIPI).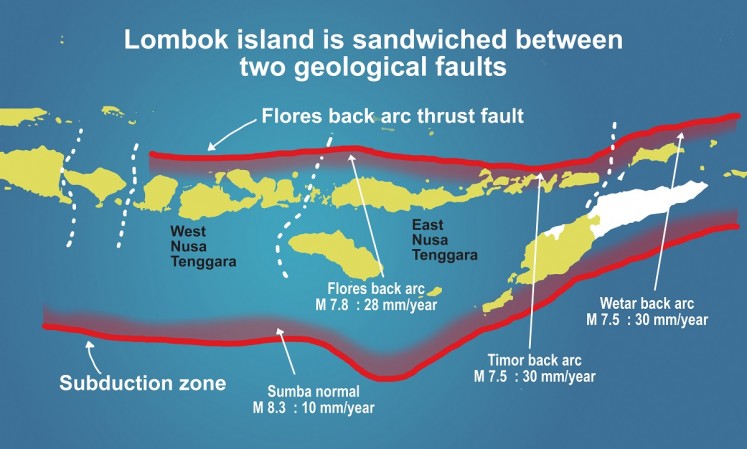 (JP/BMKG/Budhi Button)
The Volcanology and Geological Hazard Mitigation Center (PVMBG) at the Energy and Mineral Resources Ministry said the area of the epicenter of the quake consisted mostly of volcanic sediment that had been raised up and weather-beaten.
The weathered nature of the sediment can strengthen the effects of a vibration, which makes the area susceptible to earthquakes.
The response
The BNPB said it was working together with the Indonesian Military (TNI), the National Police, the National Search and Rescue Agency (Basarnas) and several ministries and non-governmental organizations for its emergency response.
"The focus is currently on searching for, rescuing and aiding residents that were affected by the earthquake and fulfilling their basic needs," Sutopo said in a press conference on Monday.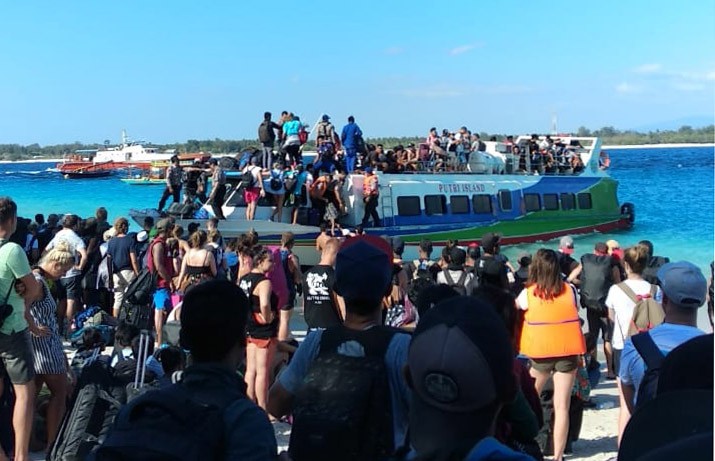 People crowd the shore as they attempt to leave Gili Trawangan Island in West Nusa Tenggara on Aug. 6. (Courtesy of/YB Deddy Haryatmo)
The TNI sent three planes to Lombok carrying medicine, logistics, tents, communication devices and food on Monday morning, while state-owned electricity company PLN said in a statement it was working to restore power to East and North Lombok.
As of Monday evening, the authority was still evacuating foreign and domestic tourists on three small islands in North Lombok – Gili Trawangan, Gili Air and Gili Meno. The authority initially estimated that there were around 1,000 tourists, but it later found there were many more. As of 3 p.m. on Monday, a joint team led by Basarnas had evacuated 2,700 tourists from the three Gilis.
Basarnas utilized nine ships from various sources to transport tourists and hospitality workers on the three Gilis. At 7 p.m. Jakarta time, Basarnas' public relations account on Twitter @humas_basarnas said that 3,043 people had been transported from the islands to the main island Lombok.
Sementara yg sdh kami evakuasi dari gili sebanyak 3043 orang namin demikian masih banyak lagi yg blm dievakuasi..kami mohon utk bersabar..kmi upayakan yg terbaik dan bisa evakuasi secepatnya 🙏🙏 pic.twitter.com/NtUifM0W3R

— Humas basarnas (@humas_basarnas) August 6, 2018
"There are many more, we ask for your patience, we're doing our best and our fastest," the agency tweeted. (sau/swd)
---
Editor's note (Aug. 27, 2018 at 5:10 p.m.): The article has been updated to reflect the latest numbers.
Join the discussions