Villagers rescue pilot whales trapped in S. Sulawesi mangroves
News Desk

The Jakarta Post
Jakarta |

Tue, August 7, 2018

| 12:49 pm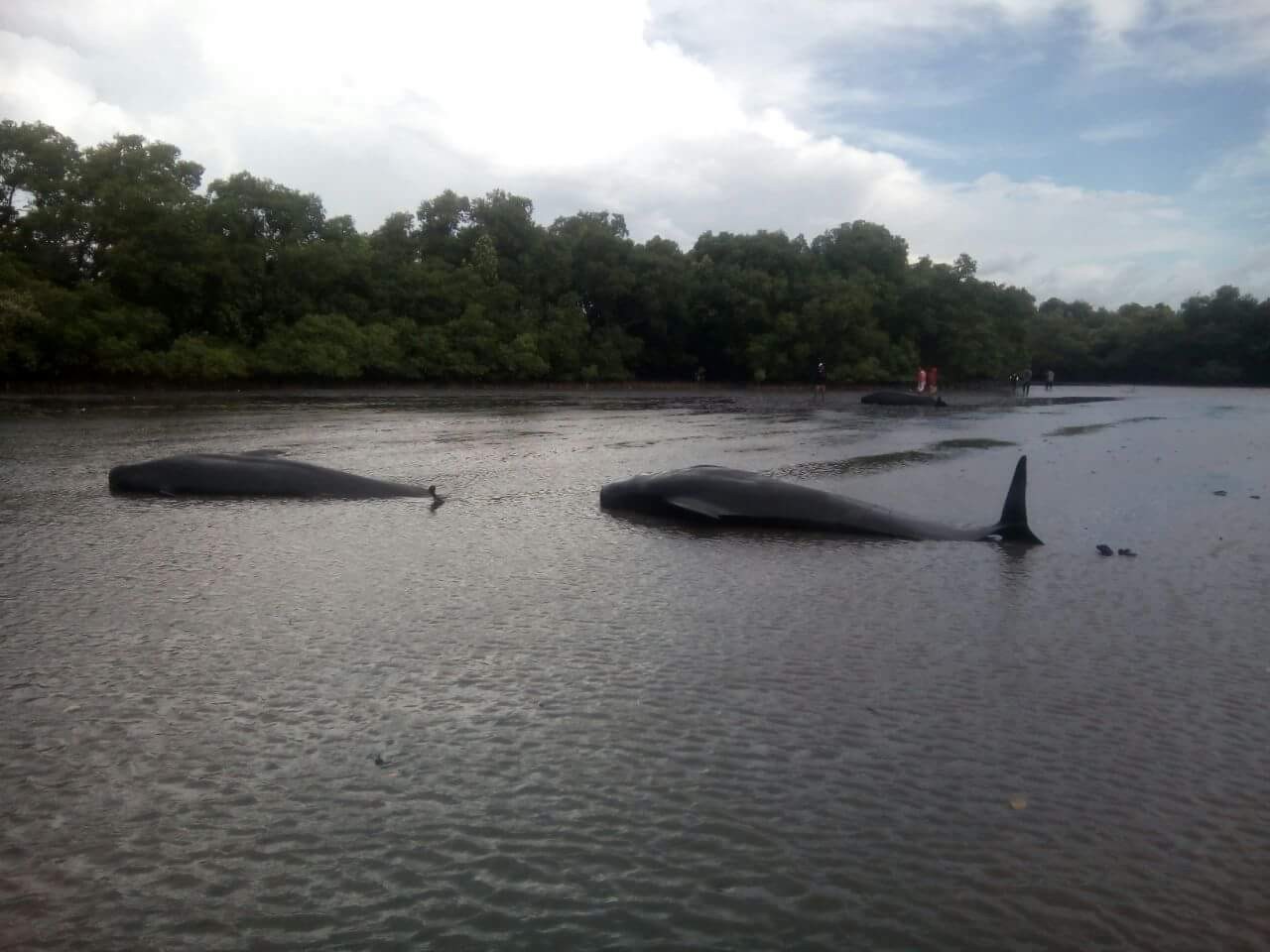 Several pilot whales have died after a mass stranding on the coast of Probolinggo, East Java, on June 15, 2016. (Courtesy of Reef Check Indonesia/Indra )
Residents of Nambo village in Buton, Southeast Sulawesi, have successfully rescued four short-finned pilot whales that were trapped in the mangroves of Lawele Bay, and footage of the rescue has been making the rounds on social media.
The video appeared on the Facebook account of a resident named Adi Bakri on July 29. The rescue reportedly took place two days earlier.
"Thank God we managed to save four whales that were trapped [in the mangroves]. Elderly villagers said this was a sign; re-occurrence of 1995," he wrote in the caption of the video, which has been viewed around 199,000 times so far and shared by 3,700 people.
Adi was referring to a similar rescue of whales trapped in the same area in 1995.
The Makassar working unit head of the Kendari Coastal and Marine Resources Management Center (BPSPL), Jupri, confirmed to The Jakarta Post on Tuesday that someone named Adi Bakri had told him about last week's rescue.
Up to 11 people were involved in the mission, he added.
"We suspect that the whales were looking for food in Lawele Bay because the area has a lot of anchovy this time of year," he said, adding that short-finned pilot whales mostly eat small fish, squid and octopuses.
"Another theory is that the recent extreme weather, such as high waves or increase in water temperature, prompted them to head to shallow waters."
Jufri explained that Lawele Bay, which is located in Banda Sea, was a migration path for sea mammals. Therefore, despite the rare incident, he said the BPSPL would train Nambo residents on how to safely rescue trapped whales or dolphins.
"Fortunately, no whales were wounded during the rescue; only a few scratches caused by friction against oysters attached to the mangrove roots when they were trapped," Jufri said. (sau/dmr)
Join the discussions