Indonesia pins hopes for gold on these shining athletes: The list
Ramadani Saputra

The Jakarta Post
Jakarta |

Fri, August 10, 2018

| 06:16 am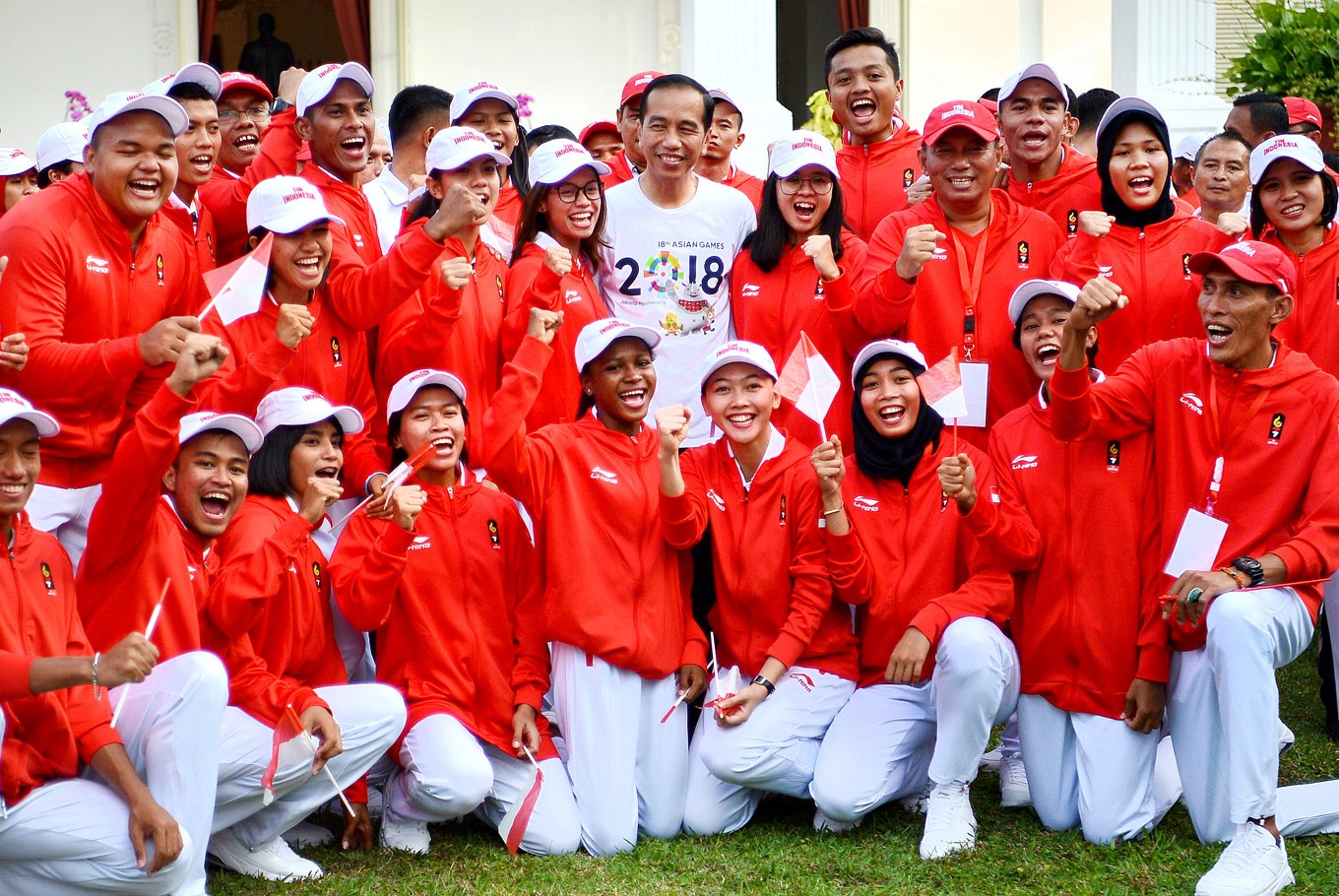 President Joko "Jokowi" Widodo (center) poses with the Indonesian track and field team at the Presidential Palace in Jakarta on Wednesday after a send-off ceremony ahead of the Asian Games, which start on Aug. 18. (Antara/Wahyu Putro A)
As the host of the 18th Asian Games, Indonesia has set a high target to earn at least 16 gold medals and finish in the top 10 of the overall medal count.
With 940 Indonesian athletes competing in 465 events, achieving the target would be an improvement over the country's final results in Incheon, South Korea, four years ago, when Indonesia only earned four gold medals.
Big names such as 2016 Rio Olympic gold medalists Tontowi Ahmad and Liliyana Natsir and men's doubles pair Kevin Sanjaya Sukamuljo and Marcus Fernaldi Gideon are favorites to win gold medals once the Games commence on Aug. 18.
In addition to the four, here are other athletes with expectations to win gold.
Aero Sutan Aswar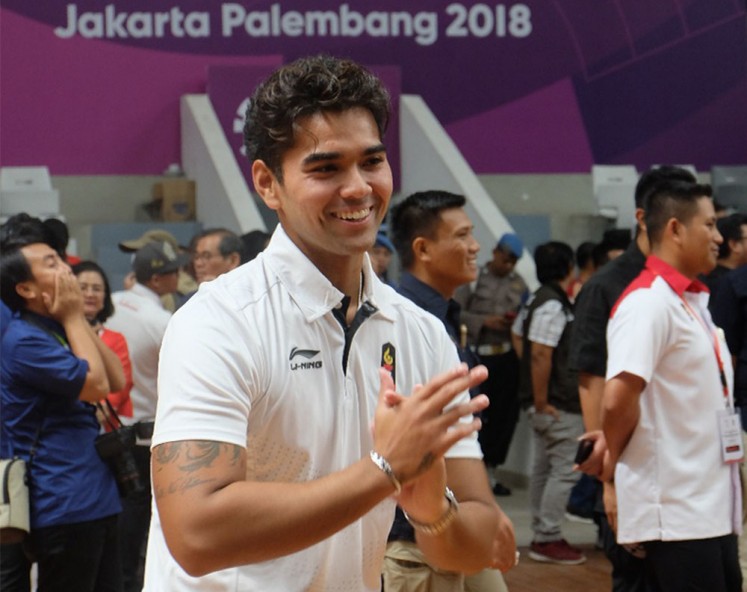 Aero Sutan Aswar stole the world's attention after snatching first in the Pro Runabout stock category of the 2014 Jettribe World Finals in Lake Havasu City, Arizona, the United States. (Courtesy of Inasgoc/-)
The flamboyant Aero Aswar was born to be a jet-ski superstar. The 23-year-old was introduced to the sport at a young age, having won his first jet-ski competition at 4 years old.
He stole the world's attention after snatching first in the Pro Runabout stock category of the 2014 Jettribe World Finals in Lake Havasu City, Arizona, the United States.
Aero, who divides his time between training in the US and Indonesia, also won two gold medals, one each at the 2010 and 2014 Asian Beach Games. At the 18th Asian Games, he is determined to show his best as he looks to add to his impressive list of achievements.
Aries Susanti Rahayu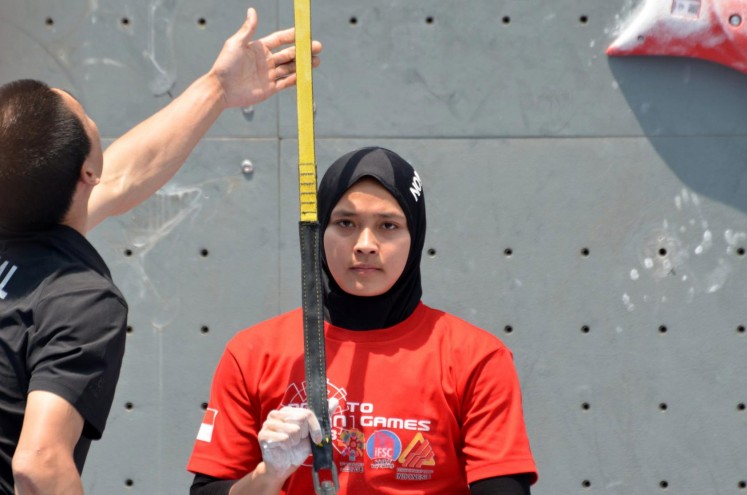 Aries Susanti Rahayu won silver at the 2017 IFSC World Cup in Wujiang, China. (Courtesy of FPTI/-)
In May, a video of a girl in a red uniform and black hijab climbing up a wall at an extraordinary speed was widely shared on social media. That girl is Aries Susanti Rahayu, a 23-year-old who hails from Grobogan regency, Central Java. She won at the IFSC World Championships in speed climbing in Chongqing, China, this year.
Aries is also a silver medalist, having made the podium at the 2017 IFSC World Cup in Wujiang, China. Aries, along with her teammate Aspar Jaelolo, are expected to win medals at this year's Asian Games. "We don't consider the medal target a burden, because we believe we can show our best for the nation," Aries told journalists during training in Yogyakarta earlier this year.
1st victory for Aries Susanti Rahayu! She will be back on the Speed wall May 13 for #IFSCwc Tai'an: https://t.co/zpxpuRuiYX pic.twitter.com/nuGMkxp1Zo

— IFSC (@IFSClimbing) May 9, 2018
Lalu Muhammad Zohri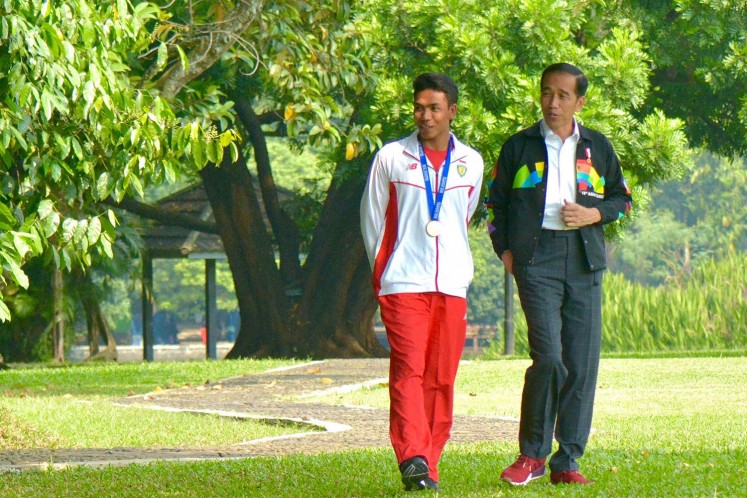 Young sprinter Lalu Muhammad Zohri (left) walks with President Jokowi. (Courtesy of/Presidential palace)
This past couple weeks has been life-changing for Lalu Muhammad Zohri, an 18-year-old who stunned the nation when he won gold in the prestigious and highly competitive men's 100 meters at the 2018 International Association of Athletics Federations (IAAF) U-20 World Championship. A time of 10.18 seconds was all it took for Zohri to immortalize himself in Indonesian track and field history – he is the first-ever sprinter to win the U-20 event. He will have to regain his focus quickly, as he is scheduled to compete in the men's 4x100 meter relay at the Asian Games.
What a historical moment!

Lalu Muhammad Zohri becomes the first Indonesian ever to win any medal of any kind at these championships#IAAFworlds pic.twitter.com/Gc5aMf5yN4

— IAAF (@iaaforg) July 11, 2018
Sri Wahyuni Agustiani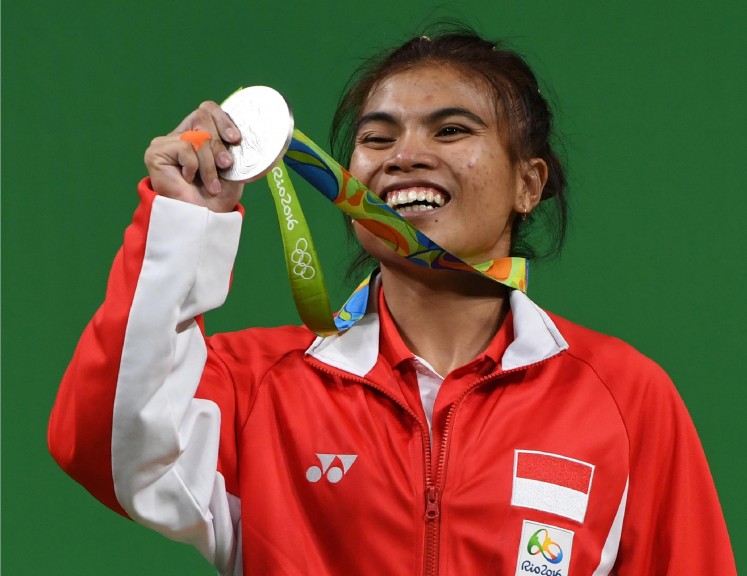 Sri Wahyuni Agustiani lifted 192 kilograms in total at the Rio Olympics, an improvement over the 187 kg she lifted at the Incheon Asian Games. (AFP/Goh Chai Hin )
Sri Wahyuni Agustiani screamed her lungs out when she successfully lifted 85 kilograms at the Rio Olympics. The lift earned her a silver medal, the first medal the country secured at the 2016 Olympics. The weightlifter first entered people's radars when she won silver in the women's 48 kg at the 2014 Asian Games in Incheon, South Korea. She lifted 192 kg in total in Rio, an improvement over the 187 kg she lifted in Incheon. Sri, who is one of the country's aces in weightlifting alongside Eko Yuli Irawan, will compete in the same 48 kg category at the Asian Games this year.
Wewey Wita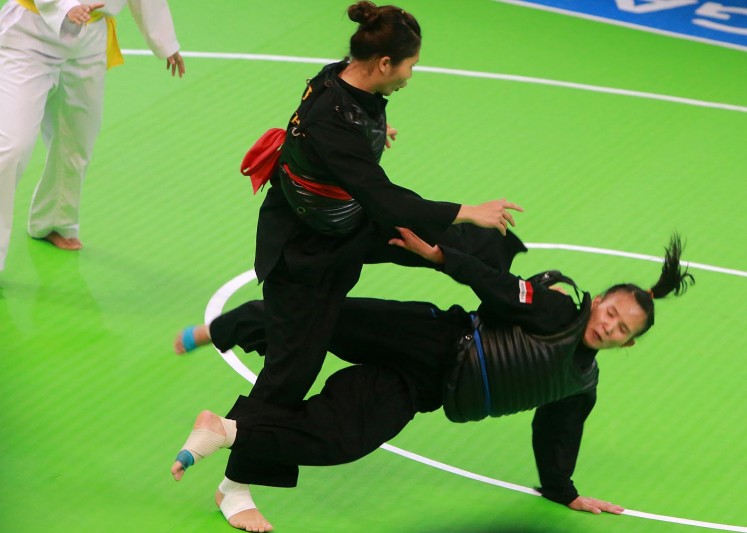 Wewey Wita won gold in the 50-55kg category at the 2017 Southeast Asian (SEA) Games in Kuala Lumpur. (JP/Ricky Yudhistira)
Indonesia is relying on Wewey Wita, one of the country's top pencak silat fighters, to come out with a gold at the Asian Games. Her track record indicates that she can handle the responsibility.
Wewey was a gold medalist at the 2017 Southeast Asian (SEA) Games in Kuala Lumpur, Malaysia, in the 50-55 kg category. The 25-year-old girl, who first learned about the sport in elementary school and used to compete in the 55-60 kg category, is training hard to stay in shape. During the 16th World Pencak Silat Championships in Phuket, Thailand, Wewey was awarded with a gold medal as the best women fighter in the competition.
Rifda Irfanaluthfi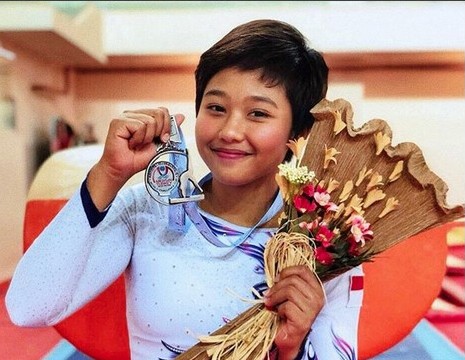 Rifda Irfanaluthfi won the country's only gold medal in gymnastics at the 2017 SEA Games in Kuala Lumpur. (Courtesy of/Rifda Irfanaluthfi)
She is young, energetic and now one of the country's hopefuls in artistic gymnastics. Rifda is living proof that the Indonesian gymnastics squad is waking up from its long slumber. The 18-year-old could be considered the country's top artistic gymnast. At the 2017 SEA Games, she won the only gold medal for the national team when she bested the competition in the balance beam category. She also won silver in vault and three bronzes, one each in floor exercises, uneven bars and team competition. At the 2018 FIG Artistic Gymnastics World Cup Series in Mersin, Turkey, from July 6 to 8, she bagged silver in vault and bronze in floors.
Rika Wijayanti
Athlete paragliding, Rika Wijayanti (Courtesy of/Gendon)
As paragliding is not particularly popular in the country, Rika Wijayanti is not a household name. However, she showed a superb performance when she won the 2017 Paragliding World Cup in Slovenia in women's accuracy.
Rika, who started her career in paragliding when she was a teenager, lived in Batu, Malang, East Java, close to a paragliding spot.
She became acquainted with the sport when she tried to be a "parachute caddy", a job that entails folding parachutes used by paragliders. When she was 16, her brother suggested that she enter the world of professional paragliding. Five years ago, she made her mark on the sport when she had a competitive showing at a paragliding competition in Lake Toba, North Sumatra.
Topics :
Join the discussions