#JenderalKardus vs. #JenderalBaper: Twitterati mock Prabowo, SBY in upset fallout
Margareth S. Aritonang, Marguerite Afra Sapiie and Devina Heriyanto

The Jakarta Post
Jakarta |

Thu, August 9, 2018

| 11:13 am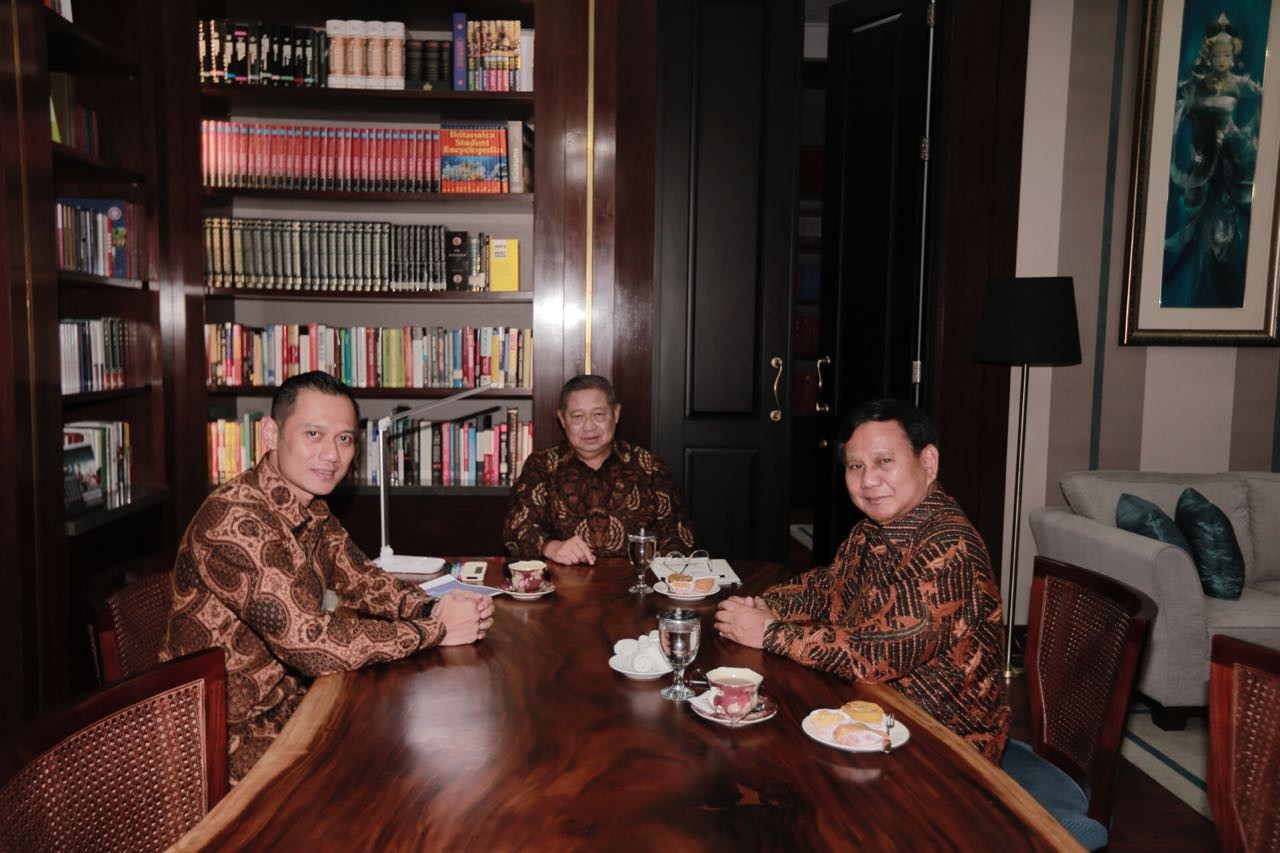 Agus Harimurti Yudhoyono (left), Democratic Party chairman Susilo Bambang Yudhoyono (center) and Gerindra Party chairman Prabowo Subianto pose for a picture during a closed-door meeting in Yudhoyono's house in Mega Kuningan in South Jakarta on July 24. (Courtesy of Democratic Party/Handout)
Twitter users are apparently having a good time mocking the latest fallout between two former generals in Indonesian politics: Gerindra Party leader Prabowo Subianto and Democratic Party leader Susilo Bambang Yudhoyono.
Within hours after Democratic Party politician Andi Arief attacked Prabowo in a series of tweets calling him "jenderal kardus" (cardboard general) the hashtag #jenderalkardus became a trending topic on Twitter.
Prabowo ternyata kardus, malam ini kami menolak kedatangannya ke kuningan. Bahkan keinginan dia menjelaakan lewat surat sudah tak perlu lagi. Prabowo lebih menghatgai uang ketimbang perjuangan. Jendral kardus.

— andi arief (@AndiArief__) August 8, 2018
A Gerindra politician, apparently angered by Andi's attacks, has retaliated by calling Yudhoyono "jenderal baper" (sappy general). The hashtag, #jendralbaper, is now catching up as one the most-tweeted hashtags on Indonesian Twitter.
Political jockeying has intensified since Wednesday with the registration period for the presidential election expected to close on Friday.
The fresh conflict between supporters of Prabowo and Yudhoyono was triggered by allegations that Prabowo has allegedly picked Jakarta Deputy Governor Sandiaga Uno over Yudhoyono's son, Agus Harimurti, because Sandiaga has the money to buy the support of the other two parties in the coalition: the National Mandate Party (PAN) and the Prosperous Justice Party (PKS).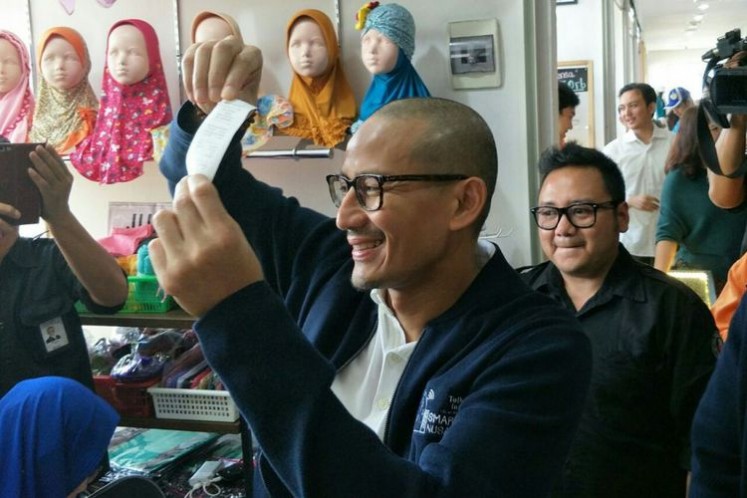 Jakarta deputy governor Sandiaga Uno walk around Pondok Indah Market in Pondok Pinang, South Jakarta after inaugurating the first smart market in the city. (kompas.com/Jessi Carina)
"Prabowo turns out to be a cardboard general. Tonight we rejected his visit to Kuningan. His intention to explain [the issue] through a letter is no longer needed. Prabowo valued money more than struggle. Cardboard general."
Sandiaga, according to Andi, has promised to pay PAN and the PKS Rp 500 billion (US$34.7 million) each for their support. The two Muslim-based parties have denied the allegation.
Gerindra deputy chairman Arief Puoyono retorted that the term "cardboard general" befits Yudhoyono more. "If Prabowo is a cardboard general, SBY is a sappy general. He whines a lot," he said as quoted by cnnindonesia.com, referring to Yudhoyono by his initials.
Twitter users, many of whom are supporters of incumbent candidate President Joko "Jokowi" Widodo, are cheering on the side of what could be the most epic tweet war between supporters of two former generals from the New Order era.
One Twitter user wrote: "There used to be [a song titled] Cardboard Man, it looks like 2019 we'll have another song, Cardboard General?"
Dulu ada Lelaki Kardus, sepertinya 2019 akan ada judul lagu baru, Jenderal Kardus? pic.twitter.com/mYLVGG4OFA

— NEG (@negativisme) August 8, 2018
United Development Party (PPP) secretary-general Arsul Sani has not even tried to hide his feelings of schadenfreude over the Prabowo-Yudhoyono fallout.
"The term 'cardboard general' is quickly met with 'sappy general'. What are the fellows in @jokowi's coalition doing? Are they smiling like us in @DPP_PPP? @PDI_Perjuangan @Golkar5 @NasDem @PartaiHANURA @psi_id @pkpi_id @PartaiPerindo."
Sebutan "jenderal kardus" dg segera dibalas dg "jenderal baper"... Temen2 partai koalisi-nya Pak @jokowi lg pd ngapain ya... apa jg lg senyam-senyum spt kami di @DPP_PPP ya...? @PDI_Perjuangan @Golkar5 @NasDem @PartaiHANURA @psi_id @pkpi_id @PartaiPerindo

— Arsul Sani (@arsul_sani) August 8, 2018
Gerindra is not happy with Jokowi's supporters joining in the fray. "Trying to benefit from this, are you? How funny that cardboard is used as metaphor for a backstabber and irresponsible person," says the party's official Twitter account.
Mau ambil keuntungan ya? Lucu sekali ada perumpamaan kardus sebagai pengkhianat dan tidak bertanggungjawab😆. https://t.co/gXHRIuVLwN

— Partai Gerindra (@Gerindra) August 8, 2018
The tweet was a response to a tweet posted by @GunRomli: "Why do Democrats and Gerindra call a general "cardboard general", is there such a thing? Cardboard is weak, fragile, empty, even backstabbing and irresponsible."
With the Gerindra-Democrats alliance currently on the brink of collapse, Prabowo reportedly visited Yudhoyono at his residence in South Jakarta on Thursday morning.
Gerindra executives have denied Andi's claim, claiming that talks with Yudhoyono were still ongoing. The Prabowo coalition, they said, is still weighing pairing Prabowo with Agus or Sandiaga.
This is the second time that Yudhoyono's supporters were engaged in a war of words with supporters of other political figures. Previously, Indonesian Democratic Party of Struggle (PDI-P) politicians mocked Yudhoyono for his "melancholic" attitude and for building a political dynasty by pushing for Agus' candidacy, prompting the Democratic Party to retaliate. (ahw)
Join the discussions