Jokowi may pick Mahfud MD as running mate
Marguerite Afra Sapiie

The Jakarta Post
Jakarta |

Thu, August 9, 2018

| 04:59 pm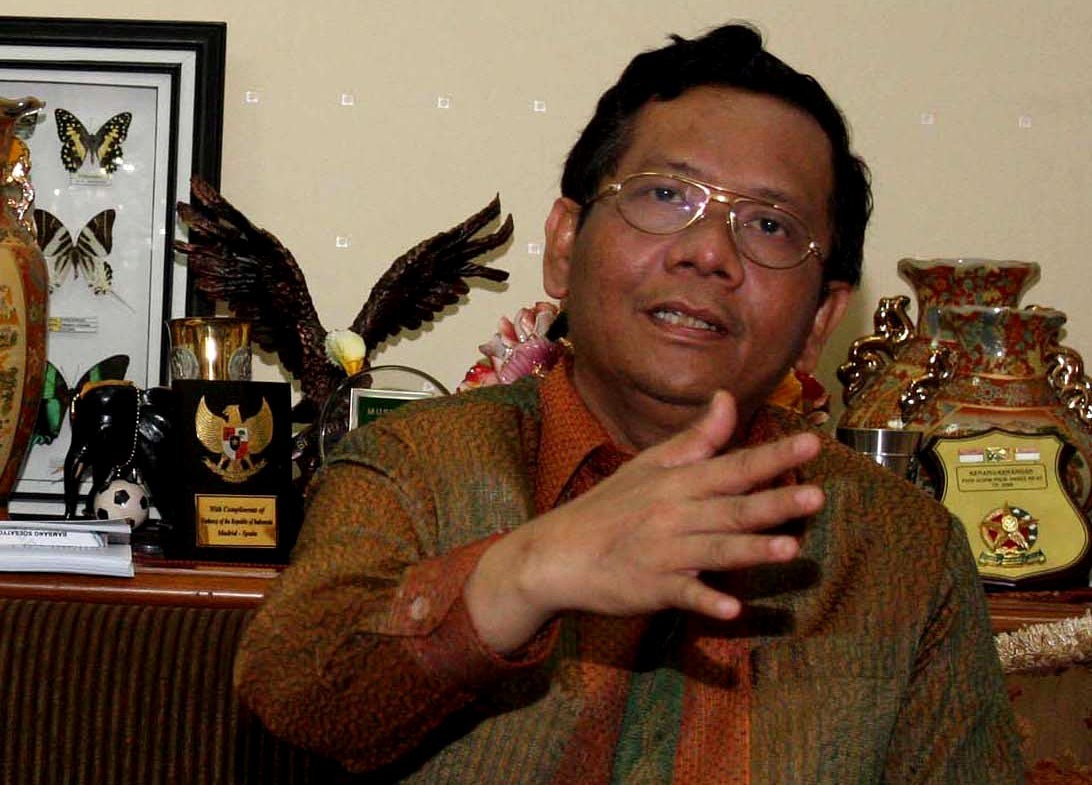 Mahfud MD (JP/Nurhayati)
Former Constitutional Court chief justice and renowned Muslim figure Mahfud MD has emerged as the likeliest figure that President Joko "Jokowi" Widodo will pick as his running mate in the 2019 presidential election.
Mahfud, 61, is a member of the steering committee at the Agency for the Implementation of the State Ideology of Pancasila (BPIP).
His name has been floating among the top names considered as Jokowi's potential running mate in recent months, but speculation about his candidacy has peaked since Wednesday, following a Twitter post made by United Development Party (PPP) chairman M. Romahurmuziy.
Romahurmuziy suggested that Jokowi's running mate would have the widest experience in every branch of government and represent the largest Islamic organization in Indonesia, Nahdlatul Ulama (NU).
Jokowi had reportedly considered running with Vice President Jusuf Kalla again, but it remains unclear if Kalla could legally run for a third time. As of Thursday, the Constitutional Court had yet to issue a ruling on a judicial review petition aimed at settling the legal dispute over whether Kalla's third election as vice president would be constitutional.
National Awakening Party (PKB) secretary-general Abdul Kadir Karding confirmed on Thursday that Mahfud was among the strongest names considered to run as Jokowi's running mate. "Yes, [Mahfud] is one of them," he said.
Nine political parties of the coalition are set to hold a meeting with Jokowi on Thursday afternoon, during which they will decide the final name for the vice presidential slot.
Meanwhile, NasDem Party secretary-general Johnny G. Plate acknowledged that Mahfud's track record in the government was astonishing. However, the final decision would be made during the meeting.
Ruling Indonesian Democratic Party of Struggle (PDI-P) politician Pramono Anung said Jokowi and the political parties might announce the name after the meeting.
Born in Sampang, Madura, on May. 13, 1957, Mahfud has wide experience in each government branch.
Mahfud served as defense minister and law and human rights minister from 2000-2001 under then-president Abdurrahman "Gus Dur" Wahid.
He sat as a member of the House of Representatives under the National Awakening Party (PKB) from 2004 before serving as chief justice of the Constitutional Court from 2008 to 2013.
Mahfud has been associated with Indonesia's largest Islamic organization Nahdlatul Ulama (NU) based on his family background and close ties to the late Gus Dur. (ahw)
Topics :
Join the discussions