Erdogan to boycott iPhones as Turkey's feud with US escalates
Ankara, Turkey |

Tue, August 14, 2018

| 10:43 pm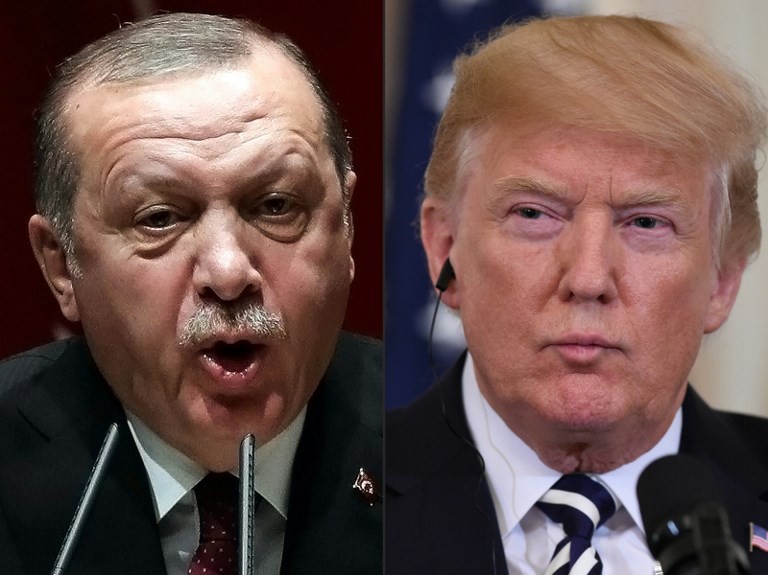 This combination of file pictures created on August 11, 2018 shows (left)President of Turkey and Leader of the Justice and Development Party (AKP), Recep Tayyip Erdogan deliverling a speech during an AK party's group meeting at the AK Party's headquarters in Ankara, on January 26, 2018.(right) US President Donald Trump looking on during a joint press conference with Italian Prime Minister Giuseppe Conte in the East Room of the White House in Washington, DC, July 30, 2018. (Agence France Presse/Adem Saltan/Saul Loeb)
President Recep Tayyip Erdogan vowed to boycott iPhones in a demonstration of defiance as the US held firm to its demand that Turkey release an evangelical pastor and Turkish executives called for action to bolster the lira.
Erdogan said the nation of 80 million people would stop buying American electronics, condemning the "explicit economic attack" against his country.
The lira lost a quarter of its value this month as Donald Trump doubled tariffs on Turkish steel and aluminum imports and slapped sanctions on two ministers. It rebounded on Tuesday as Turks sold dollars.
"There is a cost for those who are plotting the operation" against Turkey, Erdogan said in the first of two speeches in Ankara, without specifying when the boycott would start or how it would be enforced.
Singling out the iPhone, he suggested Turks buy Samsung Electronics or locally made Venus Vestel smartphones instead.
While even a widespread Turkish boycott would do little to dent US economic interests, it shows Erdogan refusing to give in to market turmoil that's pushed borrowing costs to record highs and threatens to descend the nation into a financial crisis.
Erdogan's boycott is reminiscent of the decision by President Vladimir Putin to ban food imports from countries that slapped sanctions on Russia in 2014 over its annexation of Crimea.
The difference is that unlike Russia, the US and Turkey are NATO members. Erdogan warned that the US is putting decades-old alliances at risk and pushing Turkey to seek allies elsewhere.While diplomatic tensions rage, the currency rallied for the first time in a week as Turks cashed in dollar savings to take advantage of the huge slump in the local currency.
Video circulating the #Turkish social media shows a #Turkish citizen hammering an #IPhone after President Erdogan's #Boycott call on #IPhone. pic.twitter.com/WbR0ZnUNX5

— EHA News (@eha_news) August 14, 2018
Join the discussions